Your thoughts on the new federal minimum wage?
The minimum wage went up from $6.55 to $7.25 per hour in July 2009 (source: U.S. Department of Labor). The measure affects 29 states while other states already have an equal or superior minimum wage (note that employers are required to pay whichever is the highest: Federal or State). This new federal minimum wage results in an income of $1,160 a month or close to $14,000 a year. Poverty guidelines established for 2009 indicate that for a family of two, $14,750 or less — or for a family of four, $22,050 or less — are indicators of poverty according to HHS (Health and Human Services). It's even tougher for those in California, where the minimum budget and cost of living for a family of four is $77,069.
The minimum wage measure is supposed to combat poverty but we clearly see through the above numbers that our stalwart politicians in Congress have never and will never have to live on minimum wages. One cannot feed a family of four with this miserable salary so it stands to reason that the only people who might appreciate this latest wage increase are single persons such as students or low-skilled workers (although these days, it seems that more people are willing to work for minimum wage).
Federal Minimum Wage Through History
Let's remind ourselves of what the federal minimum wage numbers have been throughout history. Here's a table showing the actual minimum wage between 1939 up to the current year:
| Year | Wage | | Year | Wage |
| --- | --- | --- | --- | --- |
| 1939 | 30 cents | | 1976 | $2.20 / $2.30 |
| 1945 | 40 cents | | 1977 | $2.30 |
| 1950 | 75 cents | | 1978 | $2.65 |
| 1956 | $1.00 | | 1979 | $2.90 |
| 1965 | $1.25 | | 1980 | $3.10 |
| 1967 | $1.00 / $1.40 | | 1981 | $3.35 |
| 1968 | $1.15 / $1.60 | | 1990 | $3.80 |
| 1969 | $1.30 | | 1991 | $4.25 |
| 1970 | $1.45 | | 1996 | $4.75 |
| 1971 | $1.60 | | 1997 | $5.15 |
| 1974 | $1.90 / $2.00 | | 2007 | $5.85 |
| 1975 | $2.00 | | 2008 | $6.55 |
| Year | Wage |
| --- | --- |
| 2009 – Current | $7.25 |
There are two numbers for some years as these figures applied to different types of employees and work categories.
And here's a chart showing the real value of the minimum wage (inflation adjusted) from 1938 and 2009 (source: Economic Policy Institute):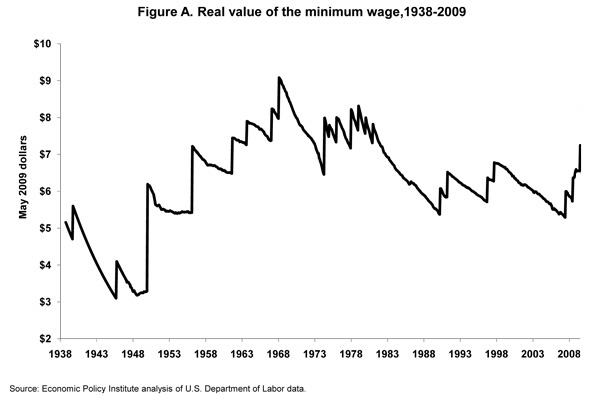 Why The Minimum Wage Is A Problem
So what do you think about an increase in the minimum wage? The only important caveat in this kind of political maneuver (done obviously to collect sympathy votes) is that the raise in minimum wages may have just the opposite effect of what Congress intended. There's actually recent research that shows that higher minimum wages reduce teenage education levels and decrease workers' long-term earnings.
Studies also show that the minimum wage does not reduce poverty. Granted, the Heritage Foundation is a very conservative think tank that regularly slams welfare proposals as too costly and ineffective. But they have a somewhat valid argument when they claim that high school students drop out at a higher rate if the pay is more attractive; they prefer paid work to study, believing erroneously of course that they'll be able to survive with such low wages.
Why Not Implement a Real Minimum Wage?
For the sake of argument, let's take a neutral position in this matter and base our opinion strictly on facts; as mentioned above, one single individual just might make it with the established wage of $7.25 per hour, although the task would be daunting. He or she would need a very cheap room somewhere with abundant public transportation.
But what about families? Of course, a family simply could not survive on such an amount. So why don't our enlightened politicians offer a "real" (feasible) minimum wage of, let's say, $25,000 a year? The reason is simple: businesses would not hire heads of households for such a price; it's too onerous. Instead, they would hire illegal aliens, reduce the number of workers or simply outsource the job.
Main Street vs. Capitol Street
What do you think about retooling the minimum wage policies we already have? Well, it would certainly ignite a big political debate but here are a few ideas: as far as minimum wage workers, wouldn't it be better to ask the government to differentiate between single workers under the age of 20 and the rest of the population? To help out families with children, how about making it easier for other family members to financially contribute to the household?
Perhaps we could lower the salary of school age workers to make it easier for them to be hired in temporary summer jobs without giving them the illusion of permanency. We could also lower the minimum age to 14, so as to help thousands of poor families who need the additional income. As it stands now, teens under 16 have serious restrictions regarding the hours and places they can work, while teens 16 or older can work as much as they want. For those worrying about their financial situation, here are some suggestions on what low-income earners can do to get off minimum wage.
Are We Eliminating More Jobs?
Many believe that the increase in minimum wage is not the social panacea that many people envision. It can really hurt the job market, especially now that the economy is still reeling from its dismal performance. I believe that our politicians have chosen the wrong measure and the wrong time to increase the minimum wage. Had it happened among general prosperity, few voices would have been heard against the measure. As it stands now, the raise will actually eliminate jobs instead of creating them and provoke a general outcry among the business world; and we can't really afford that now, can we?
Copyright © 2009 The Digerati Life. All Rights Reserved.