I just love this kind of thing: have you seen the interactive graphic from the NY Times that details how different demographic groups spend their day? Since time is money (or so they say), actually seeing a visual of how we spend our most precious resource is truly enlightening. This colorful graphic is based on the American Time Use Survey which pooled together the information gathered from thousands of Americans. Here's a little sample of how the graphic looks (you can click on the image below to check out details of the survey and to see how the interactive graphic works):
Time Is Money: How Do You Spend Your Day?
The emphasis here is on how the nearly 1 in 10 unemployed people in America are spending their days compared to everyone else. But behind the colorful presentation, there are a few other interesting findings you'll garner from this study:
The unemployed catch up on more sleep than those who are employed (one more hour of sleep at night — that's a lot!). As expected, they've got more time to spend on other activities to fill the vacuum abandoned by "work".
Relative to women, men devote more time to work but also dedicate more of their day to eating, drinking and entertainment by watching movies and television.
People of different racial backgrounds also show differences in their daily schedules.
Not surprisingly, people under the age of 24 spend more time sleeping than everyone else, while people over 65 trade in their work hours for TV and movie watching, thinking, relaxing and other leisure activities. And you may or may not find this surprising: younger people travel more than older folks (those over 65) — I thought retired folks lived for travel!
There's not much difference between how a college graduate and someone with an advanced degree spends their time.
There's not that much difference between a one child family and a family with two (or more) kids. But going from no kids to one kid will require bigger adjustments to your lifestyle. Also, people with bigger families work more hours and have fewer leisure activities than those without kids. Well, that's expected!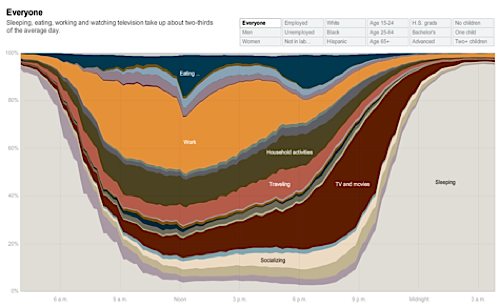 So how much of your time is spent at work? At play? Or asleep? If I plot my time, I think the orange work area will occupy quite a huge chunk of my daily chart.
Copyright © 2009 The Digerati Life. All Rights Reserved.