Based on the awesome response we received for Studenomics' guest post entitled How To Work Full Time While You're In College, we decided to follow up on this same topic. The Studenomist is our guest contributor for today; he runs Studenomics, a great personal finance blog aimed at the college crowd. Please consider subscribing to his RSS feed here.
Even if free college tuition isn't in your cards, you may still afford going to college on your own. Want to know how to effectively balance your work and studies? It's important to stay well-organized, and it also helps to develop a structured routine at school. Here are some suggestions based on my own experiences:
Create Your Own Work Study Program! How To Balance Your Job and School Work
1. Find a relatively easy job.
Are you too burned out after work that you can't even keep your eyes open long enough to read a chapter out of your textbook? Well, you can try looking around for a job until you find one that's relatively easy to handle. For example, my friend works as a teaching assistant at his school and on most hours, he just sits in the class with the students while a lecture is going on. When he has tutoring sessions after a class, he hands out tasks for the students to complete, then reviews the materials with them. Sometimes he works 40 hours a week and goes home without feeling any stress at all.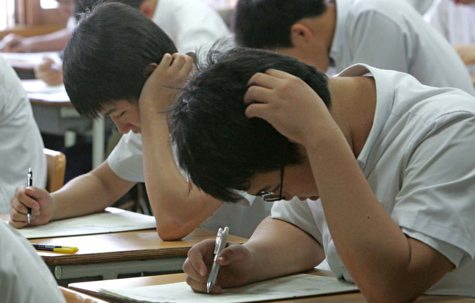 Image from ABC News.

There was also a comment on my post, How To Work Full Time While You're In College, which was made by a reader who wrote that he worked as a bus driver and had the opportunity to turn off his brain so to speak.
When you find a job that is relatively physically or mentally "easy", you'll find that you're able to work full time hours without feeling much stress. What are some relatively easy jobs that college students can find? Well I hope I don't offend anyone, but here are a few jobs that won't burn you out mentally/physically:
Library help. Nice and quiet while you stock books and work the desk.
Custodial work or janitorial services. Mop the floor while your mind rests.
I could go on but you catch my drift. If you find that 10 hours of work a week is killing you, then maybe it's because you need to find something lighter on your mind and body. You could argue that this is the lazy way out but the way I see it, your main goal is to complete college with high grades. If you can pay off your student loans as you go through college then you're ahead of the game.
2. Try part time work first and SLOWLY pick up more hours.
Start off at 5 hours a week and try adding an hour each week until you reach your maximum capacity. What is your maximum capacity, you might ask? Well I could give the obvious answer and say it all depends on your situation, but here's how I see it:
If you find yourself with ample time in between lectures or with a light course load then add in some extra hours at work.
If you are always struggling to meet deadlines, sleeping 3 hours a night, running from one class to another, then you're definitely not in a position to pick up any extra work.
You may find that 15 hours a week is all you can spare or you may find that working 40 hours a week after a gradual transition actually feels quite comfortable. At the end of the day, if you find yourself spending time on mindless activities (e.g. playing Facebook games) then you can probably accommodate some work hours in your schedule. Some trial and error will be necessary here as you adjust what feels right for you. If you've got a truly challenging course load, then try to remain at a minimum of 5 hours a week of work.
3. Cut out pointless activities.
You must be willing to drastically limit the time you spend on "fun activities" (or should I say "pointless activities"?). If you see value in hanging out with your closest friends then this isn't a pointless activity; it's something you need to maintain balance in your life, so by all means, don't miss out on this (social activities are important too, but anything taken to the extreme may simply be a waste of time and energy). But if you find yourself being bored (e.g. watching reruns on television or flipping channels), then you could just be misusing your time. If you're not spending this time on your studies then this is valuable time that you could spend earning an income. The goal here is to maintain a balanced life and an efficient schedule.
4. Set up a "sleep in" day.
We all love to sleep in, but honestly, do you really need to do this every single day? True, the thing about working full time while studying full time is that you may not get the full 8 hours of sleep every night. So my suggestion here is to set up one day during the week where you have the morning off and get to sleep in for as long as you please.
5. Sucks to say this but sacrifice is needed.
So you want to earn a college degree but don't have a 529 college savings plan in your name? I really don't know how else to put this, but you must be willing to make some sacrifices in college. There will always be time to get wasted or time for just lounging around; however, based on your goals and priorities, you'll need to make tradeoffs. If you're determined to make a work schedule fit into your college life, then be prepared to make a few sacrifices: you can still have fun… but you'll need to place limits. During last year's fall semester, I went for 6 weeks completely focused on work and study. My girlfriend wasn't happy about it, but those are the sacrifices that have helped me accumulate a decent savings account while studying in college full time.
Copyright © 2009 The Digerati Life. All Rights Reserved.