Besides my secret life as a rhyming poet, Dr. Seuss has taught me a few things about personal finance and business. These friendly books appeal to children of all ages and most have an important message behind the humorous rhymes. They can be a great way to learn about counting, finance and achieving success in business.
What Dr. Seuss Books Can Teach Us About Finance
There are many hidden messages in these stories that can be interpreted a variety of ways, but for fun, let's try to spot a financial or business angle in a few of them.
Great Day for Up
What does this upbeat tale teach us? One way to think about this story is this: to be a success, you have to pick yourself up. Having that fire in our bellies — a drive or ambition — can certainly propel us forward. If we don't act and have no desire to get up, then we can't expect to find success. Consider these sage lines from Dr. Seuss' Great Day for Up:
Up! Up! Waiters! Alligators! Up! Folks! Up in elevators!
Climbers climb and balloons fly high in a book that subtly conveys the desire for everyone to move upwards. Of course, the surprise ending reminds us of the inherent desire to remain dormant, or perhaps that there's a time for rest as well.
One Fish, Two Fish, Red Fish, Blue Fish
This Dr. Seuss book teaches young children the basics about counting, color and numbers. It's the earliest Dr. Seuss book that I remember introducing to my kids when they were toddlers. Here is a great quote from One Fish, Two Fish, Red Fish, Blue Fish:
Where do they come from? I can't say. But I bet they have come a long, long way. We see them come, we see them go. Some are fast. Some are slow. Some are high. Some are low.
We all come from different places and travel at various speeds toward our desired destinations. We all have dreams and goals and have embarked on our own journeys of personal growth and improvement. We may all have a ways to go, but this concept has kept me going several times when I was ready to throw in the business towel!
Green Eggs and Ham
Are you able to step outside of your comfort zone? Are you the type who is open to trying and doing new things? Let's explore some of the lines in Green Eggs and Ham.
You do not like them. So you say. Try them! Try them! And you may.
….
Sam! If you will let me be, I will try them. You will see.
Say! I like green eggs and ham! I do! I like them, Sam-I-am!
And here's another take: while this story shares with us the importance of having an open mind and of being flexible, it also shows how the gift of persuasion can be put to use. Most entrepreneurs must sell their products or services to realize profits. To be a stellar salesperson, you'll want to show enthusiasm and to believe in what you offer (although not all top salespeople are ethical).
Another fun fact about Green Eggs and Ham: Dr. Seuss wrote the book over a bet that he could not pen a story of 50 words or less. Well, he won the bet, proving we can do anything we set our minds to!
Horton Hears a Who! Can You?
Business owners enjoy the fact that they are their own boss, so much so that at times, it can be a challenge to try to delegate work to others. Do you employ others to help you out with tasks at work or at home? It brings to mind these wise lines from Horton Hears a Who! Can You?
A person's a person, no matter how small. I meant what I said and I said what I meant. An elephant's faithful one-hundred percent!
There are no small roles in a company, just small-minded bosses who tune out others. A successful company demands good leadership and good management. Also realize that the smallest suggestion from a faithful cohort can be transformed into something big.
Would You Rather Be a Bullfrog?
Decisions are part of our lives from the time we learn how to talk until the time we leave this world. Choosing the right path means examining options and having enough imagination to see potential results. These concepts are explored in the book Would You Rather Be a Bullfrog?
Would you rather be a clarinet . . . a trombone . . . or a drum? (How would you like to have someone going boom-boom on your tum?)
The right career path and good financial strategies can help determine the outcome of your life. Meaningful decisions based on your individual life events, circumstances and preferences can pave the road to your success. This Dr. Seuss book shows kids of all ages the importance of the decision-making process.
Did I Ever Tell You How Lucky You Are?
We shouldn't let success get in our heads. Staying humble, feeling grateful and learning how to count our blessings are some of the messages in this book. This reality is driven home to readers in Did I Ever Tell You How Lucky You Are?
You oughta be thankful, a whole heaping lot. For the people and places you're lucky you're not.
There's also one other perspective I see here: Do you see a glass half empty or half full? Sometimes, we forget to see the silver lining in a difficult situation. We end up sweating the small stuff, which can hold us back. As tough as our finances or work issues may seem at times, they could always be worse. Feeling gratitude for our current assets and taking action rather than complaining are effective ways to achieve lofty goals.
The Lorax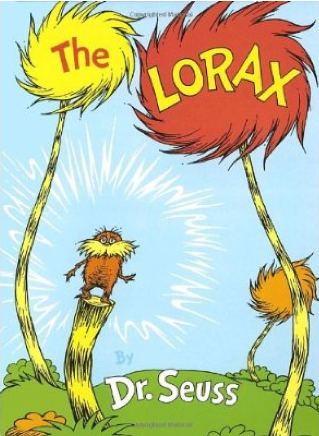 In The Lorax, Dr. Seuss explores the importance of treating the world properly and respecting its resources. Big business and the environment have been at odds throughout history, but nowadays, there are efforts to improve business practices in favor of preserving our environment.
Unless someone like you cares a whole awful lot, nothing is going to get better. It's not.
This quote shows that we are all empowered to make a difference in our society and the world around us. While we care about our financial situation and business endeavors, we should also stay aware of world events, whose effects can be felt far and wide and which can have long lasting effects on future generations.
Seuss-isms for Success (Life Favors)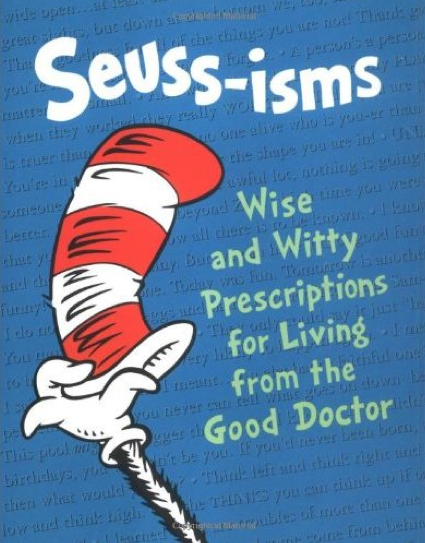 The simple lines of Dr. Seuss can prove to be a great educational tool that goes beyond fun art and entertaining rhymes. Quotes from his books were assembled in Seuss-isms for Success (Life Favors). I'd like to present you with some clever quips from this pocket-sized hardcover book. Who can resist some of these well-advised quotes from Dr. Seuss?
Be who you are and say what you feel because those who mind don't matter and those who matter don't mind.
Step with care and great tact and remember that life's a great balancing act.
Sometimes the questions are complicated and the answers are simple.
Born Theodor Seuss Geisel, Dr. Seuss graduated from Dartmouth but got married and settled down instead of completing his doctorate. Despite that fact, this world famous poet, author and writer became known as Dr. Seuss thanks to his wit and wisdom. This also proves that we have the ability to become renowned and relevant, despite our education or status (J.K. Rowling is another shining example). Dr. Seuss faced prejudice and addressed important social issues through his writing and speaking and is thus, quite an inspiring example to us all.
Created October 17, 2007. Updated December 10, 2011. Copyright © 2011 The Digerati Life. All Rights Reserved.