When we celebrate the end of Lent, we attend Mass and have a nice family dinner. Or we may decide to hold an Easter Egg hunt at our home or at a party somewhere for the kids. But all around the Christian world, Easter is a holiday that has fascinated artists who have been inspired by what it stands for.
On the other end of the commercial spectrum, there are also those who have used many holidays as a way to create beauty and sell it for a handsome sum. Some jewelry manufacturers, for example, have used Easter as a theme; it's something you can see promoted time and again in their works.

Let's work on that thought for a moment: here are a few trinkets that you can get for someone who has everything. Talk about some really unique gifts stoked in tradition, history and beauty: I thought I would provide some interesting bits of trivia for you about Easter and its eggs.
Russian Easter Eggs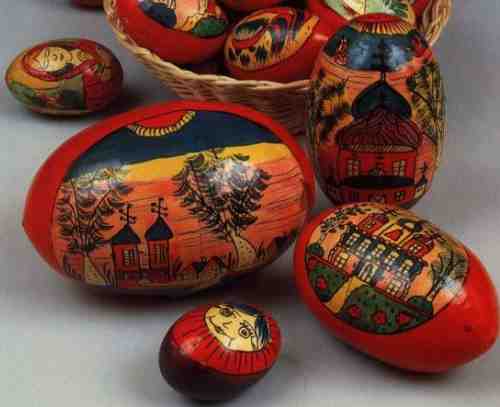 Easter eggs are well-known Russian memorabilia whose fame outside of this country is probably second only to painted wooden matryoshka dolls. Lately, however, the interest toward the Easter egg has been of a special nature. It is explained by its somewhat illegal status for 70 years. Antique Easter eggs were stored away in different museums, almost inaccessible to the public. It goes without saying that in Soviet times the good tradition of giving and receiving artistically painted Easter eggs on the bright holiday of Christ's Resurrection almost disappeared.

In the late 1980s forgotten customs and rituals returned, including the old Russian tradition of a triple kiss and the giving of an Easter egg.

Easter eggs are an attribute of one of the most important Christian holidays: the day of prayer for the miraculous Resurrection of the crucified Jesus Christ.
-ooOoo-
Faberge Eggs
For the wealthy collector among us, here are some of the finest Easter eggs in the world. If you have a few thousand to several million dollars to spare, you could set up a collection of these items. For those with more modest budgets, you can check home catalogs for something more affordable.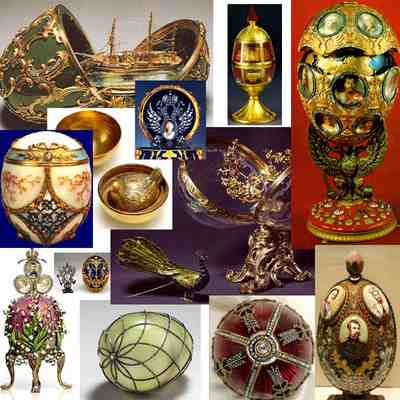 Fabergé Easter eggs have been prized possessions of the wealthy for over a century.

Crafted in the shops of Peter Carl Fabergé from 1885 to 1917, the eggs were designed primarily at the behest of Russian Tsars Alexander III and Nicholas II as annual Easter gifts for Tsarinas Maria and Alexandra.

Not all of the eggs were made for the Russian imperial family. Alexander Kelch, a Russian gold magnate and industrialist, gave his wife Barbara seven eggs between 1898 and 1904. The Duchess of Marlborough, formerly Consuelo Vanderbilt and the wealthiest young woman at the turn of the 20th century, also commissioned an egg of her own.

Here is more on the most expensive eggs ever made! The most expensive egg ever sold was the Faberge Winter Egg and it went for $9.5 million in 2002.

-ooOoo-
Crafted Easter Eggs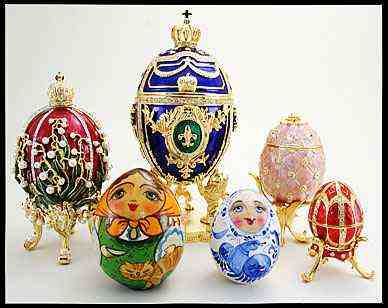 These are beautiful Russian Easter Eggs inspired by the work of Peter Carl Faberge, the world famous Russian jeweler and purveyor of elegance to the Russian Court and the Tsars. Created by Russian artists, the exquisite hand-painted icon eggs, are termed ovo-art, depicting Our Lord, Jesus Christ, the Mother of God, and many of the venerated saints.
-ooOoo-
Holey Easter Eggs
Can you believe how "holey" this Easter egg has turned out?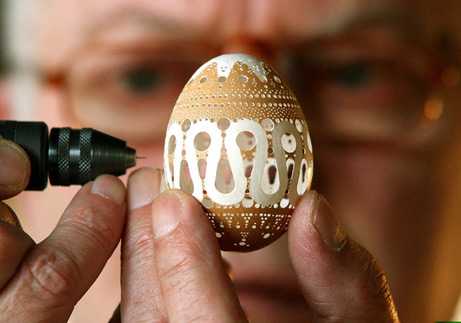 Move over, Faberge. Modern master Franc Grom creates and sells eggs that may outshine the 19th-century Russian jeweler's Easter bling. Shown at work on Wednesday in Vrhnika, Slovenia (map), Grom uses an electric boring tool to drill approximately 2,500 to 3,500 holes in an eggshell. Inspired by traditional Slovenian designs, he has been known to pierce a shell as many as 17,000 times.
Created April 8, 2007. Updated April 8, 2012. Copyright © 2012 The Digerati Life. All Rights Reserved.