Admittedly, I'm not the most fashion conscious person in the world. I don't care about the latest look or what brand people are wearing or where fads and trends are going. It's just not my style (yeah, lame pun intended 😉 ). But there are people in my family who are highly brand conscious and who take fashion *very* seriously (and that's an understatement). I am often among people who live and breathe this stuff, so I find it odd how I didn't quite develop similar inclinations. Although I do remember being pretty fashion conscious in my younger years, until a lightning bolt hit me and left me with this realization: you can look good on a budget.
I sure would like to know why some folks are compelled to relegate a huge portion of their funds to their appearance because I don't think it's necessarily justifiable unless:
(a) you're trying to snag a mate
(b) need a great wardrobe for work so that you look your best
(c) work in an industry that requires you to have hot clothes.
Not to mention that a lot of the trendier items aren't cheap. They'll cost you money that could go a long way towards other things that actually matter — say like your long term financial goals?
Having such a bias, I suppose I'm not exactly in a position to rightfully "judge" this type of look: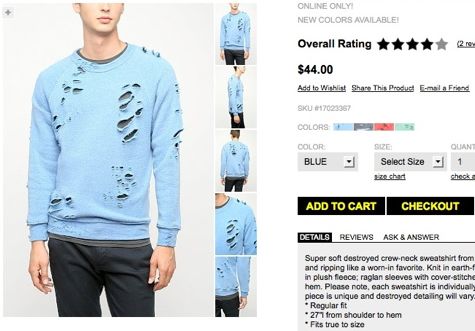 Image from UrbanOutfitters.com

There's something a little wrong with this picture, and I think it's pretty obvious. Honestly though, people actually pay for this stuff? Well, there must be a reason why there are fashionistas out there who would love to have holes in their wardrobe. Maybe so they can look cool like this?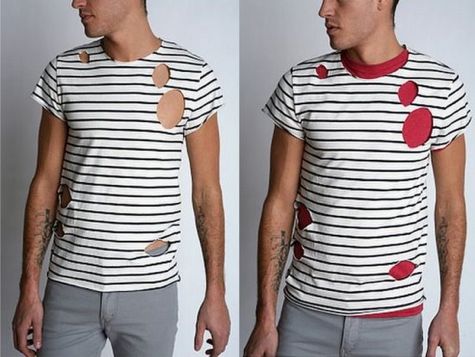 Image from Cottonable.com
Hmmmm…. if old threads can actually pass as "cool", then why not just save yourself $44 (plus tax and shipping costs) by throwing your mothballs away and having the bugs have a go at your closet?
Copyright © 2009 The Digerati Life. All Rights Reserved.