It's unfortunate that in recent times, I've been receiving more and more blog comments from people who are having a really tough time dealing with their finances in this job market. The truth is, we are facing some long drawn out periods where employment opportunities are scarce. There have also been a lot of stories in the media about how unemployment benefits are now expiring and drying up for a good number of former workers.
Should Unemployment Benefits Be Extended?
I can't imagine how stressful it must be to lose your jobless benefits while you're still unemployed, although the possible maximum of 99 weeks provided for such benefits (that's close to 2 years) seem like quite a long spell. In certain parts of the country, even 2 years may not be enough to get a job these days — but this may be the point where you tell yourself it's time to try your luck elsewhere. Personally, I would give myself up to a year to find a job locally, but beyond that point, I'd do my job search and cast my net as far and wide as possible to cover any geographical region. I've heard the arguments back and forth on the issue of extending jobless benefits, and it's no surprise why it's a touchy subject.
Here's an article that gives some food for thought. I came across some comments here that were worth noting:
The problem with the system is that it gives people less incentive to immediately get a job. I was getting 70%-ish of what I was previously making. So doing the math, I am not going to take a job that does not pay me significantly more than my unemployment. It would not be worth it. If I were making $12 an hour on unemployment, why would I take a job that's just $13 an hour? That's only an extra dollar per hour for 8 hours of full work everyday.
Unemployment is INSURANCE not welfare. Every person on unemployment paid taxes on every paycheck while they were employed for the right to Unemployment INSURANCE in case they lose their job by no fault of their own. This is NOT WELFARE people, this is INSURANCE that these Americans paid into while they were working; it's NOT THEIR FAULT the economy has not improved, and they should not have to lose their homes and cars, and eat top ramen with their children at the dinner table night after night, and now LOSE their benefits outright.
Certainly, these are some interesting points worthy of your reactions.
There are a lot of debates on this subject, and one such argument is made by this graphic from The Wall Street Journal that show some of the latest statistics on long term unemployment. Could the existence of jobless benefits prolong unemployment or cause higher unemployment rates?
Who's Unemployed?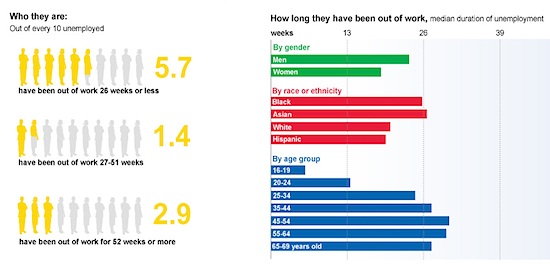 Long Term Unemployment Numbers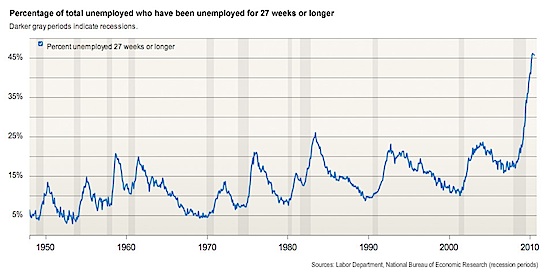 This is the kind of big picture take on the subject that we should also be investigating, even as we delve into the micro effects of such widespread government policies that are now hitting average workers.
Can You Get By Without Jobless Benefits?
I mentioned before that I had someone in my family who had a background in law but for the longest time could not find a job as a lawyer here (given that he relocated here from overseas just as the financial crisis and recession hit). The awesome thing was that he found himself taking jobs that were quite unrelated to his area of expertise. But no job was beneath him. For a period of time, he worked at a coffee shop as a barista, where turnover was high. He put in the hours until he eventually found a job more up his alley. He survived without relying on unemployment benefits.
Now I'm sure every place can be different and every situation is unique, but I can't help but think that a lot of what's going on out there doesn't exactly merit 2 years' worth of unemployment benefits.
So what do you think? In your mind, how long would it take you to get a job if you suddenly become unemployed at this point? If you were having trouble finding a new job, what steps would you take to get yourself back on track?
For more on unemployment matters, check out our articles:
Copyright © 2010 The Digerati Life. All Rights Reserved.