I recently read a sad story of an older guy (very close to retirement age) with medical problems, no family and friends and no job. Having no job has left him with no means to support himself. So he's sick, disabled, poverty-stricken and desperate. So what does he do? He decides it may be time to leave this world. Very sad indeed.
What If You Run Out of Unemployment Benefits? A 99er's Story
A 99er, by the way, is someone unemployed for 99 weeks and who has exhausted all his unemployment benefits. Here's a snippet from this guy's "suicide note" published at the Huffington Post:
I'm unemployed over two years now, a 99er without any benefits for three months….. Death is my best available option. It's not just that my bank account is $4, that I've not eaten in a week, not because hunger pangs are agonizing (I'm a wimp), not because I live in physical and mental anguish, not because the landlady is banging on the door non-stop and I face eviction, not that Congress and President have sent a strong message they no longer help the unemployed. It's because I'm a law abiding though worthless, long-term unemployed older man who is surplus population.


There's some question about the note's accuracy, but that's besides the point. Regardless of whether the story is true, when I read about this type of thing, my financial anxiety and paranoia pick up. I'm actually naturally paranoid and anxious (I have the baglady complex, remember), so stories such as this just trigger the worst fears in me.
I've touched on this matter a few times before as well — in particular, I've written about the top causes of personal bankruptcy. A couple of major causes are health problems, unemployment and divorce. Many of these causes are beyond our control, unfortunately, while others are still within our control. And sometimes, we prepare as best as we can, and yet, we get the short end of the stick. Still, there are ways to mitigate these misfortunes. For example:
For those with health problems, there's some level of government coverage through disability programs. You can also purchase disability insurance (there are costs though), but insurance is something to get when you don't yet need it.
Get a prenup before you marry and you can avoid getting devastated by divorce. Granted, it can still take a toll on your finances, especially if you're a guy.
Unemployment benefits are there to help you. But apparently, this is where the system falls short for the old, the sick and those deemed irrelevant by society (see this post on age discrimination).
For a segment of society though, the issues go beyond bankruptcy as these people may find themselves without any assets of value that are worth giving up to creditors. Well, what happens when you've already moved on from bankruptcy to pure poverty and destitution? Even hopelessness? What happens if you no longer feel that you can get back on track and recover? Being a 99er, the man we profiled above no longer had the safety net of government services to keep him afloat.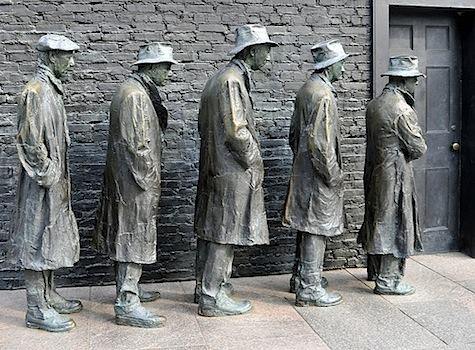 What if you feel that the government can no longer take care of you, and you have nobody else who can help you?
Are You A 99er? How To Get Low Income Help & Unemployment Assistance
A little digging though and I found a few resources that you can turn to for assistance. You may want to see if you can qualify for some of these services or programs:
Modest Needs (ModestNeeds.org) — where to apply for back-to-work grants, self-sufficiency grants and independent living grants.
Angel Food Ministries (AngelFoodMinistries.com) — where you can obtain food relief.
Feeding America (feedingamerica.org) — where you can check out local food banks.
Partnership for Prescription Assistance (pparx.org) — where to seek low cost medication and drug coverage.
Citizen's Energy Oil Heat Program (citizensenergy.com) — where to get discount home heating.
Society of St. Vincent de Paul (svdpusa.org) — where to find guidance and general assistance.
Here's a longer list of places, programs and agencies that may offer assistance.
In general though, it's very hard to "cure" this type of predicament, and it's always best to try to avoid getting to this point. Getting old in America all by yourself is a frightening scenario. There are no easy answers here but the number one thing I'd try to do is to seek support. Somewhere. Anywhere. Perhaps the resources above can prove helpful. Also, there are church groups and maybe community groups that can help. Maybe it can mean taking a huge risk and moving elsewhere where the cost of living is dramatically lower. And some people have in fact taken a more radical approach: I have heard of older people relocating far and away to other countries where life is simpler, basic and rustic (although if you have health issues and problems, then these may pose some challenges).
Still, I believe there is always hope and help out there. You have to keep asking for it. The tricky part is to stop feeling helpless and hopeless and fight that part of you that just wants to give up.
Copyright © 2011 The Digerati Life. All Rights Reserved.