In these difficult times it's not uncommon for someone to work at a second job or juggle multiple jobs to make ends meet. These days, even those of us with just one job to deal with work twice as hard in our current positions to avoid the fatal pink slip. Unless you have an emotional suit of armor, you may very well end up burning out. The consequences may be extremely serious for yourself and for your performance. So it's important to be aware of some warning symptoms that you must heed in order to avoid permanent damage.
Is Stress At Work Affecting You?
Are you feeling exhausted without good reason?
According to the famed Mayo Clinic: Burnout is a state of physical, emotional and mental exhaustion caused by long-term exposure to demanding work situations. Burnout is the cumulative result of stress. So the first thing you want to watch out for is the beginning of exhaustion in one or all three areas.
As a teacher, I have witnessed burnout in veteran colleagues who act like "zombies" in class. They simply repeat the words and go through the motions of teaching without any enthusiasm. To the students, they seem apathetic, listless, and tired. Needless to say their effectiveness as instructors is close to zero. Anybody who says that we have too many days off has no idea of the immense stress that 10 hour days exert on our psyche.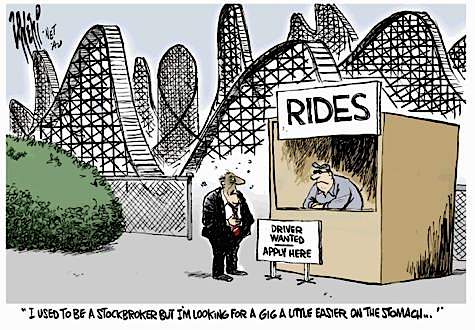 Stock market roller coaster image by The Big Picture
Keep Your Eyes Open For the Warning Signs!
There are some warning signs that you are headed for a burnout. Here's a short list:
You no longer enjoy your work and its challenges.
You are losing your sense of humor and occasionally snap at your co-workers and colleagues.
Frequent headaches.
You have trouble sleeping.
You are irritable most of the time, including at home.
You drink more than usual.
You pick up a smoking habit or smoke more than usual.
You no longer have the patience to listen to colleagues and/or family members.
On your days off, you don't know what to do to relax.
You make some serious mistakes because you can no longer concentrate.
Your self-esteem is at its lowest point.
You gain weight.
How To Manage Job Burnout and Get Your Energy Back!
As soon as you notice any or several of these symptoms, you must act immediately to avoid further consequences, such as losing your job, losing friends, and even losing your spouse. You also don't want the scary prospect of experiencing a nervous breakdown. But to take action requires a high degree of introspection, a term psychologists use to describe the ability to analyze yourself.
The best way to relieve the stress is to find and restore the balance in your life. I therefore offer the following suggestions to handle and hopefully relieve this very common mental and emotional disturbance (some of these ideas can also help you keep fit):
1. Exercise!
If you were not doing any physical exercise, now is a good time to start. The best thing you can do is walk (or run at a steady pace) alone in pleasant surroundings, such as woods, lakes, hills, mountains, or simply flat terrain in the desert. Pick a place with very few people where you can empty your mind and enjoy nature. For more ideas, here are some ways to exercise without spending a fortune.
2. Stop and breathe deeply.
We have forgotten the marvelous art of breathing. Fill your lungs (hopefully with clean air) and hold it for 15 to 30 seconds before exhaling. Do this 3 or 4 times — no more or you'll become dizzy — until you can feel that your heart rate has slowed down. I've discovered that learning additional relaxation techniques such as visualization or yoga can make quite a difference.
3. Spend an evening with favorite friends.
Make it a quiet evening with very little alcohol, stimulating conversation and mutual support.
4. Change jobs.
If you find yourself working at a company that's not so supportive of your troubles, would you leave your job in the midst of this recession? It's something to consider if your workplace is taking a heavy toll on your health, and you're unable to make the necessary adjustments at work to resolve this problem. You may worry that it's not financially feasible to quit your job, but this temporary situation won't compare to how tough it will get if your health fails.
If you notice that you're stuck in a rut and no longer enjoy what you are doing, it may be time to look for something more rewarding. I once met a man who gave up a high paying job on Wall Street to open his own restaurant in a tourist area. Changing your daily activities and setting new goals will often be sufficient to restore your "joie-de-vivre."
5. Learn to say "no". Take some of the load off.
Many of us want to have it all, but balancing work, business, home, family, community and the other demands of life can become overwhelming when we aren't able to say "no" to all our obligations and responsibilities. Some of us live under the expectations of being a supermom or superdad, but the long term effects of dealing with this pressure can be harmful. So watch what you put on your plate! Learn to prioritize, monitor what you've got going on in your life, and trim away the things you can afford to do so, in order to maintain a realistic load.
6. Think twice before going on medication.
It's common for those who are suffering stress-related symptoms to turn to their doctors for help. The medical community has a default response and solution for this condition: very often, you'll be prescribed medication to control your stress and anxiety.
But can this just be a bandaid for problems whose root causes should be addressed? There are many success stories that have demonstrated that you can lift your mood and get your "old self back" without the need for medication, if the source of the stress is directly addressed. If you can help it, try more natural methods to handle your anxieties first before resorting to anything more drastic. But you know yourself best — seek medical attention and advice when you have to.
7. Get enough sleep.
The body restores itself when we sleep. Too many of us are sleep-deprived, but haven't you noticed that when you get the sufficient amount of sleep your body needs (preferably 8 hours) on a regular basis, your energies are restored? Keeping this up can do wonders for our embattled systems.
8. Eat well.
Maintaining a good (ok — reasonable) diet is essential to keeping your body and mind ready to address the demands of modern, everyday living. If you're especially stressed, there can be a higher toll on your body, adding to its wear and tear much faster. For your system to replenish what is lost, a balanced diet (with limits on fats, sugar, processed and junk food) helps tremendously.
9. Have great sex.
The key here is not how much you get but how much you give. Do everything possible to satisfy your partner (don't turn around at the end and go to sleep. That's offensive as it shows that you don't care much about him or her). Take your time, don't rush.
10. Read the Great Masters.
If you read them already in the past, do it again. Read the wisdom of Buddha (Siddharta), the humanistic visions of Carl Rogers, Augustine and his religious musings, the good humor of Christopher Marlowe, the extraordinary perspicacity of Shakespeare, or any of your favorite mysteries.
Remember, you only have one shot at life; a day without joy is a wasted day. I've also tried this mental exercise: I've look at all the beauty around me and think about how lucky I am to be alive. By thinking this way, our troubles seem puny in comparison.
Copyright © 2009 The Digerati Life. All Rights Reserved.