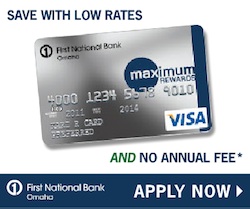 Some credit card offers may have good introductory rates, but little in terms of a rewards program. Or maybe you've heard of a decent rewards program that doesn't quite sport the APR you're hoping to have. Instead of settling for one or the other, how about looking into a card that addresses both benefits? While there are quite a few of these you'll find in our list of best rewards credit cards, I'd like to put the spotlight on one card that's come to my attention — the First National Bank Maximum Rewards card.
First National Bank of Omaha Maximum Rewards Credit Card Review
I like to check out the terms of a card first to see how they'll be impacting the card user over the long term. After all, the interest rate is what bites you in the end. The general rule is this: if the terms are great, then it will probably appeal to a lot of folks who carry a balance. So let's look at that first.
This is a Platinum Edition Visa Card offered by First Bankcard, which is part of First National Bank of Omaha. This bank is also the entity behind the FNBO Direct Online Savings account, which is an online account that I've touted before.
To start out, you can enjoy purchases with a 0% APR for 6 months. Another introductory rate you'll like is the 0% APR for balance transfers for 12 months. This sounds great, but if you're looking for other cards to compare against, do check out our list of 0% intro APR cards.
And as you'd expect from many 0% APR cards these days, once your introductory rates come to an end, you'll move to your regular rate. This rate will fall within a designated range with the exact rate to be determined based on the health of your credit. You'll be given a rate that is based on FNBO's review of your creditworthiness.
What About The Rewards?
This card is a rewards credit card that offers points, which can be redeemable for a variety of things. By all measures, the card appears to be pretty flexible about its rewards. With the First National Bank Maximum Rewards card, you'll earn 1 point for each $1 in qualified purchases. There's no cap on how many points you can earn, so it's okay to let your points build up if you want to save up for a particular reward.
You can redeem your Maximum Rewards points in a number of ways. For example, you can get cash back in the form of a credit on your statement. If you want to take advantage of travel rewards, you can book travel through the Maximum Rewards phone number. You won't have blackout dates for your travel, either.
There are merchandise and gift certificate rewards, too. You can get the redemption process rolling when you accumulate 1,500 points. If you need more points to get the reward you want, you can buy them at the rate of 1,000 points for $20.
When you become a Platinum Edition member, you also have benefits such as purchase protection, travel accident insurance, and discounts for car rentals. If you need help while traveling, there are travel assistance services. You also have access to extended warranty coverage for purchases.
A Look At Fees, Costs and Rates
To avoid any penalty rates and the loss of your introductory rates, the bank advises you to:
make payments by your due date
watch your credit limit and stay within it
and ensure that your payments aren't returned.
Now let's discuss some of the costs you may have when you use this card. The penalty rate can be quite high, almost 30%, and if you happen to make a misstep, such as a late or returned payment, you'll pay $35 for each instance. FNBO makes payments easy for its customers by offering online and automatic payment features. You can also opt for email alerts for your due date. This should help facilitate timely payments for card members.
In addition, this card has some other fees that you might incur. For instance, the introductory balance transfer fee is set at 4% of the transaction amount, with minimum fee of $10. After the introductory period's over, the balance transfer fee rises to 5% of the transaction amount; this kind of increase with balance transfer fees is an interesting feature that I haven't noted much with other cards. Foreign transactions will cost you 3% of the transaction amount in U.S. dollars, and if you want a second card or a replacement, there's a $10 fee each time.
And as expected, there's a high rate imposed upon cash advances, plus a fee of either 5% of the transaction amount or a minimum of $15.
It's A No Annual Fee Card
A lot of rewards cards seem to have some sort of membership or annual fee, but this card doesn't have one. To sign up for this card, you'll need to certify that your credit history doesn't include bankruptcies and that you're timely when it comes to paying your bills.
You'll also need to share information about your income, employer, address, and other details so your identity can be verified. There's a chance to sign up for the SecureCredit Debt Cancellation Program, but that's optional.
The next time you make a checklist of the credit card features you want, see if the FNB Maximum Rewards card could fit the bill. Since it has a 0% APR for balance transfers for a year and 0% APR on purchases for 6 months along with a rewards program, it's a possible contender for your wallet. But make sure you compare this card to other rewards cards with great terms (again, check out our list of best rewards credit cards for more info, if you're interested).
Disclosure: Some products or services we review on our site have advertising relationships with us.
Copyright © 2011 The Digerati Life. All Rights Reserved.