One of the first things we need to learn when beginning our financial lives is how to handle credit. In fact, a lot of entry level employees at their first jobs are probably wondering just what the process is to begin building a credit history. While one way to do it is by picking up store credit and going from there, it's a lot better to use a secured credit card because you've got more places where you could use such a card. Store or retail cards are typically limited to the store you've got credit for. Secured credit cards can be used as a general credit card, but the difference is that you have to use some of your own money as "collateral" in order to obtain a credit line from the issuer.
So if you're thinking about entering the world of credit or your credit history isn't necessarily in tip top shape, then you may want to do some research on which cards may be most suitable for you. One well known issuer of both secured and unsecured cards is Orchard Bank, which has a few products available. They've got several cards under two different networks (MasterCard and Visa) with varying interest rates. Even if you have bad credit or don't have a credit history, you might still qualify for one of these cards.
Let's check them out.

Orchard Bank MasterCard & Visa Card Review
So what are the different flavors of Orchard Bank MasterCard & Visa cards? There are several types of Orchard cards, but the ones we'll talk about here are the Orchard Bank Classic Cards (which are of the MasterCard variety) and the Orchard Bank Visa Cards.
The issuer of these cards is well-known for its credit services. Get started with an application. After you submit your information, the bank will go over your entries. Based on the bank's criteria, you'll be offered either the card you've selected or one of the other cards. For an unsecured credit card, your minimum income will need to be $12,000.
Among the selections are the Orchard Classic MasterCard and the Visa Card, which can be one of four types, and may be an unsecured or secured card. Here's a summary of their features:
| | | |
| --- | --- | --- |
| Orchard Bank Card Name | Description | Card Type |
| Platinum MasterCard | Has Platinum MasterCard benefits and an annual fee of $39 to $59. You can even choose the due date for your payment. Processing fee: $0 | Unsecured |
| Gold MasterCard | Has Gold benefits and an annual fee of $49 for the first year and $59 for subsequent years. Processing fee: $19 | Unsecured |
| MasterCard | This standard card has a $29 fee for the the first year and $59 fee for each year that follows. Processing fee: $39 | Unsecured |
| Secured MasterCard | Reports to the major credit agencies, and has a $0 annual fee on the first year and $35 fee thereafter. Requires a minimum deposit of $200. Processing fee: $0 | Secured |
Rebuild or Establish Your Credit With Orchard Bank Credit Cards
The main goal of Orchard Bank credit cards is to allow you to rebuild your credit. All the cards we're describing here don't have an introductory APR, but the Secured MasterCard or Visa has a low variable interest rate of 7.99% for purchases. For the secured credit card, you'll need to leave a security deposit with the bank. The minimum security deposit is $200. Although there's a $35 annual fee for this card, it's waived for your first year.
Generally with secured cards, the amount of your credit line matches the amount of your security deposit. Later, the bank might allow you to increase your line of credit if you increase your security deposit. Just note that you won't be allowed to withdraw the money from the security deposit account while your credit card's secured.
Your card activity will be reported to the three major credit bureaus. This is an advantage because your timely payments will help you build a better-looking credit history. We consider this card as a good choice. However for other secured credit cards, you can check out this list.
For all of these cards, the variable APR for cash advances is 20.90%. You'll also face a 5% transaction fee for cash advances, though the minimum fee is $5. If balance transfers apply, then you'll be subjected to a fee of 5% of your transfer or a $5 minimum, with a rate that is in line with the purchase APR. If you need to make foreign transactions, then you can expect to pay a foreign transaction fee of 3% of your transaction.
Those who fail to make a payment are likely to incur the penalty APR. Currently, the penalty APR for these cards is a steep 29.99%.
How Does The Application Process Work?
The process for applying for either an Orchard Bank MasterCard or Visa card is similar. We describe the prequalification process below.
The process for applying for the Orchard Bank credit card is a little bit different from what you'll find at other credit card issuers. You'll need to fill up an application process that asks you for your personal information (name, social security number, address, etc.). Orchard Bank then uses this information to prequalify you for their cards, but fear not — this won't affect your credit score. The prequalification process will take all of 30 seconds, so you'll know at once what kind of card you're suited for.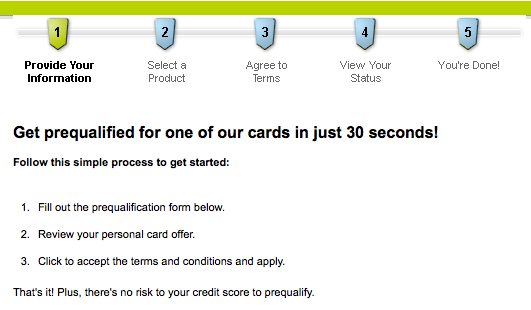 You'll need to supply some information about yourself as part of the application process. Based on this data, Orchard will determine the card that is the best fit for your profile and credit background. You then have the opportunity to review the card that they've recommended and it will be up to you to continue with the application. The card may be a secured or an unsecured card, depending on your credit.
Getting Approved For An Orchard Bank Card
If you do get approved, you can expect your card within 10 to 14 business days. However, do note that not everyone is guaranteed approval, which is based on a review of your credit background.
While it looks like the Platinum credit card would be the ideal card to aim for due to its lack of a processing fee, getting approved for it is up to the credit card issuer. Now if your credit isn't the best, then perhaps going for a secured card makes a bit more sense. The Orchard Bank secured card is a popular choice because of its low annual fee and reasonable interest rate.
Benefits To Owning An Orchard Bank Credit Card
What can you expect as a cardholder? You can actually set up your own payment due date. You'll also enjoy a lot of online features so that you can conduct your account activities quite easily through your browser. For instance, there's online bill pay and alerts, the ability to go paperless, the ability to pay online (as well as through the phone or snail mail), among other things. There is also the "Orchard Bank OfferCentral", which appears to be Orchard Bank's deals portal for customers. However, this particular area seems woefully limited, with only a handful of entries available, as compared to the shopping experience and deals selections you can get from other credit card rewards programs and card companies.
Hopefully, this overview can give you some idea about your options here. Make sure that before you sign up for any new credit cards, take the time to read over the rates, conditions, and fee schedule.
Copyright © 2011 The Digerati Life. All Rights Reserved.