Do you have any debt? I did once, and even though I am thankfully not in debt anymore, I can well remember just how it felt at the time. I hated those bills dropping through the letter box. Trying to figure out how to pay even the minimum amount was a stressful task!
But when I think about it, the bit I remember the most was not the actual debt. It was how I felt about the debt that sticks in my mind these days. So how does debt affect you? I've found that fear and anxiety can spur you to action. The more uncomfortable your situation is (in this case, financially), the more you're likely to do something about it. Unfortunately, many people have a pretty high tolerance or a large appetite for debt. Perhaps it's denial. Perhaps it's procrastination — or maybe it's just easier to do nothing and wait for things to get worse before one feels compelled to deal with the issues. Either way, debt problems are something that can snowball very easily, and if you become too lax about these issues, it's the kind of thing that can get worse pretty fast. So let's revisit some of the things that could indicate that you may be too deep in debt.
Some Suggestions For Dealing With Debt Stress
For me, the constant worries and sleepless nights were probably the worst things to deal with. There was that point in time when the realization hit me: that I could not pay off the whole balance on any one of my credit cards — let alone all of them (I had three). Every month, I'd pay the minimum amount and know that I was merely treading water. That balance never really got any smaller.
But once I made a concerted effort to earn more (I'm self employed) and pay off more on the cards, I started to feel more positive. Eventually I managed to pay off the whole lot and when I finally did, I felt lighter than I had in ages.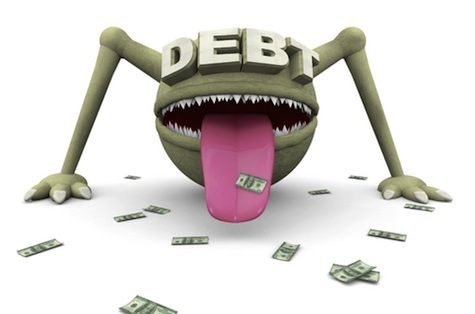 Slay the debt monster.
This is the weird thing about the stresses that are associated with being in credit card debt (or any other kind of debt, for that matter). You get used to living with them. Your tolerance for this increases. This doesn't change the fact that you owe money. When matters escalate, it can cause debt stresses that can really play havoc with your health in the long run.
The moral? Do whatever you can (legally of course) to make sure you pay off those debts. Place a great priority on paying off existing debt and when things are clear, avoid incurring too much more. Even if you are only able to start paying a little more than the minimum payment, it's good enough to start with.
Some other ideas to help you fight your debt:
Make A Mental Commitment
Stress has a funny way of affecting you physically in other ways. My thing is comfort eating. If I am stressed about anything, I tend to resort to food –- and let me tell you that this doesn't do a lot for your wallet either.
Eventually, I reached a kind of impasse where I knew something had to give. I didn't want to carry on worrying about this debt. I wanted to get rid of it. So I sat down and empowered myself.
Sounds grand and important, doesn't it? But it's amazing how much better you can feel physically and mentally when you take control of the problem instead of just paying the minimum payment each month.
Once you feel that you're in control, it becomes a turning point. It is a simple shift of thinking but it can save you a lot of stress and strain. You will start to think of practical ways to begin chipping away at your debt and you'll start to get rid of it in bigger and bigger chunks.
You might suffer in different ways when you worry about your debt. You might get an upset stomach or feel sick when you think about it. But recognize that it is the feeling of helplessness which underlies all of these symptoms. Once you commit to a resolution, take action and turn your debt on its head, you'll start to feel better.
 
Contributing Writer: Allison W.
Created August 3, 2010. Updated July 30, 2012. Copyright © 2012 The Digerati Life. All Rights Reserved.