I expect that this may be a bit of a controversial post in the finance community, but I thought to chime in on one side of the story.
You may consider this a "devil's advocate" post what with all the personal financial advice out there telling us to cut up all our credit cards, shred them and scatter their tiny little vestiges across various trash bins. Or toss them in the fireplace and see them burn. Or see how amazing life is without being shackled by the obnoxious plastic. But today, I'm paying homage to my credit card. This poor, distrusted invention is something I have appreciated for a while.
You could be wondering….
Credit Card, Why Do I Love Thee?
Well let me count the reasons.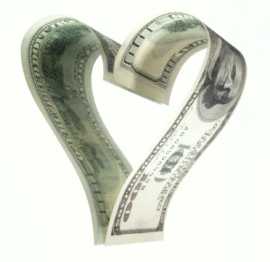 I only keep one credit card.
That is key. Because I don't carry a zillion credit, debit, shopping, grocery or store type cards, I am free to love only one. My beloved Mastercard is it. I don't share its use with anything else therefore, it remains exclusive and special.
I look at it as cash and pay it in full each month.
So I don't whip out my card everytime something gets my attention. I use it sparingly, carefully and responsibly and when I'm short on cash. Because of that, absence makes the heart grow fonder and I don't tire of it. Most importantly, I never finance anything and I only use my card as a replacement for cash — therefore I pay my bills in full every month. Thus, it doesn't get me into trouble!
I am able to limit the cash I carry.
I don't really like carrying too much money around, nor do I feel comfortable carrying a checkbook. It just makes me feel less vulnerable to carry around a card instead of cash. With less cash on my person, I'm less likely to misplace it or wonder where it went. This is good for someone like me, since I find it harder to account for the cash I use.
It's just plain convenient to have.
It also follows that my credit card bails me out of awkward situations when I find that I'm not carrying enough cash, which is practically all the time. I don't have to keep visiting the ATM to get bills. I don't know what it is, but I don't get too excited about dropping by ATMs or banks all that much.
The credit card company is my friend and ally.
My card company provides me great customer service. I pay my bills in full each month but once in a while, I screw up, forget, and end up paying past the grace period. But the credit card company is very forgiving and waives my fees each time; perhaps because I hardly do this. They also keep tight watch over possible fraudulent activity and are quite proactive on suspicious charges, which have happened on occasion.
My credit card is accurate.
It's so freeing not to feel concerned about lost change or miscalculating payments made through cash. I'm one of those absent-minded people who can't recall if I handed over a $10 bill or a $100 bill. In fact, my father once handed a cashier two(!) $100 bills by mistake and got change for what was supposed to be a $20. He only realized it a bit later and when he demanded for his money back, the cashier scoffed at him and refused to do an accounting. This wouldn't happen with plastic!
My credit card reports and statements are cool.
I receive timely, detailed and helpful reports from which I can figure out and analyze my expenses. Granted I can get these from my bank but somehow, I prefer my credit card statements over my bank statements when referencing our expenses; they're just easier to follow.
My card is essential for certain services.
I like using my card online and for dealing with vendors whom I don't see face to face so that if I have a problem with them, I can easily dispute it. This has worked for me countless of times.
And most of all, it loves me back.
My card gives back every time I use it and my spending is justly rewarded. Now this is where many people fall into the debt trap as they think that by spending they'll get some money back anyway. One needs to see the fallacy of this reasoning in order to genuinely appreciate credit cards, their function, use and rewards. In my case, I control my spending, and whenever I do fork out the plastic, I'm ecstatic that I get rewarded for it.
What else can I say but my single, carefully used, paid-in-full each month credit card totally rocks and I can't bear to live without it. Of course, I still believe each card should come tagged with a warning: "Please charge responsibly." So as far as the love goes…your mileage may vary.
Other views and resources:
I Do Not Use Credit Cards
The Only Credit Card Guide You'll Ever Need
Copyright © 2007 The Digerati Life. All Rights Reserved.