INGCompareMe is a new web tool from ING that helps you compare your bank balance, savings and investment levels against those of your peers.
The first rule in finance? Know yourself!
Are you curious about how well you stack up against others when it comes to your personal finances? Do you wonder what your net worth should be by now? We receive a lot of this kind of information and transparency through tools like Mint, Wesabe and NetWorthIQ, which also have a community feel built around them.
I like free tools like these — there's always something new you may be able to learn about yourself when you use them. So when I heard that ING just launched a new peer comparison tool called INGCompareMe a few days ago, I decided to check it out.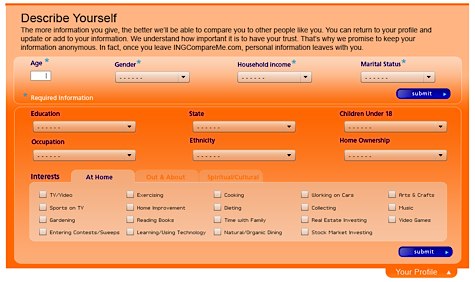 INGCompareMe, A Free Savings Comparison Tool From ING
Here are the tool's objectives:
It lets you see how you measure up against your peers, those people with the same profile as you have. ING asks you a bunch of questions, and based on your response, you're scored for how you handle your money. You can then analyze yourself in various financial areas such as saving, spending, investing and debt management and gain visibility on how well you're doing.
Once you see where you stand, you may decide to take action, as peer comparisons can be pretty motivational. By knowing how others are doing on average, you may feel inspired to do a better job with your money. Maybe subtle peer pressure works in this case?
Compare Your Bank Balance With Those Of Your Peers
ING initially surveyed 5,000 people who were saving for retirement and the data they gathered here is what's being used for comparison purposes through the tool. Here's what else the survey found: those people who spent time dwelling on their finances more often saved 60% more than those who didn't. I guess that makes sense! If money and your finances are a priority for you and happen to be in your mind often (in a positive way), I can see why you'd be doing well in this area of your life.
The data you enter then gets incorporated in the information used by the tool; there are measures in place to ensure that the comparative data remains fresh and current, and accurately reflects present conditions.
So how do you use it? It's pretty simple really. As I've mentioned, INGCompareMe has a simple questionnaire you fill up about yourself and your habits / interests (for profiling purposes), after which you answer a set of questions about your finances. Throughout the process, your identity is kept completely anonymous. You won't have to worry about anything since they don't ask for sensitive information at all.

Here are some snapshots of this application: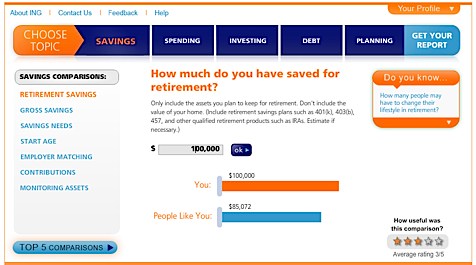 Your retirement savings are compared against those of your peers.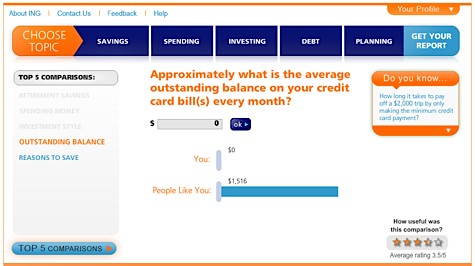 How much credit card debt do you carry?
After I looked it over and entered some information, it allowed me to print out a report that detailed my results. Here is the PDF report that it generated for me (this is just a sample).
I appreciate how ING took the time to prepare a cool tool like this to help us evaluate our financial picture. I'd use a profile analysis like this to gauge my financial health. Do you think this helps? How does your money stack up?
Copyright © 2009 The Digerati Life. All Rights Reserved.