Some good deals on our favorite personal financial software products: check out these promotions for Quicken, QuickBooks, and an offer from TurboTax, among other things.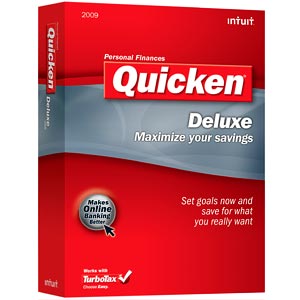 If you're shopping for financial software to help you manage your money and work on your financial planning, then you may want to look into these few promotions and discounts from well-known names in the field of money management.
Personal Financial Software On Discount, Free Tax Advice
There are a few ongoing sales on some of the popular money management tools, along with a few freebies:
1. Quicken Personal Finance CDs (and downloads) are selling for $20 off. Quicken Deluxe (along with Quicken Premier, Quicken Home and Business, and Quicken Rental Property Manager) are $20 off. There's also the free online version, which targets people who are "newer" to personal finance. Thus, it's lighter fare than the Quicken desktop applications, which are loaded with more features.
2. Intuit Online Payroll, a payroll management software application for small businesses, is being offered at 66% off its regular price of $29.95 a month. If you own a small business and need payroll support, then this could work for you. New customers can try it out for free for 6 months, then lock in the discounted rate of $9.95 a month for its use.
3. QuickBooks Pro Edition 2009 for small business owners is available for 20% off, along with a variety of QuickBooks software applications you can check here. Also, some of their software bundles are going for 40% off with free shipping.
4. Get tax help and support. Unfortunately, TurboTax's free tax advice promotion has been discontinued, but you can still avail of Turbo Tax's excellent support for tax-filers via their online site. If you're wanting to get a headstart on your tax preparation, you can check out Turbo Tax's online programs, TurboTax for your desktop, or read our detailed TurboTax review.
In the past, TurboTax has offered free live advice from their tax experts early in the new year. Normally, you don't have to be a TurboTax customer to avail of the free service. You're given the opportunity to discuss a personal, federal tax-related question with an expert (a $30 value) at FreeTaxQuestion.com, and it's usually easy to arrange — just submit a question online and you'll get a return call at the time you specify. But this promotion is over for this year. It will likely be available again next year.
Other Financial Announcements: Web 2.0 Finance Sites Unite To Uncrunch America!
Lending Club, Geezeo, CreditKarma, OnDeck Capital and ChangeWave have united to propose an interesting solution to the credit crisis via their project initiative called "Uncrunch America". They have formally submitted their idea for promoting social lending as one way to contribute to the resolution of the credit crunch, to Change.org's Ideas for Change in America competition. Here's a snippet from their proposal:
Our initial goal is to get 1 million people to participate (a small fraction of those watching the inauguration speech!) and our hope is that the US Government will help by matching funds lent by individuals through Uncrunch America. We believe this is a more efficient way to use the bailout funds because this directly encourages lending, and will help restart the credit markets — from the bottom up.
Would you endorse peer-to-peer lending as a lending option and credit solution for the public?
Copyright © 2009 The Digerati Life. All Rights Reserved.