I would just like to wish everyone a Happy Thanksgiving! There's a lot to be thankful for, despite the financial challenges of recent years. We have our health, our family and friends and we're getting used to the new "normal". I feel that there's always hope for (even) better days ahead.
I meant to do something more with this Thanksgiving note but I simply ran out of time. Since we usually serve as dinner host to our extended family here in the SF Bay Area for this occasion, I won't be able to add much more to this year's message except for this little treat I stumbled upon on the web. I promise to add more to next year's greeting! 🙂

So here's the treat: Turkey Pops! Perhaps there's some time left to make some of these adorable, yummy chocolate turkey sweets. If you can handle the high glucose levels they promise to give you, then these should be a delight to make.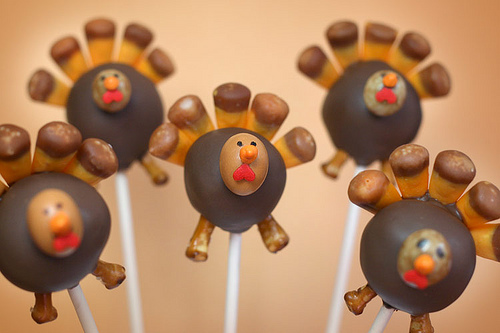 Image from Bakerella.
These turkey pops from Bakerella are made out of the following fun ingredients:
Caramel Candy Corn for Turkey Feathers
Coated Espresso Beans for Turkey Heads
Orange Rainbow Candy Coated Chips for Turkey Beaks
Mini Hearts from Casino Sprinkles for Turkey Wattles 🙂
Parts of Pretzels for Turkey Legs
Edible Ink Pen for the Eyes
The result is a great dessert at your Thanksgiving meal!
Have a Happy and Safe Thanksgiving to everyone!
Created November 26, 2009. Updated November 23, 2011. Copyright © 2011 The Digerati Life. All Rights Reserved.