Fun With U.S. Currency Bills
I thought this was fun. In case these pics weren't clear, these are $5, $10, $20 and $50 bills aligned against the buildings that are seen on each note. Quick trivia question: do you know which buildings these are?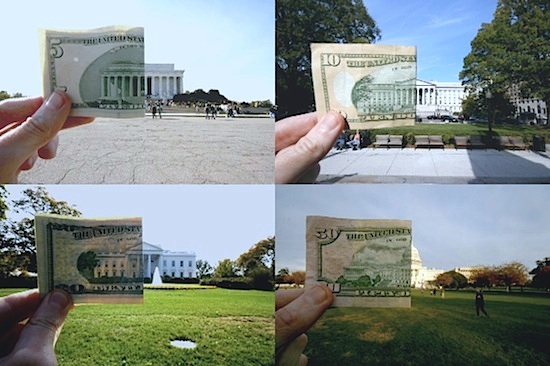 Source: Reddit
For more cool currency trivia and other fun facts about money, you can check out a couple of my old posts on the subject:
These posts have been gathering a bit of dust and could use a few visits ;-).
Your Credentials in Finance? Cool Post of the Week
Let's move on to this post by a fellow blogger, Ron from The Wisdom Journal. It's entitled Credentials vs Accomplishments and he writes about what makes a credible individual or even an "expert" in their field of work or interest. I have always believed that one's track record should speak for itself. All talk, all bluster, a few titles and credentials aren't going to impress me as much as one's accomplishments and actual results, in black and white. Life and work are part of a marathon, where our reputations ride on how we've lived and worked and what we've accomplished in our respective fields.
What makes a personal finance blogger "believable"? The thing with personal finance is that there's a lot of it that's based on each person's circumstances, where advice that's good for you may not necessarily be good for someone else. But let's just say I can respect different viewpoints from bloggers who've walked the walk and who've succeeded in getting further with their finances — there's a lot of value in learning from others, regardless of their background and credentials.
In the end, I'll tip my hat to anyone who's managed to drown out their debt (or is working towards this goal and making progress), who's able to build a successful business or make waves with their investments despite the slowdown in the markets and the economy. Of course, if you're seeking advice, get it from a professional especially if what you're dealing with is pretty complicated, but as someone who is happy with "doing my own" finances, I prefer to learn stuff on my own and implement my own plans. I can source both credentialed and accomplished people and make my own decisions.
Announcements
Now on to some other fun stuff… I joined a writing project yesterday with the topic focusing on "wealth and education" that is being hosted by GoBankingRates.com. My entry is this one that asks the question Should You Invest in an Ivy League College Education?
If you're so inclined, you can stumble my entry through this link. You can also give it a vote here on Tip'd.
Update: Voting is now closed, but you may read more about this writing project by visiting this page 🙂 .
Copyright © 2010 The Digerati Life. All Rights Reserved.