Why it's important to improve your credit score.
I wouldn't consider myself a loan expert as I don't have much experience with taking out loans. If there's one aspect of finance I'd like to brush up on, it would be on the ins and outs of borrowing since I haven't done much, being someone who carries a limited number of cards that are usually paid in full, and who has only borrowed to purchase a house. So here's a first stab at a more in depth loan discussion, where I get a bearing on how debt and credit can hit one's finances.
How Much Does Something Really Cost You?
One thing that makes an impact on me is the realization that we all actually pay for the same thing at different price points. Someone you know may show off his brand new motorcycle and looks to be living large. But do you know how he's actually paid for his toys? How many years of his future could he have signed away and how much more is he paying for it than say you would, if you bought that motorbike in cash after actually saving for it?
Now let's take a step further and imagine what a new $24,000 van would cost three hypothetical individuals:
$24,000 for someone who pays for it in full.
$26,725.24 for someone with excellent credit, perhaps qualifying for the full loan with a 3 year term at a rate of 7.12%.
$29,111.57 for someone with mediocre credit, taking out the full loan for 3 years at a rate of 13%.
$32,109.33 for someone with poor credit for the full 3 year loan at a rate of 20%.
That's an incredible difference that ranges from almost $3,000 to $8,000 in 3 short years!
So how does this happen? When you need to take out a loan, your FICO credit score has a lot of influence on how much it's going to cost you to borrow. Lenders check your credit score to determine your credit risk. Based on your score, the loan industry has calculated the odds of your falling behind on your debt payments.
The True Price Of That Dream Home….Or Auto
Now let's take for instance the case of mortgage loans: lenders have found that there is indeed a strong correlation between credit score and delinquency rate.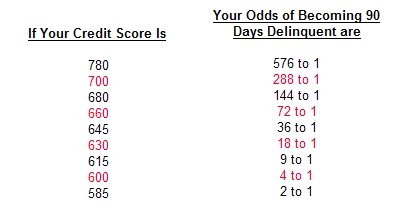 A point or two difference in rates due to different scoring levels will make a massive difference in how much one pays for a home. The difference is typically in the hundreds of thousands of dollars throughout the life of a mortgage.
As of June, 2007, here are some loan terms to ponder. These examples of debt load are very typical of what we all carry here in California.
Effect Of Credit Scores On A $500,000 30 Year Mortgage in California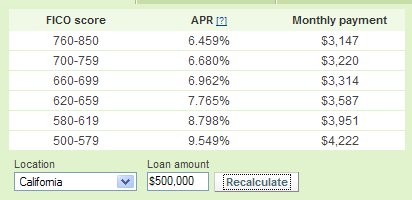 Effect Of Credit Scores On A $100,000 15 Year Home Equity Loan in California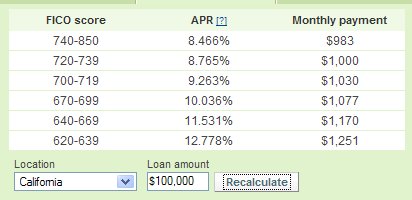 Effect Of Credit Scores On A $25,000 36 Month Auto Loan in California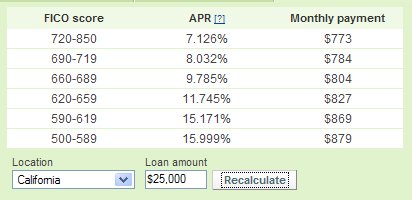 The median FICO score is 723. If you score 760 or higher, you get the best rates. If you score lower than 620, you're in the subprime category which could mean 3% – 6% difference in rates compared to someone with better creditworthiness. In terms of mortgage loan amounts, the difference is astounding: That $800,000 house you're stretching to get could cost you double that house in 30 years compared to somebody else with a better score. With A FICO score of under 500-520, you'll unfortunately need to kiss your dreams of owning a home goodbye. In this case, you won't even be able to qualify for a mortgage. With the ridiculous interest you would end up paying for such expensive loans, I'll say this is actually for the better. Work to improve your credit score and save enough for a decent down payment and you'll be in much better shape.
How A Poor Credit Rating Can Hurt You
Here are other areas that a poor credit rating can have a detrimental effect. It can be more expensive or cost you opportunities!
Any type of loan (mortgage, auto loan, home equity line of credit, etc)
Applying for credit cards
Taking out insurance (homeowners, private mortgage insurance)
Employment opportunities
Taking out a lease
All in all, money talks and lack of money talks even louder, making you go through hoops if your scores aren't pretty.
Let's put things in perspective then. As worried as we are about spending $5.00 extra dollars for a daily cup of latte, I'd say one's focus for saving money should be on the big ticket items. Especially if it involves borrowing money to acquire such items while having a shaky credit score. While we're sweating the small stuff and worrying about the best ways to save $1.00 a week, let's keep this in mind: don't lose sight of where the big savings are — beef up your credit score and keep your borrowing to a minimum if you can. That's where you'll make the biggest impact on your financial status, and pardon the cliche, where you'll get the biggest bang for your buck.
Copyright © 2007 The Digerati Life. All Rights Reserved.