Money can bring you a lot and get you far, but it can never buy one of the most important things in life. You can't buy love. You can buy a lot of imitations — but never the real thing! So don't waste money, years, or even moments trying.
Know this: Real love is always based on admiration, trust, and respect. And people especially respect others who have demonstrated the ability to manage themselves and their money. Those traits always attract quality admirers, including the kind of person who can significantly contribute to a lifetime of wise and mutual wealth management.
Conversely, the lack of money management skills in life can ruin relationships, even great relationships based on genuine love. That's because mismanaging money and wasting resources — real and potential — shows a lack of respect for the relationship! More marriages are ruined by money mismanagement and financial misunderstanding than by any other factor!
So don't try to buy love. And don't let a love relationship be devastated by a lack of money management skills!
Here's a wake-up call: where there is joy and happiness, abundance will follow — as you create your enhanced financial life as well as your love life.
Major Obstacles To Financial Success
Even with great financial intentions, you may encounter financial obstacles. Be aware so that you can choose differently. Some hard facts about money and love: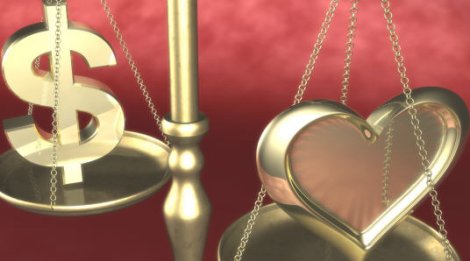 80% of Americans have not had even one hour of financial education.
75% of all households grovel from one paycheck to the next and are just 90 days from a major financial disaster or bankruptcy.
70% of all households go through life in debt, needlessly.
Only 4% of all individuals are financially ready for retirement.
80% of success in life is determined by whom you marry. That is why you should marry the person you cannot live without, and not the person you can live with.
8 Everyday Financial Challenges We Face While Building Wealth
NO GOALS: Only 3% of Americans have financial goals. Consequently they have more money than the remaining 97% combined. How about personally declaring a goal that is geared towards achieving financial freedom?
INSUFFICIENT TIME: It is simple. The earlier in life you start to save and invest, the greater your estate.
INSTANT GRATIFICATION: The IRS has stated that 96 out of 100 Americans reach retirement age unprepared, and all because of instant gratification — not differentiating between needs and wants. Learn the difference early on and you will be a financial success.
DEBT: Debt robs you of your investment money while making others millionaires. Plan to become debt-free.
INTEREST CHARGES: Most families pay almost $11,000 of debt interest in a year, thus robbing them of money to invest.
TAXES: The average American pays $750,000 in income taxes over a span of 40 years. Learn to reduce income taxes legally so that you can keep more of your money, which you can then use to grow and build your wealth.
HAVING CHILDREN: Not every couple needs children to be happy and fulfilled. Most parents revert to day care centers to rear their children because both of them work. And clearly, the hardest job in America is rearing children. In addition, the cost of bringing up a son from conception to age 18 is $485,000, while for a daughter, it's an additional $35,000. This does not include college costs.
HAVING DEPENDENT CHILDREN: Giving children everything they want disables them for life, while ruining the parents financially. In contrast, parents who build their savings and who are well prepared for their retirement serve as a great example to their kids! Instead, a lot of people work until they die because they have been unable to teach their children to be financially independent.
Wealth is a matter of choice — a choice which is ours to make. It's wonderful when we are inspired to do well financially because of our loved ones. Focusing on wealth creation for the sake of our families will help us create just the life we're looking for, for ourselves and for those we love.

This guest post is by Paul Damazo, the author of 80 Proven Ways to become a Millionaire. His book includes proven investment strategies that have earned him an annual average return of 15% or more over the past 50 years. He wants to help raise our financial awareness. You can visit his site at 80ProvenWays.com.
Copyright © 2008 The Digerati Life. All Rights Reserved.