Your retirement plan is only as strong as the weakest link. The final link in that chain is the 12 months leading up to your actual retirement date. It is a critically important time period requiring specific action steps to realize the full value of your long-term savings plan. Don't make certain mistakes during those last 12 months or you could reverse years of hard work and savings.
Perform These Retirement Tasks In The Course Of One Year
If this is the year you plan to retire, then this step-by-step guide will show you what to do during the next 12 months to produce maximum results. Here's a task list schedule you can employ:
January – Streamline Your Finances
Organize your financial accounts. If you have multiple accounts for retirement savings, checking and credit cards then it is time to get organized. It can be cumbersome checking each one individually on a regular basis — much less remembering multiple usernames and passwords.
You have two choices to solve the problem: you can consolidate your accounts into a select few locations or you can organize them with an aggregator service.
The advantage of using an aggregator service is that you won't need to worry about closing accounts and dealing with the hassle of moving balances because it allows you to view all your accounts in one central location for maximum convenience. You log in one time and in one place, enter one username and password, and see all your information from multiple accounts in one convenient location.
These days, many banks offer this account consolidation service. If yours doesn't, try one of the many free services such as Yodlee MoneyCenter, Mint.com or Adaptu.
February – Develop Healthy Habits
Keep an eye on your health. Your health is your wealth, after all. There's no point in spending a lifetime saving for retirement only to fall ill or die of a heart attack shortly after exiting your career. Start your wellness routine now so you can begin your retirement with strong health and vitality. Eating right and exercising will give you the energy you need to travel, socialize, stay active and stave off disease.
The key is to find things you like to do and eat, so you'll stick with your plan. If you're an avid walker, find a walking buddy or group. If you love to swim, join a health club. Buy organic foods whenever possible, and shop the perimeters of grocery stores. The interior aisles tend to stock processed, refined foods that you definitely don't need in your diet.
The key is to develop healthy diet and exercise habits now and practice them regularly throughout the next twelve months so that you can transition into retirement feeling great.
March – Make Sure You're Covered
Check your insurance requirements. Major life transitions can change your insurance needs. Where will your health insurance come from in retirement? Now is the time to finalize that coverage while your current plan remains in place so that there are no lapses affecting eligibility.
If you need supplemental coverage in addition to Medicare, get quotes from various providers. Make sure you know exactly when your Medicare benefits will kick in — and apply for transitional insurance if you have any gaps in coverage.
If you've carried term life insurance all these years, then consider whether it is still necessary to keep it, now that you don't need to insure dependents against lost earned income. Also, you may want to consider an umbrella policy to provide liability protection against lawsuits. After all, you've spent a lifetime building your savings so it's probably worth protecting against the risk of lawsuits.
In short, you're moving from working class to leisure class so a wide variety of insurance needs will change. Some old insurance will no longer be necessary and new needs will arise to take their place. Talk it over with your insurance agent to make sure you're properly protected.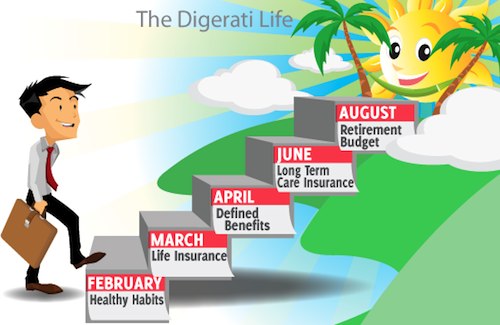 April – Apply For Defined Benefits
Review and address your social security and medicare benefits. File for pension, Social Security and Medicare benefits now to allow time for your paperwork to get processed. Set up direct deposit to ensure you get convenient access to your money and don't have to deal with depositing checks while traveling the world.
It might seem like you have plenty of time to file the required paperwork — but it can take up to three months for Social Security and Medicare paperwork to get processed. By filing early, you will be able to take full advantage of the benefits coming your way, right when you need them. Don't make the mistake of waiting until the last minute because your procrastination can cause permanent loss of any missed benefits.
May – Prepare For That Last Paycheck
Get ready to readjust your finances for the coming years. If you plan on making any major purchases like a motor home or mountain cabin, then consider doing it now while your employment income qualifies you for the best possible financing rates. Don't wait until the paycheck ends.
Similarly, now is the time to double check your retirement planning calculation. You can use calculators such as these to make sure you know where your money will come from as well as which accounts you plan to liquidate (and in what order). Establish a budget for monthly living expenses that will let you maximize the value of your money while enjoying retirement to its fullest.
June – Consider Long-Term Care Insurance
Research long-term care insurance and determine if it's right for you. The cost can be high, but the risk of not having the coverage can be financially catastrophic – particularly to the surviving spouse. It's a difficult decision at any point in life, but it is best to decide now while you're still healthy enough to qualify. If you wait too long and something happens, you may have no choice in the matter.
July – Roll With It
Plan to consolidate your workplace retirement funds. For instance, you may think about rolling over a workplace retirement plan to an IRA. This process can take a few months to complete so don't wait until the last minute. Get the wheels turning now, and you'll thank yourself later when it's time to make that first withdrawal, and your money is actually accessible rather than tied up in the rollover process.
August – Test Drive Your Retirement Budget
Check your budget and make sure it will fit your new lifestyle. Take a practice run living on your retirement budget now while you still have time to correct and adjust. After 4 weeks, you should have a good idea about whether or not you have enough money to live on and enjoy retirement. Be ready to make further budget adjustments if need be. Remember, once you submit your final notice, there is no going back, so now is the time to test-drive that budget and make sure you can really afford to retire.
September – Confirm Social Security and Pension Benefits
The rules on defined benefits change from time to time. You may have checked awhile back but now is the time to give one last look at your expected benefits. Review the data to check for any errors. This is one area where you don't need any surprises when your retirement day arrives.
October – Give Notice
If your employer isn't already aware of your impending retirement, have a conversation now and give your notice. Be proactive about this: inform your employer and plan for a smooth transition at work. Ask what the requirements and timelines are to end employment and to begin receiving benefits. Your boss will appreciate the heads up, and it will also allow time to process paperwork, plan goodbye parties and create a smooth transition for everyone affected.
November – Finalize Your Financial Plans
Get with your financial planner to tie up any loose ends on your retirement accounts, Social Security benefits, health insurance, investment strategies, asset allocation, fixed annuities and other money matters. Change the necessary options on your retirement accounts and set up an appropriate withdrawal schedule.
At this point, everything should be ready now, so pull all the varied pieces together and make sure there are no unexpected snags. You're in the home stretch now. Make those last few critical decisions so you can relax and enjoy your final month prior to retirement.
December – Celebrate!
Congratulations! You made it. Treat yourself to a glass of wine, and toast to your final days as an employee. Enjoy your last month in the work force. Start envisioning yourself as a retiree, and imagine the endless possibilities. What do you want to do next? Where do you want to go? How often will you travel or will you pick up a new hobby or two?
You've worked long and hard to create the retirement you always wanted. Spend the last few days of the year to reflect on all that was good in your career, the many roads you've traveled, and the exciting adventure that lies ahead in retirement. You've earned it. Now it's time to enjoy it.
About the Author
When Karen E. Spaeder isn't playing the role of retirement coach, she loves to hike, practice karate and go to movies with her son. As a former managing editor for Entrepreneur magazine and a staff writer for FinancialMentor.com, Karen loves to help people improve their financial situation through quality education.
Copyright © 2012 The Digerati Life. All Rights Reserved.