Earlier on, I discussed some pretty compelling facts about social and economic class. This time around, I wanted to go through an actual example of identifying one's social class or at least get a closer look at America's system. Honestly, we aren't a class-sensitive society here so I was curious to see how our social structure was supposed to be configured.
How Social Class Is Determined, An Example
If you haven't seen this already, then check out this most awesome interactive graphic from the New York Times entitled "How Class Works". I spent a bit of time just putzing around with it. By entering a profile, this tool can tell you what social class your entry falls under. So then I entered a familiar profile — one that pretty much described most people I knew.
I selected the occupation that is close to my heart: systems analyst, computer software engineer, and so forth. Education: a Bachelor's Degree. Income: the standard $100,000 for the computer based job (technically, salary amount depends on where you live). Wealth: the amount that is typically amassed by someone in their middle age. So what did it return?
My Selected Choices Yielded:

Occupation: 77th percentile
Education: 91st percentile
Income: 93rd percentile
Wealth: 85th percentile
Average: 86th percentile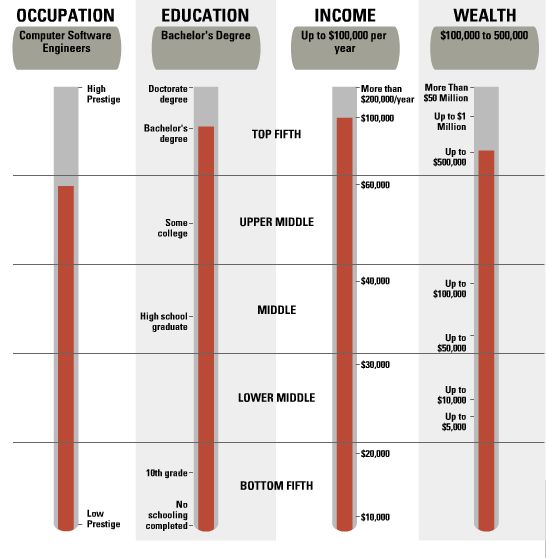 As for how income ties with education, here's a graphic showing how computer scientists and mathematicians are mapped out: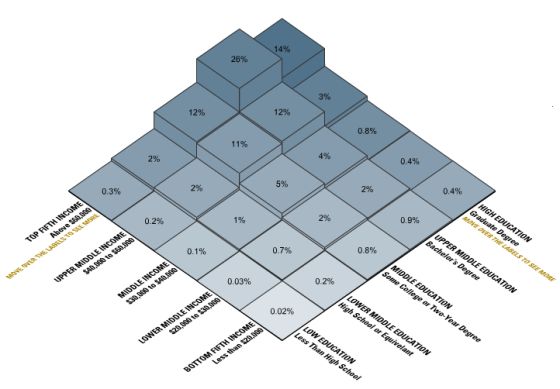 The distribution shows that if you're a college graduate in the field of science or mathematics, you'll likely earn a decent income. This also suggests that it may not be necessary for you to have a higher education to get the best pay out of a technical job.
In contrast, you'll see that the statistics for the legal profession garnered via this tool support the fairly common assumptions that judges and lawyers make a good living and that relative to other professions, they're a highly educated bunch. Well this just tells me that frugal law students may not need to be so frugal one day.
One other point: I was amused that even within job categories, a class-sensitive ranking exists for jobs within the same realm. Even roles and positions of similar nature fell into some kind of social hierarchy:
Similar Jobs That Varied In Class Ranking

Database Administrator: 83rd percentile
Computer Software Engineer: 77th percentile
IT Analyst: 73rd percentile
Computer Programmer: 65th percentile
Does this mean that if I were a mere "computer programmer" then I shouldn't be as highly regarded as a "database administrator"? This exercise makes me realize how job status can be a sensitive thing. How often do you give yourself a more flattering title when participating in some kind of social ice breaker? When people ask you what type of job you do, do you puff up your chest and say you're a "computer architect" instead of a "systems designer"? Or how about an "account manager" instead of a "sales person"? It looks like you can inflate your status simply by changing the label of the job you have. It's surprising to me that there's some kind of hierarchy in place even among similar sounding positions even though the job isn't much different across these labels. If you have skills in various domains, it may serve you well to use the right title whenever the opportunity arises.
So maybe you can try out the tool to see what else you can gather. You may be able to find out a cooler name you can use in lieu of your job title.
Copyright © 2007 The Digerati Life. All Rights Reserved.