A meme and book mention, all in one!
Here's something a little fun and different: it's another one of those internet tag memes. I was researching a financial topic and landed myself on Political Calculations, a very cool blog full of stimulating thought, cool tools and graphs. But funny enough, somewhere on his front page I came across a post that had a link to The Digerati Life, which I hadn't caught through the usual channels (I didn't notice a trackback). Well what do you know — he tagged me with a meme. So to join in the fun of a game of tag which I haven't played in a while, here's what the meme is asking tagged bloggers to do:
1. Pick up the nearest book (of at least 123 pages).
2. Open the book to page 123.
3. Find the fifth sentence.
4. Post the next three sentences.
5. Tag five people.
So I grab the nearest thing to me — it was this book by Alicia Dunams, who is in her own words, a college graduate, single mother, self-confessed world traveler, successful model, homeowner, investor, entrepreneur, business owner and writer. That's certainly a lot more lives than I could ever have!
She had sent me a complimentary copy of "Goal Digger: Lessons Learned from the Rich Men I Dated", where she shares her thoughts on the millionaire mindset based on first hand experiences. Sounds juicy?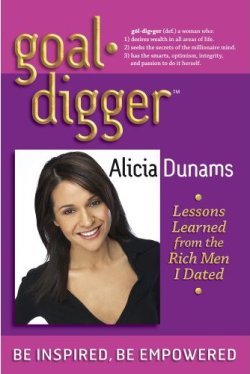 Well, I open to page 123 and what do I see? These very insightful words:
You must counter fear with courage. We often think of courage as a valiant effort; a great trial and tribulation that requires a huge investment of blood, sweat and tears.

But much like the phrase "What If?" consists of two more words for fear, so too does courage have a two-word nom de plume: positive thinking.
I wouldn't pass up a way to help promote this somewhat provocative book, which is quite a lighthearted read; so if this caught your eye, you can pick it up over at Amazon.com or wait for me to hold a contest where I give away copies as prizes.
So what are you reading these days?
Copyright © 2008 The Digerati Life. All Rights Reserved.