Running your own business as a sole proprietor or entrepreneur puts you in the driver's seat and leaves you there for a long time. Your decision-making skills will be honed like in no other situation, except perhaps… in parenthood. And for countless entrepreneurs, operating a business requires goals of making money to keep both the business and the family afloat. Also significant to sole proprietors is the need to save money, or at least not spend more than necessary, while still working to keep a business fully operational.
To achieve your own business goals, it's a great idea to be able to leverage the experience, support and services of other entrepreneurs who are — for lack of a better phrase — in the same boat as you are.
How Other Entrepreneurs Can Help Your Business
There are many ways a fellow entrepreneur can actually assist you with your business. Some possibilities:
#1 Networking. As a relative newcomer to the world of independent business owners, I may not always understand the rights and wrongs of growing and operating my business, but I have always been conscious of the power of networking. My father was a natural networker. He always knew someone that could help him out in nearly every situation. I can see how a single connection with a fellow entrepreneur can lead to many more fruitful introductions and friendships.
Networking allows you to meet people and learn about potential work opportunities you'd otherwise not hear about. By meeting others, you are opening yourself up to all kinds of prospects. But even more important is your ability to connect with other business owners and entrepreneurs with whom you share things in common. Those who have already been in your shoes or who are going through similar experiences may be more apt to help you out.

#2 Support and Advice. Other entrepreneurs can be a source of support and advice. Having someone who can relate to your experiences or who can act as a mentor to you can be a tremendous resource.
#3 Resources. A natural consequence of networking and building relationships with other entrepreneurs is the ability to learn from and educate yourself from the experiences of others. Information and knowledge sharing can be some of the most valuable benefits of being in a small business network.
#4 Referrals. Give your new friends a stack of professional looking business cards that they can hand out to their list of clients or customers. They can also directly refer you to people who are in need of your services. Word of mouth is often the best marketing tool a new business can have to find prospective work.
But how about some out of the box ways to leverage those business relationships?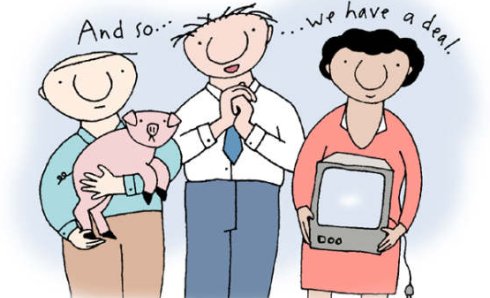 The Barter System For Entrepreneurs!
#5 Enter: the barter system. This is a clever way to save some money as a business owner. Without the extra money to bootstrap my business, it took me a while to launch my own home-based career. Ultimately, it took 10 years and some resourcefulness, including getting into a bartering relationship with a friend who has his own computer technology consultancy. To start off my business, I needed new computer equipment to work with, which my friend offered me in exchange for my marketing services.
After nearly two years, my friend and I continue to barter. What he has provided me in software and maintenance, I have returned with marketing materials and speaking engagements. We do not take money from each other for services rendered at this point but have agreed to compensate each other one day, when we are both stable and financially secure. Beyond helping each other out during more financially vulnerable times, we've also referred clients to one other. It has been an exciting partnership of sorts where we've entertained thoughts of working together, given our complementary skills and services.
Developing Business Relationships Through Networking and Bartering
While not every person may be willing to "work for free", there are plenty of people who understand the benefits of this archaic barter system in the modern day world, especially within the small business sector. Don't be afraid to at least broach the subject with people you meet and trust on some level. They could very well be looking for the same type of assistance from fellow businesses but were too afraid to ask.
Consider networking and bartering with people you deem sincere and have some of your same values about work. You don't want to get trapped in a situation where you're constantly taken advantage of. You need to be able to work out some guidelines first and then go with the flow to see how things work out.
Be honest and "play fairly" because developing good relationships with business partners truly has many incredible advantages, while a business partnership gone bad can earn you a poor reputation and marred referrals.
Copyright © 2008 The Digerati Life. All Rights Reserved.