Update: This offer is not available at this time, but new courses may be presented in the future.
I've been following a business that a fellow financial blogger is running, called Only72 and I've signed up to be one of their partners. That financial blogger is the fellow behind ManvsDebt.com, Adam Baker, whom I had the pleasure to meet not long ago. He has partnered with Karl Gajda, the owner of Ridiculously Extraordinary.com. Their business has a pretty interesting concept — they hold very short term sales of product packages that are offered by many known names in different online niches. The "72" in Only72 stands for the length of availability of the product set they are selling, which happens to be a mere 72 hours. These sales don't occur very often (they must take some effort to coordinate) — maybe a couple of times a year — but they cover quite a lot of product and material.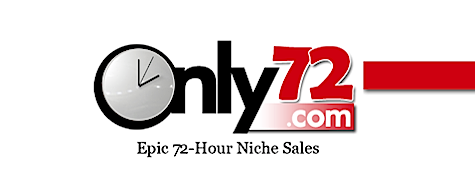 What you'll get during each sale: Best-selling products by the most popular names in a particular niche. You'll get them at a 90% discount from their regular prices. You'll also get them as a downloadable collection.
Current Sale: Productivity Courses From Top Online Entrepreneurs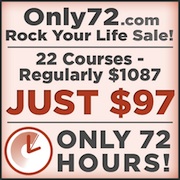 The good news is that there's a sale slated to run from June 20, 2011 at 12 PM EST through June 23, 2011 at 12 PM EST. This particular event will offer 23 Top Personal Development Products which altogether comes up to a retail price of $1,087, but will now be available for just $97.
You can order through the link below and review particulars of the sale:
Here are the details of what you'll be able to download once you place your order:
1. Reclaim Your Dreams by Jonathan Mead ($47)
2. Momentum Kickstarter Kit by Charlie Gilkey ($47)
3. Learn More, Study Less by Scott Young ($67)
4. Focus by Leo Babauta ($35)
5. 52 Weeks to Awesome by Pace & Kyeli ($52)
6. The Language Hacking Guide by Benny Lewis ($67)
7. Rebel Fitness Guide by Steve Kamb ($37)
8. 5 Ingredients | 10 Minutes by Jules Clancy ($77)
9. Fear-Crushing Travel Guide by Farnoosh Brock ($57)
10. Overcoming the Fear of Uncertainty by Sean Ogle ($47)
11. Make Sh*t Happen by Jenny Blake ($47)
12. Sex, Love, Liberation by Ev'Yan Nasman ($47)
13. A Daring Adventure collection by Tim Brownson ($47)
14. The Creativity Toolbox by Ali Luke & Thursday Bram ($47)
15. Brilliantly Better Collection by Dragos Roua ($43)
16. The Less Work, More Harmony Relationship Guide by Cara Stein ($47)
17. Cheap Family Fun by Kim & Jason ($52)
18. How to Become an Advanced Early Riser by Steve Aitchison ($37)
19. Discover Package by Barrie Davenport ($59)
20. Sell Your Crap by Adam Baker ($47)
21. The Art of Relaxed Productivity + The Power of Positivity by Henrik Edberg ($44)
22. Mind Control Method: How to Get What You Want by Karol Gajda ($47)
One last thing, $5 per sale will be donated directly towards a worthwhile cause: research on kidney disease. For more information on the folks behind Only72, check out Adam's site at Man Vs Debt and Karl's site at Ridiculously Extraordinary.
Past Offers By Only72.com: Focus on Business Courses
On December 1, 2010, Only72 offered a fantastic package from well known entrepreneurs in the business niche. Here's a description of how that went.
This epic sale was a great success, with close to 2,000 people choosing to make a purchase. The sale was geared towards entrepreneurs and small business owners, particularly those with an online bent. Customers received the package called 23 Business Courses From 23 Successful Entrepreneurs, which, as a whole, normally cost $1,052, but was made available for $97. Here was what was sold during that first event:
1. Unconventional Guide to Working For Yourself by Chris Guillebeau ($79)
2. The Essential Motivation Handbook by Leo Babauta & Eric Hamm ($15) (PDF)
3. True Strengths + The Metrics of Ease by Danielle LaPorte ($20)
4. Upsell 101 by Naomi Dunford & Dave Navarro ($77)
5. Websites That Sell Webinar by Laura Roeder ($47)
6. Guest Posting Guide by Chris Garrett ($17)
7. 3-Day Money by David Risley ($47)
8. Email Triage + 2011 Premium Planners by Charlie Gilkey ($32)
9. Location Independent Lifestyle Guide by Lea Woodward ($37)
10. Zero to Business by Johnny B. Truant
11. Write for the Web + Beyond Bricks and Mortar by James Chartrand ($54)
12. Reclaim Your Dreams by Jonathan Mead ($47)
13. How to Live Anywhere by Karol Gajda ($97)
14. Minimalist Business by Everett Bogue ($47)
15. Affiliate Marketing for Beginners by Corbett Barr ($77)
16. Beyond Blogging by Nathan Hangen ($47)
17. Smalltopia by Tammy Strobel ($27)
18. Guest Post Secrets by Erica Douglass ($77)
19. How to Network Fast by Jade Craven ($44)
20. Networking Awesomely by Colin Wright ($20)
21. Article Marketing Traffic Booster by Henri Junttila ($47)
As you can see, these are helpful resources that can teach us about entrepreneurship on the web!
Created December 1, 2010. Updated June 20, 2011. Copyright © 2011 The Digerati Life. All Rights Reserved.