With business — even small business — going global, we're all forced to adapt to the changes. If you're an employee, you may wonder: could your job be in danger? Having worked in the software industry for a LONG time, I often entertained this thought. You may worry that you could be made redundant or could end up getting laid off because of the outsourcing trend. Sure, the possibility is quite real for some jobs, but it depends on how specialized or how high up the chain you are with regards to the type of work you do. The more highly skilled you are, the harder it will be to find your position eliminated and outsourced to another place.
Having said that, here is an interesting list I garnered from the Resume Bear site:
Top 10 Jobs Targeted For Outsourcing

1. Computer Programmers
2. Pharmacy Technicians
3. Parts Salespersons
4. Telephone Operators
5. Billing and posting clerks and machine operators
6. Computer Operators
7. Data Entry Keyers
8. Word Processors and Typists
9. Tax Preparers
10. Medical Transcriptionists

Top 10 Jobs Least Likely To Be Outsourced (Safe Jobs)

1. Financial Managers
2. Training and Development Managers
3. Training and Development Specialists
4. Meeting and Convention Planners
5. Loan Counselors
6. Health and Safety Engineers, except Mining Safety Engineers and Inspectors
7. Mining and Geological Engineers, including Mining Safety Engineers
8. Food Scientists and Technologists
9. Sociologists
10. Urban and Regional Planners

Top 10 Jobs That May or May Not Be Outsourced (Jobs in the Middle)

1. Logisticians
2. Database Administrators
3. Operations Research Analysts
4. Aerospace Engineers
5. Computer Hardware Engineers
6. Marine Engineers and Naval Architects
7. Microbiologists
8. Chemists
9. Historians
10. Film and Video Editors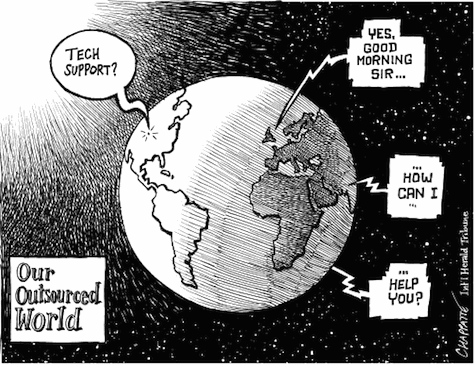 Why Is Your Job Getting Outsourced?
The Resume Bear also mentions the top reasons for jobs getting eliminated here. If you find these to be true about your own job, then it may do you good to work on additional skills, which really is the only way you can insure yourself from extended job loss.
Reasons for your company to outsource your job:
Your job can be automated. It's easy to have a machine or process to take your place.
Your job is location independent and does not require person-specific skills.
Your job can be done elsewhere at a much lower cost.
You can protect yourself by hedging your income, either by making sure you stay invaluable to your employer (keep your skills up to date!) or by striking it out on your own by developing multiple streams of income. With the Internet culture alive and well, outsourcing looks to be a growing trend. As a small business owner who practically lives online, I've come to embrace the "location independent" lifestyle and have also used it to my advantage.
Announcements
What's going on around the personal finance blogosphere lately? Apparently, quite a lot! Some things I'd like to mention:
The Financial Blogger has launched a new site called DoNotWait.com, which is a new retirement planning site. You can join their giveaway and win an iPad, among many other prizes! So make sure to check them out here.
Tom from Canadian Finance Blog has a great new resource for fans and readers of personal finance sites and blogs. You can check out Money Index, which gives you a summary of the latest posts from some choice money bloggers. You'll find me in the Personal Finance section!
Copyright © 2010 The Digerati Life. All Rights Reserved.