Back when someone I knew worked at an arena, I was able to score tickets to basketball games, exciting concerts and children's events for free or at a low price. Unfortunately, my connection has decided to move on, so like everyone else, I'm now subjected to ticket shock whenever I'm out looking for event tickets. I'm surprised by how much the arenas across the country are actually charging these days. Do you believe that we can still save money on concerts, events and tickets even when you don't know an insider? I'd like to be optimistic.
Take a look at your pile of ticket stubs from over the years and you'll see that tickets, concerts and performances have varying costs. Let's look at some events around the country to see the prices.
| Event | City | Price |
| --- | --- | --- |
| L.A. Kings Hockey | Los Angeles | $34.50 to $465 |
| Jay-Z & Kanye West | Atlanta | $69.95 to $284.15 |
| Chicago Bears Football | Chicago | $74 to $385 |
| Katy Perry | New York | $49.50 to $69.50 |
Why are events and live performances so expensive when they only last for a few hours? More popular performers can command large box office fees, some of which they'll use to pay the performers and crew who travel with them or to pay for expensive equipment. The promoters typically need to pay the hosting venue a fee as well, plus they want to make a profit so they can afford to do it all again next year.
Also, the venues where these events happen have infrastructure costs and a lot of staff members who work behind the scenes. A portion of these costs might be passed on to consumers in the form of service charges. You're going to pay for ticket printing, advertising and other costs associated with each event. In a way, you're paying for the ticket scanners, kiosks and those harried clerks behind the glass in the ticket office, too. Then there's the software to print those tickets, which adds to the costs of the box office. These charges may show up on your tickets as convenience fees, facility fees and/or order processing fees.
I've seen a lot of complaints about these extra "service charges" in forums and social sites such as Reddit; some examples even show how ticket prices seem to balloon to twice their cost after all the extra fees are applied! Ticketmaster is a particular target for a lot of these complaints, as some of the fees they list seem to come out of left field and almost appear to be arbitrarily listed. But taking a look at their fine print may yield some answers — they're charging for a reason!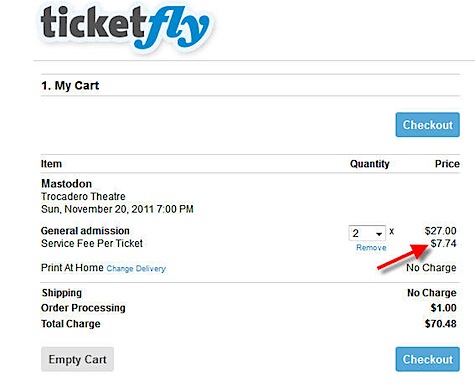 Image Source: Reddit.com
Even free concerts like Brooklyn's Pool Parties can cost upwards of $500,000 to produce, according to NPR. Although artists and their managers may prefer lower ticket costs for their fans, the venues they perform in need a certain amount of revenue to stay open.
Flexible Ticket Pricing: A New Pricing Model
Here's one system that some brokers are using to enable a "fair" pricing system: letting the market decide on how these ticket prices are set. How about having a pricing system that responds to supply and demand? Flexible ticket pricing is one new way to possibly sell more tickets and attract event goers. I've read that high volume ticket sellers like Ticketmaster are willing to try to adjust prices to encourage more sales. Instead of having a ticket price that doesn't move once the event's on sale, flexible ticket pricing means that a price can be reduced when sales are off. So it's an interesting move because Live Nation, Ticketmaster's parent company, saw sales drop by over 10 percent in 2010. Selling a larger number of tickets for varying prices should benefit event goers in the long run.
ScoreBig is another ticket seller that hopes more people will buy into the flexible ticket pricing model. Forbes compares ScoreBig's business model to that of eBay and Priceline. One caveat of flexible ticket pricing: ticket sellers may decide to increase prices if sales are high for an event.
The Risks of Scalping
But what happens for some concerts or events, when the tickets sell out before you can buy any? In many cases, ticket scalpers may be spotted outside the arena. Unfortunately, you may find that the scalped tickets are marked up to painful rates. Several years ago, it was reported that Hannah Montana tickets were scooped up, then sold for 18 times their original price!
Although ticket scalping may be illegal or discouraged in certain states, desperate parents may feel justified in taking the risk. Besides checking outside the arena, they might scour Craigslist or the newspaper classified ads. Auction sites may allow the reselling of event tickets and eBay has outlined an event ticket resale policy. Here are a few issues with scalping that you must know:
1. Event cancellations or schedule changes may not extend to scalped tickets. When you buy a scalped ticket, you run the risk of losing your money if the event is cancelled or postponed. An arena may limit refunds or exchanges to the original buyer, meaning you lose out if you can't find the person who sold you the ticket. If you're purchasing a ticket before the day of the event, ask for contact information and a cancellation policy. Not everyone will be glad to comply, but that may be a signal to find a more cooperative seller.
2. You may end up with unusable tickets. Another aspect of scalping is the possibility of buying fraudulent tickets. You may not know the person who is offering to sell you the ticket, but you can fend off fake tickets. I suggest you go to the venue's website and study the listing for the event, the seating chart and any examples of the ticket stock itself. A fake ticket may have misspellings or a seat that doesn't exist. Also, the stock may be the wrong size or shape.
10 Ways To Reduce Fees & Save Money On Concerts, Events & Tickets
Here are a few tips to keep in mind in order to minimize ticket costs:
1. Pick up tickets in person. Is there any chance of avoiding some of those fees I mentioned above? You can pick up tickets at the box office yourself instead of having them mailed to you, or print the tickets at home.
2. Opt out of event ticket insurance if you don't think you'll need it. Here's a typical insurance charge of $7 by Ticketmaster — it allows you to get reimbursed in case you end up having to miss the event due to an accident, a trip delay or an illness. The smaller this amount as a percentage of your ticket cost, the more it makes sense. But in general, you may want to skip it.
3. Sign up as a "fan" or go for the cheaper experience. How can you save money when it comes to the base fees? To make an obvious point, it's cheaper to sit in the nosebleed sections than front row center. If the performer you want to see has some sort of fan club or newsletter, sign up for it as soon as the concert tour is announced. Some artists like to give their fans first crack at discounted tickets.
4. Get your tickets early. Parents who call for front row Justin Bieber tickets the night of the concert will be out of luck. If by any chance there are any left, they will end up paying scalpers through the nose. If you need handicap accessible seats, you should call early as well. There may be a limited number of seats available.
5. Have a flexible schedule, so check the different show days and times. An event on a Thursday may have tickets that are cheaper than weekend events. Do you have to see a concert or performance in your city? If you're willing to travel a bit, it might be cheaper to go see an event in another location. For instance, an event in Fresno might be cheaper than in San Francisco. To reduce your travel costs, make arrangements to go with a group of friends or family.
6. Go for season tickets if you are big fans of any type of sport. But do the math to make sure that you'll pay less per ticket.
7. Try group sales as another way to save. Get a crowd together and call the box office to see if you can score a discount. In particular, school groups can benefit from this.
8. Check your credit card rewards programs. Certain credit card companies like American Express have rewards programs that give members special offers on tickets and events. Check your credit card's website first the next time you look for tickets. Here's a list of credit cards with such rewards.
9. Decide what your limit is before you hunt down the best seats in the house so you don't suffer from sticker shock months after the event or game.
10. Shop around. Well, this seems obvious. If you still don't like the ticket prices offered for a particular event, vote with your dollars. Go see someone with better ticket prices at a different venue.
So there are a few things you may end up having to do if you truly want to save money on entertainment tickets. While some feel that the fees are too high, attending such events is a treat that many of us splurge on. After all, it's not everyday that we get a chance to see our favorite artist or cheer our favorite team in person.
Created July 9, 2008. Updated November 1, 2011. Copyright © 2011 The Digerati Life. All Rights Reserved.