Since I've hit the point where I would either need longer arms or glasses to read small print, I'm just about ready to visit the optometrist. However, having paid hundreds for glasses for my family, I'd rather find something less expensive than what you'd typically pick up at the specialty clinics. Have you checked their inventory lately? Every time I replace my eyeglasses or pick up eye wear for someone in the family, it's always a mild shock to see just how costly they can be for something so seemingly small. Well, there is one avenue you can take to soften the pain of buying spectacles. So I opted to investigate online stores that supplied cheaper eyeglasses. There are a variety of resources available, with frames that can range from practical to stylish.

You may be swayed to check out a few TV commercials for inexpensive eye exams. But sometimes, those commercials mention that frames are available at a good price. Unfortunately, the family members I've accompanied to these places always seem to bypass the advertised frames for pricey designer frames. There can be a little bait and switch that goes on with these commercials, so rather than feel pressured to buy a pair of glasses on the spot, I've decided to inspect some choices elsewhere, where it's a little easier to manage the shopping process.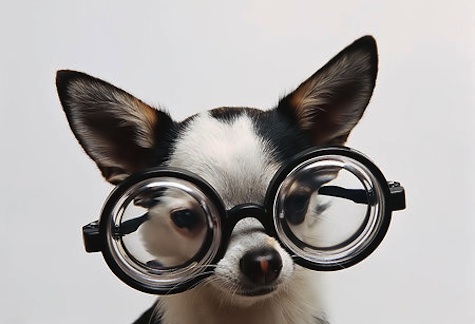 Image from DesktopNexus.com
Tips For Shopping For Eyeglasses Online
So what's the online shopping experience like when you're looking for eyeglasses? Here are a few tips to keep in mind when you go this route.
1. Have your prescription ready and confirm your measurements.
When you've entered your prescription for your order, it's crucial that you double check the numbers you've selected. For example, I've learned that there's a difference between entering a positive and a negative number — and one wrong entry can result in imperfect glasses. In addition to the prescription, it's important to know your pupillary distance (PD). This is the distance between your pupils which you'll need to measure in millimeters; it's best if you can get this measurement during your eye exam. The vendor you pick may have a detailed tutorial for taking your own measurement. And if you already have glasses, it's useful to have them around to help you select your frames.
2. Go over the eyeglass retailer's return policy.
Before you complete your order, you should go over the return policy. This way, you'll know about restocking fees and what isn't covered by the return policy ahead of time. It doesn't hurt to check out reviews and news of your prospective vendor, either. It's pretty important to check out the reputation of online merchants given that there are many unscrupulous ones that troll the web and victimize customers. Back in 2010, the New York Times shared the story of one online eyeglasses seller who generated a lot of complaints. You may remember them — it was the site called DecorMyEyes. We wrote about them here.
Where To Get Eyeglasses & Frames For Low Prices
So allow us to present a few reputable sites where you can buy cheap eyeglasses. We've talked about how you can actually save money on eyeglasses by shopping at Costco, even if you don't have a Costco membership! But you can compare merchandise by checking out these other resources as well. The following retailers often feature sales and discounts quite prominently on their sites.
1. EyeBuyDirect.com

Over at EyeBuyDirect, there are glasses in different price ranges for men and women. You can look at eyeglasses ranging in price from $6.95 to $49.95. Hundreds of frames are offered, from plastic and titanium to designer frames. You can also sort glasses to show full-rim, semi-rim, or rimless selections. You can also sort your search to find bifocals, trifocals, or progressive eyeglasses. You'll find a range of shapes too: rectangle, oval, square, wayfarer, or round. If you already know your preferred dimensions, you can also search by size. You can specify by total width (narrow, medium, or wide), lens width, and temple length (short, medium, or long).
You'll find sunglasses for sale here as well. What's nice is that they've got a deal of the week and a coupon section. However, if you need glasses for your kids, you'll need to check elsewhere.
They'll take credit cards as a payment option. You can also pay with PayPal, Amazon Payments, and Google Checkout. It can take about seven days to two weeks for your order to arrive, depending on which shipping option you want.
2. 39DollarGlasses.com

Another source for cheap eyeglasses online is 39DollarGlasses. I am not sure why they are called 39 Dollar Glasses since their glasses all have different pricing — nevertheless, the prices appear reasonable. Like EyeBuyDirect.com, 39DollarGlasses has lots of choices for men and women. But unlike EyeBuyDirect, they actually sell eyeglasses for children. They've added the nice touch of giving their products fun names like Chipmunk, Panda, and Princess. You can choose from a variety of different colored frames. One set of Chipmunk glasses I looked at only came out to $44. For orders over $99, the shipping is free. It can take a few days for them to make your glasses, and it may take longer if your order needs customization. Here's also something that may not have been immediately apparent, but once you become a customer, you are automatically eligible to receive customers rewards. It's basically a cash back type program where 4% of your purchases are applied to your account so that you can use this to fund future purchases. By the way, the rewards are transferable!
3. FramesDirect.com

At FramesDirect.com the prices may seem higher, but you'll find the popular designers here. Brands like Prada, Ralph Lauren, DKNY and Vogue are represented among the designer eyeglasses. I found several Vogue eye wear items that were as low as $68. You can also buy contact lenses here and enjoy military discounts. You can use one of their guide tools to help you make your selection. And finally, look for promo codes on the site that give you discounts like 10% off a single pair or buy one, get one for 30%. In my opinion, they've got one of the cleaner sites around, which can lead to a better user shopping experience.
4. BestBuyEyeglasses.com
One more place to check out is BestBuyEyeglasses.com. It's another site with lots of designer eyeglasses at a discount. You can view videos to help you pick your lens type and material too. You're restricted to glasses, sunglasses, lenses and accessories, where the inventory caters to adults. But if you're interested in purchasing contact lenses, you'll need to check out their related site called BestBuyContacts.com. While BestBuyEyeglasses sports some selections in the sunglasses and shades department, you are offered additional options through yet another one of their sister sites, called BestBuySunglasses.com.
If you've never worn glasses before, you might want to spend some time browsing some of the merchandise at your doctor's office when you get your eye exam. That way, you can get an idea of how different types of frames look and feel before filling your prescription. For many of us, glasses are a daily necessity, but they don't have to cost you hundreds of dollars a pair. For more on getting a great deal on glasses, you can check this article on Slate.
Created January 4, 2010. Updated July 15, 2011. Copyright © 2011 The Digerati Life. All Rights Reserved.