I came across an SEO contest, which is rather a bizarre online event. Why do people waste their time on black hat approaches to gain search ranking? Why do they engage in such bad online experiments?
In the world of online business, there's such a thing as "SEO" or "search engine optimization". It's an important element required to make money online. The more you know about this aspect of the online world, the better equipped you are for possible success as an online publisher.
Now I stumbled upon this rather strange sight (pun intended) the other day and I wasn't quite sure what it meant. This was a blog that I thought was in some foreign language that I was unfamiliar with, or maybe I was just dense and this was beyond my intellectual capacity to comprehend. But no, I stumbled upon another curiosity birthed by cyberspace — an SEO contest. What were some people doing? They were trying to win money by gaming the search engines.

For the chance to win anywhere from a couple hundred to a couple thousand in cash and prizes, you can join this contest which allows you to show off how skilled you are with Search Engine Optimization, the practice of rigging your website or weblog so that your site ranks well in search engines. The main focus of optimization is for a site owner to attempt to get a high page rank in a web environment for a given set of keywords, using various methods such as keyword utilization. However, many webmasters turn to terribly desperate measures such as keyword stuffing, spamming or outright plagiarism of the exact same posts. Let's look at a few aspects of this set up:
Why SEO Contests & Black Hat Methods Are A Waste Of Time
Here are some reasons why SEO contests suck.
1. They don't make sense.
Just take a look at how lame this looks. It's gibberish, plain and simple.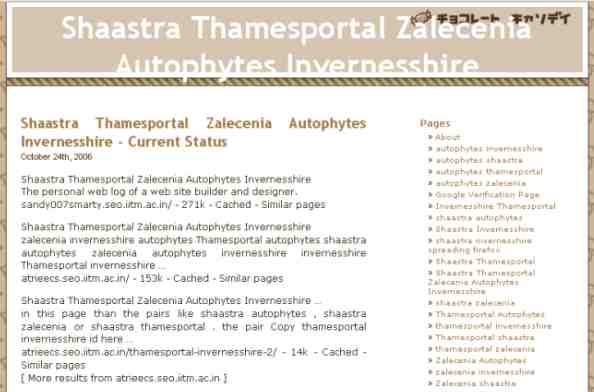 As a first-time beholder of such an event, I got curious about how seriously some people took the experience. Then again, this is just another example of how the internet can be a means for some people — even the underhanded types — to exploit its vulnerabilities in order to make a buck. Some of these contests involve using nonsensical phrases that are used by sites for ranking purposes. Those who make it to the top of the ranks for these made up phrases end up winning.
What possesses people to spend their time fussing over their blogs and keyword stuffing the heck out of it? The same thing that consumes people to hang out in chat rooms, message boards and even to write in their blogs compulsively: the lure of the net, and in this case the lure of competition and perhaps the wish to win a bit of quick money. Overseas, this money can mean a lot to people who live on little income.
2. Black hat methods don't work over the long term.
These days, however, search engines are getting more sophisticated. For instance, it's become more apparent that Google can identify those engaging in questionable tactics to try to spam the Internet with poor material and content. Those who resort to cheating, stealing, spamming and fraud (or scams) won't have much of a presence online for long. They may find themselves in the ranks or SERPs for a wee bit of time, but eventually, they are cleared out and removed. So don't bank on these methods to get you far; your online reputation now matters a great deal to how well you will be found and perceived in the search world and other online communities.
My suggestion to all publishers is this: STOP making shortcuts. You'll make better money by attending to an online business that is legitimate and respected. Build an online reputation and stick to honest practices, and you should do better.
Copyright © 2006 The Digerati Life. All Rights Reserved.