We're closing the year and welcoming a brand new one. And we're doing it by adding on to our special album of New Year greetings. We've collected our wishes throughout the years and include a handful of our favorite posts from the past on some occasions. We've seen both ups and downs but overall, life online and offline has been pretty exciting and certainly beyond our expectations. We'd like to thank all visitors, subscribers and followers for helping us stay the course! We hope that wherever you are, you are celebrating hard. And do let us know what your plans are for the upcoming year.
Happy New Year 2011! Choice Posts from 2010
Here are some of our favorite posts of 2010.
JANUARY: Get A Financial Education In Your Twenties
FEBRUARY: Skip Commercial Banks! How Cash Only Living Can Work
MARCH: Investing In Global Financial Markets
APRIL: Wipe Away Debt Problems With Debt Snowflakes
MAY: After I Do My Taxes, How Does My Tax Return Get Processed?
JUNE: How To Escape An Upside Down Car Loan
JULY: Developing Multiple Streams of Income
AUGUST: 3 Things To Do With Your Online Cashback Earnings
SEPTEMBER: What To Consider Before You Cancel Your Credit Cards
OCTOBER: How To Get A Car Loan: Evaluate Financing Options
NOVEMBER: Steps to Buying a House: Checklist & One-Year Plan
DECEMBER: The Debt Snowball from Dave Ramsey: FAQ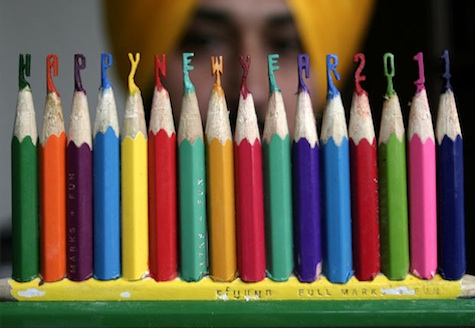 Pic of the day from The Telegraph
HAPPY NEW YEAR EVERYONE! May 2011 bring you prosperity and joy.
~~ooOoo~~
Welcoming 2010: The Digerati Life's 2009, A Year In Review
Now how about I peel back some of the pages of time and offer you The Digerati Life's own retrospective and show you a sampling of what we wrote about over the past year? Here are some of the highlights, commentary, opinions and discussions that we had in 2009:
JANUARY: Millionaire Secrets of the Super Rich: The Big Problems They Keep
FEBRUARY: Obama's Foreclosure Bailout Plan: Should There Be Help For Homeowners?
MARCH: 1929 Stock Market Cycle: Are Technical Indicators, Stock Trends Repeating History?
APRIL: Credit Card Spending Down By 10%, Ours Is Down By 50%
MAY: Good Business In A Bad Economy? Grow Your Business In A Recession
JUNE: I Need A New Credit Card Fast
JULY: Great Stock Market Performance, But Will Dow 9,200 Hold?
SEPTEMBER: How One Debtor Resolves Her Credit Card Problems
OCTOBER: Double Dip Recession: Why Dow 10,000 May Not Last
NOVEMBER: U.S. Unemployment Rates and the History of Recession: A Visual Guide (Map)
DECEMBER: Zhu Zhu Pets: Top Toy For Your Christmas Stocking
I had been hearing a lot of people grumble about how glad they were that 2009 finally ended. It was a pretty tough year for a good lot of people (particularly the first half of the year) so it seems that most people were relieved that they could now "start afresh".
As for me, I was "cautiously hopeful" (or as the oft-heard, well-worn cliche of recent years states: "cautiously optimistic") for the year. I thought to channel a more rowdy mood for the start of this New Year and present you with a slightly obnoxious 2009 retrospective, a humorous and satirical view of the year that was:
I was actually hopeful about 2009. This CNN poll shows us that while more people are feeling more positive than not about their future, such confidence levels are lower than what they were a decade ago: in 1999, an overwhelming majority of people (85% of poll respondents) were hopeful about their situation for the following year. But these results are far from surprising when you're coming off a recession vs riding the wave of a huge boom. I don't find the poll that meaningful (the CNN news title is in fact, misleading) given that it pretty much just states the obvious.
A Virtual Toast To 2010 and A Happy New Year To All!
~~ooOoo~~
Happy New Year 2009! It's All Up From Here
To our dear friends, best wishes for the new year! Thanks to our wonderful readers, subscribers, visitors and fellow bloggers for ringing in 2009 with us! We'll remember 2008 as a highly volatile, roller coaster of a year, but we thoroughly enjoyed the time we've spent on the web with you all, chatting about business and finance.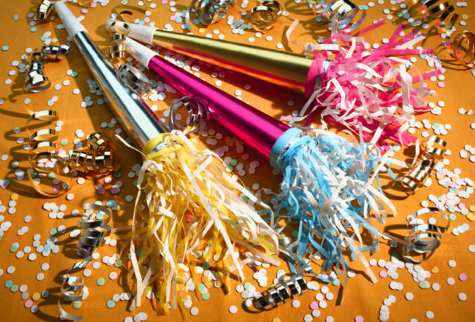 We wish you a healthy, happy and prosperous 2009.
Here's to more saving, more controlled spending, and perkier investments all around!
Copyright © 2010 The Digerati Life. All Rights Reserved.