Before I start with what I've been dealing with lately, I'd like to give you some happy news that hit The Money Writers network last week: Frugal Dad has joined the group! We're very thrilled to have him on board and very impressed with the growth and success of his blog. I've been a big fan of his site for quite sometime now, and thus, I'm very glad to see him as one of The Money Writers. Welcome aboard Jason!
As for me….I closed a long and eventful week yesterday that included many blog-related activities. I've been multi-tasking heavily and now my fingers are pretty worn from all the typing I've been doing over the last several days. 🙂 Among some of the stuff I was working on: transitioning out of my interim blog editor post at Mint.com's blog. Mint.com has hired a new full-time editor, Lee Sherman, who will now take care of growing and managing the Mint blog. He's got a lot of plans for their finance blog so I highly anticipate great things from them in the coming months.
I also had a fun and fabulous time with the Wise Bread Q & A "Women Bloggers' Spotlight" last week. Lots of people dropped by, asked questions and were so kind with their feedback! Thank you to all of you who came by for a read, a visit, a question and comment. I hope you had as much fun as I did, discussing the world of personal finance and blogging and some of my favorite things!
As for my other favorite things… my preschooler just ended his stint at summer school last Friday, where they have daily projects. Well, he came home with this neat art project, which I just find so adorable. I've been quite impressed with the crafts they have the little kids do at schools these days — like turning these bunch of boring stones into a family of lady bugs! 🙂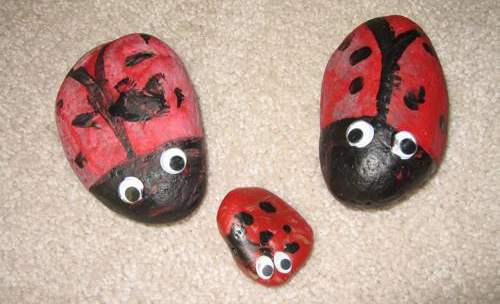 Well, we weren't the only ones who were busy: so was the rest of the blogosphere! Here's the latest buzz around the financial web:
Recommended Personal Finance Reads
Copyright © 2008 The Digerati Life. All Rights Reserved.