Update: This giveaway has expired, but you may be interested to read more about BigCrumbs below.
Lots of good things and events ahead over the next few weeks here at The Digerati Life! To start with, I am noticing that my traffic meter is inching its way towards the 4 millionth mark! It may take a couple more weeks to get there but it's getting there! I'm also gearing up for a big surprise this weekend for those who visit the site. Woohoo! Anyway, to mark the occasion, I thought to present a nice promotion from one of our new discoveries — the savings site BigCrumbs is giving away FOUR $25 gift certificates to Restaurant.com, which is one of their merchant affiliates.
What Is BigCrumbs?
So what is BigCrumbs anyway? Well not too long ago, we offered an in depth look at this site in our BigCrumbs review. Basically, it's a cash back rewards shopping site. This site is affiliated with many known online merchants and if you decide to become a member of BigCrumbs, you can simply shop through them (or "pass through" them on your way to your favorite merchant) and you'll be given cash back for doing so.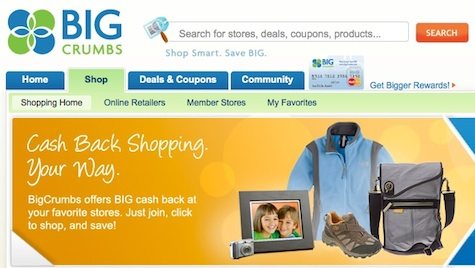 Since my review of their site, there have been some changes on how you can earn cash back, with the process to earn rewards now made easier. When you sign up with Big Crumbs, you're eligible to earn cash back in two ways:
As a shopper — by going through the BigCrumbs portal to reach your merchant or shopping site of choice (e.g. Macy's, Drugstore.com, Sears), you'll earn a percentage back of what you spend during your online shopping trips.
As a referrer — if you refer other people to BigCrumbs, you can earn a little bit each time your referred members use the site to shop. Yes, it's a profitable way to earn extra income. 🙂 The good news is that you'll earn up to two levels deep through your referral network. So you'll also earn cash back from shoppers who've been referred by your own referrals. Here's more on how to earn an income stream through BigCrumbs.
Other advantages here include the claim by BigCrumbs that their cash back rates are likely to be higher than those of eBates, another popular cash back shopping site (and one which I've been using for a while now). There's also the added feature of being able to set up your own Amazon, Etsy or eBay store, so that you're actually able to participate as a merchant or affiliate shopping site! In fact, BigCrumbs hosts over a thousand stores from Etsy alone. So if you're interested in getting more traffic to your store — a cashback incentive for new customers may be a worthwhile promotional strategy. And finally, if you like deals, you can change your BigCrumbs settings to receive online deal alerts from them.
Free Restaurant Gift Certificates Giveaway from BigCrumbs
So what about the giveaway? Well now that you've got some idea of what BigCrumbs is about, then here's the good part.
They're offering FOUR $25 gift certificates from one of their merchants — in particular, Restaurants.com. To participate in this giveaway, just do these quick steps:
1. Sign up to my RSS feed if you haven't already (or choose the Email subscription option). You can also follow me via Twitter. By being a subscriber or follower, you'll get a daily dose of personal finance and you'll hear about giveaways like this, which I get the opportunity to hold now and again.
2. If you aren't already a member of BigCrumbs, here's where you can sign up. But note that there are no extra requirements to join this giveaway and you don't need to purchase something to qualify.
3. Leave a comment below about your best shopping tip. But please, don't hawk or push random coupon sites in your comment. I'm looking for substantial, helpful tips that are useful for those of us who enjoy getting a good deal when we shop.
4. Depending on interest, I'll keep the giveaway up and running for a few days. If you win, you'll hear from me and I'll also make an announcement, so please make sure you leave behind a valid email address when you comment.
That's our savings tip for today.
Copyright © 2010 The Digerati Life. All Rights Reserved.