Update:
This contest is now over. But feel free to
check out our site
for interesting topics on finance!
HubPages.com has launched a new writing contest called "Money Grows On Hubs". You can write about money and personal finance and get a chance to win some cool prizes in 2011. It's December and we're all pretty busy. But there's also a whirlwind of activity going on in the personal finance front that I wanted to give you a jumpstart on. If you're a budding writer or would love to earn a little extra through an online activity, you may want to consider writing for HubPages.com.
If you haven't checked HubPages before, it's a place where you can create pages and articles (also called hubs) and receive rewards and earnings, in the process. By sharing your content and writing articles, you can be compensated through various ways.
HubPages Launches The Money Grows On Hubs Writing Contest
I'm rather excited to announce that for the months of December and January, HubPages has decided to focus their efforts on the topic of money management and personal finance. There is a lot of coverage on finance this month, which will culminate in a writing contest next month for hub writers. You can find more information about these events through the Money Grows On Hubs Contest Page.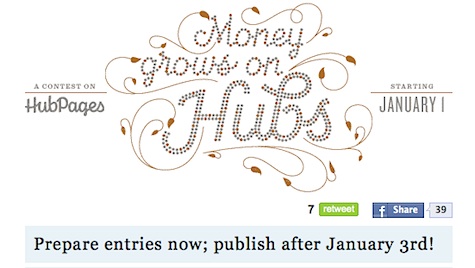 HubPages is taking the opportunity to raise awareness in the area of personal finance by sharing resources on the subject and by encouraging us to write about our money matters (or financial topics that interest us). By participating, you'll be in the running to receive some great prizes! Here is a short description of the rules but make sure that you read their official rules as well:
1. Sign up with HubPages and create an account, if you're new to the site. It's a free account. By maintaining hubs (or pages), you can earn money via several ways such as Adsense, Amazon, other ad networks and in some cases, a revenue sharing system.
2. Watch out for financial topics each day in January 2011. There's a new topic to focus on each day, and you can check their calendar for specifics.
3. Write and publish up to 5 hubs a day on the topic of personal finance starting on January 3, 2011. Make sure to designate these as belonging to the Personal Finance category. The hubs need to be your original work. The minimum length of each hub is 300 words.
4. There will be a judging process and you can win a prize for what you do. Here is what you can win:
Staff Pick (28 winners): $50 & best selling book, I Will Teach You To Be Rich by Ramit Sethi
Daily Drawing (28 winners): $50
Best Hub (4 winners): $100
People's Choice (4 winners): $100
Grand Prize (1 winner): $500
One more cool twist: I was invited to be one of the chosen judges for this contest, along with my colleagues in the personal finance blogging space: Jeff @ Good Financial Cents, Gyutae and Andrew @ MoneyCrashers, Baker @ Man vs Debt, Pinyo @ Moolanomy.
I was also quite honored to have been interviewed by Simone Smith of HubPages! For the curious, the interview is here. 🙂
Hope you join! I think it's a great way to sharpen your writing skills while paying a wee bit more attention to your financial affairs. I'm looking forward to your entries!
Copyright © 2010 The Digerati Life. All Rights Reserved.