What's going on with Wal-Mart, and more particularly, its stock? I've been wondering that lately, and will attempt to answer the question later.
Wal-Mart is the largest retailer in the world, operating discount stores, Sam's clubs, neighborhood markets and Supercenters (combined discount stores and supermarkets), but its stock has been meandering in limbo for the last 5 years.
There's usually good reason for a stock to stay stagnant through time. And when a company gets rather large and unwieldy, growth rates slow. This may have a factor in a stock's not so good performance. If you check a stock's fundamentals, you may potentially get clues as well. Let's check a few stock graphs right now, shall we?
Wal-Mart (WMT) 5 Year Stock Performance
Wal-Mart Stores, Inc. (WMT)
Last: 48.31 Change: -.08 Day's High: 48.74 Day's Low: 48.19
Previous Close: 48.39 Volume: 11,960,300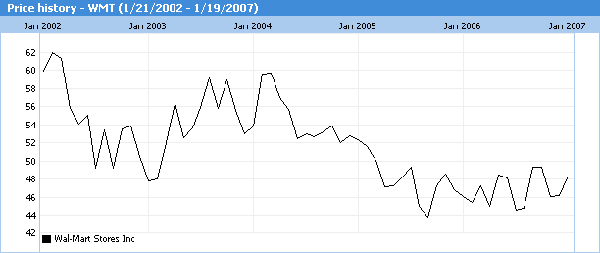 In comparison, it's hard-hitting competition Target, runs discount stores as well as SuperTarget stores, which are just bigger versions of their discount stores. Here's how it's doing:
Target (TGT) 5 Year Stock Performance
Target Corporation (TGT)
Last: 62.35 Change: .84 Day's High: 62.96 Day's Low: 61.53
Previous Close: 61.51 Volume: 5,996,700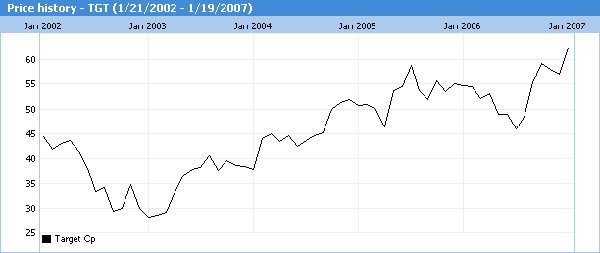 Uhhh….Did you notice that one chart is the antithesis of the other? They're in lockstep reverse, almost to the dollar.
Let's see some additional comparisons: how about some apples to apples…
Wal-Mart Versus Target Performance Returns Comparison
Table data current as of Nov. 30, 2006
| Metric | Target | Wal-Mart |
| --- | --- | --- |
| Total ratings | 419 | 1,029 |
| Bullish ratings | 393 | 831 |
| Bull ratio | 93.8% | 80.8% |
| Bearish ratings | 26 | 198 |
| Bear ratio | 6.2% | 19.2% |
| Bullish pitches | 76 | 171 |
| Bearish pitches | 3 | 57 |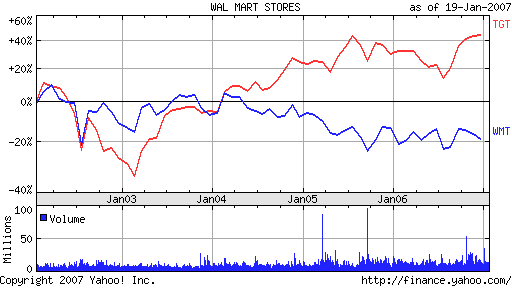 and now apples to oranges….. Here's Wal-Mart vs the S & P (or SPY).
Wal-Mart Versus The S & P Performance Returns Comparison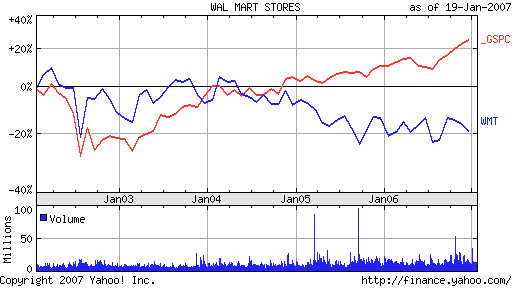 So what the heck is happening to the retail giant that is Wal-Mart? What about its business is making the stock so lethargic? I'm going to take a leap and make some speculations:
Could it be their price points?
Could it be their service?
Could it be the merchandise? Or the produce?
Could it be its less than stellar reputation?
How about its unpopular business practices?
Is it the failed fake blog campaign?
Or could it be THIS?
Upon entering around 8:30pm, I was completely blown away by how disgusting this entire store was, I had to go out to my car and grab my camera. I could not believe my eyes. This place was absolutely filthy…..
The 'Produce' section was unspeakable. Empty bins with crusty scraps of produce were everywhere. Rotten fruit and wilted vegetables had random merchandise strewn about amongst them throughout their containers. A carton of orange juice sat on the shelf of Windex.
So the rout is not only evident in the numbers. For some subjectivity, try the blogosphere's own opinions with these 10 Reasons Why Target Is Better Than Wal-Mart!
I was neutral on WMT before, but now I'm actually afraid of it. However, I don't want to be a grocery store basher either, it's not becoming of me. Plus, I've seen much worse in many other specialty markets in my neighborhood. However, I DO expect something cleaner than what I've just seen from the largest department and grocery store chain servicing a 1st world country, and which still has its share of fans. I can't really vouch for the store as we don't have one close by. Shhhhh….. now don't go around telling them that.

< Check the rest of the Filthy Wal-Mart Photo Essay here! You won't be disappointed. >
Copyright © 2007 The Digerati Life. All Rights Reserved.