You want to keep fit and stay healthy, but are you making smart moves to lower your health care costs?
I had something going on for a while — some chronic health issues that bugged me. I've seen the round of specialists and no cigar. They couldn't help me. I looked to relieve strange health symptoms I'd been experiencing that have stumped the regular medical community I've consulted with. The symptoms were strange only in the sense that they aren't standard symptoms that point to any one classic malady, so nobody, in the span of two years, could really provide me with a reasonable diagnosis that I could go home and worry over.
So I turned to homeopathic treatment to try to get myself more "balanced" and hopefully get my old self back. And here's the good news: homeopathic and alternative treatments have worked, and together with lifestyle changes, have banished my discomforts. It turns out that "stress" must've triggered the problems I've been having and I'm in much better shape now.
But the point of this story was for me to discuss the financial implications of going to an alternative doctor. I'm not sure what most people think, but my experience with traditional medicine hasn't been all too satisfactory. From dealing with painful insurance issues, to frustrating visits with a revolving door of specialists, to terribly high out of pocket costs, this experience has been both a time and money pit for me.
As it is, the costs of medical care are ridiculous (especially in the United States), so the fact that it's the leading cost of bankruptcy is not a huge surprise to me. Health problems are a double whammy as they suck to live with, and also suck your finances dry.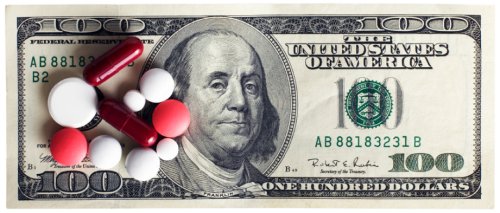 What's even more unfortunate is that many people who try alternative treatments are already at the end of their rope. Despite that, these treatments aren't covered by insurance because of their "alternative" or "natural" designation — not approved as "real" medical solutions. But by golly if I wasn't going to find a way to make these easier on my pocket!

Enter… Uncle Sam's tax breaks.
The Tax Deductibility Of Health Care Costs
Since I itemize my tax deductions, I at first rejoiced when I heard from my homeopath that some of my out of pocket expenses on supplements, tests and prescribed treatments would be tax deductible. She insisted on it, though I didn't really believe it; I've argued this out with my tax guy in the past. So I consulted with the tax expert yet again about this and other aspects of the tax code that relates to health care costs. Here's a Q & A covering some health care tax issues I have at the moment (I'm not a tax expert, so please refer to your CPA, Enrolled Agent or tax software for actual advice):
Q: Can I deduct my prescriptions, medications or supplements?
A: If you've got a diagnosed condition and your pills or other medications are prescribed, your medications and even supplements are tax deductible under certain conditions (you need to reach a certain limit for the costs). But over-the-counter won't count.
Q: What health care costs are really tax deductible?
A: All your medical costs including out of pocket costs, co-pays, prescriptions that add up to more than 7.5% of your annual income for the given tax year can be considered for tax deductibility. The costs are deductible above that 7.5% point.
For example, say your AGI is $80,000 and you have $10,000 of health costs. Your Schedule A itemized deduction is limited to $4,000 ($10,000 minus $6,000, which is 7.5% of your $80,000 AGI).
Q: Now that I'm self-employed, how can I have my business pay for my health insurance?
A: I'm a sole proprietor and I found out I could get a tax break from having my business pay for my family's health insurance by using a "healthcare reimbursement arrangement (also known as a IRC Section 105(b) plan)". There are some tricky points to this rule, but it's something I'm exploring right now. It could mean big tax savings!
Sole proprietors, partners in partnerships, and S corporation shareholder-employees can't participate in HRAs. But there's a loophole in the law: A sole proprietor's spouse can be covered. And that coverage can include both the employee and the employee's family. Even though the spouse-employee's family includes the sole proprietor!

Let's say that your family pays $9,000 a year for health insurance and another $9,000 for uncovered medical expenses. Say a family member has an expensive long-term illness. Or simply that you've got teenagers with big orthodontia bills.

Because you're self-employed, you would get to use the $9,000 of health insurance costs as a business income tax deduction in most cases anyway. (Self-employed individuals can write off medical insurance if their business is profitable.) However, with an HRA, you'll also be able to use the $9,000 of health insurance costs as a self-employment tax deduction. That saves you roughly $1350 annually.

In addition, you'll be able to fully deduct the other $9,000 of uncovered healthcare costs as both an income tax deduction and as a self-employment tax deduction. This deductibility could easily save you another $1350 in self-employment taxes and then another $2250 in income taxes. Total savings: $4950 annually.
For more details on this topic, check this helpful article. But as I've mentioned before, better to consult with the tax experts about your specific situation.
Other Ways To Lower Your Health Care Bills
It turns out that despite all the tax breaks that exist out there that try to "ease the pain" for those of us with big health bills and medical expenses, these palliatives are just not good enough. So what CAN we do about this? Other than make enough noise and join the health care debate raging on in our country, I can only come up with some tips (which I've also covered at the Prosper blog) that can hopefully help stave off the misfortune of dealing with ill health and painful health care costs:
#1 Maintain your health.
#2 Have enough savings for emergencies.
#3 Be prepared and have insurance coverage.
#4 Have a Plan B. Address your worst case scenarios.
Unfortunately, even performing health-restoring changes may not be entirely free, as witnessed by the fact that I quit my job to alleviate the stress I had been experiencing, which was duly identified as the major cause of my "hard-to-diagnose" afflictions. I lost out on the money, but I've hopefully gained more of my health, sanity and overall happiness back.
In the end, I had a choice to make — pay less for medication (with requisite side effects!) covered by insurance to mask my symptoms, OR pay more — a lot more (as I've mentioned, the holistic approach is most likely NOT covered by insurance) — for "functional treatment" that would attempt to find the root cause of problems, aiming to address these problems directly. In some respects, this adds to some of the issues we have with health care in this country.
Don't get me wrong: I think traditional medicine is the way to go when you need surgery, are facing a life-threatening condition or have a clearly diagnosable problem. But health care is not just about making symptoms go away, it's also about preventing disease and maintaining well-being. Now I'm not so sure that's the traditional medical community's forte, or even something in their financial interest, for that matter.
Something I'm not looking forward to: as we grow older, we'll be having more and more experiences like this that remind us that health is one of those things that no amount of money may be able to restore once it's gone. So always take care of yourselves! Be healthy and prosper.

Image Credit: Piper Report
Copyright © 2008 The Digerati Life. All Rights Reserved.