How can we cut our auto insurance premiums in half? Here are a few tips to lower your car insurance rates.
Even if you already have insurance coverage, it's still always a good idea to review your car insurance needs and compare rates from time to time, as even a cursory check of quotes from various sources on occasion can keep you proactive about some aspects of your finances. Comparison shopping is often the best way to find the best rates from any source. Here's how I've checked and compared quotes using online insurance sites:
Cut Auto Insurance Premiums In Half: Shop Around!
So where can we get quotes? Here's my list:

Esurance: My first stop was at Esurance, whose focus has been on auto insurance, though they're now covering other types of insurance products as well. Check to see if the company serves your part of the country; if they're unable to help you, they'll point you to someone who can (their affiliates). For those areas they do serve, you'll get a quote in 6 minutes. They've received several honors for excellent web usability, web consumer experience, technical innovation, long term service and support, and corporate equality. They've also got some customer centric tools such as RepairView, a way to track your auto repairs online or via a smartphone, and "Coverage Counselor", which helps you determine the amount of coverage you need via a series of questions.

21st Century: Another place I tried was 21st Century Insurance. This free service starts off by asking for your zip code, after which they ask you a series of questions. 21st Century sends your information to agents located closest to your zip code, while in turn sending you a list of these providers within minutes. You are then put in touch with these agents who can assist you via email, fax or phone. You can also try their Auto Coverage Advisor tool (like Esurance's "Coverage Counselor" tool) to give you some preliminary idea of the level and kind of coverage to pick up. In addition to auto insurance, 21st Century can also provide you with leads and quotes for other forms of insurance, such as home, renters, umbrella, and life insurance.

Allstate: My car insurance is actually with Allstate, which has given me affordable coverage thanks to 30 available discounts and the ability to save money by bundling all my policies under one insurer. Some of the actual discounts that can cut your insurance premium costs include the safe driver discount (you can save 45% or more by avoiding accidents) and their early signing discount of up to 10% off. The Allstate safe driver discount is a great monetary incentive since the insurer will pay you a "Safe Driving Bonus Check" two times a year for each year that you remain accident-free.

InsureMe: I also took a look at InsureMe, which pools together a list of insurers who can provide quotes. This is an online insurance site on top of other online insurance sites that's in the business of aggregating information across the insurance industry and helping you with quote and rate comparisons. For my needs, InsureMe has listed insurers such as Geico, Progressive, Liberty Mutual and others.

Kanetix: Then there's Kanetix.com, which is yet another portal that allows you to retrieve and compare insurance quotes from a variety of insurance companies, which is their selling point. They're like a classifieds directory, since through them, you'll be able to receive leads from agents offering various forms of insurance (such as life, property, health and travel insurance), so you can look into coverage that's beyond just auto insurance.

US Insurance Online: For another site that gives you many options, check out US Insurance Online. After filling up a form and supplying some general information about your vehicles, you'll be sent free quotes that match your needs.
12 Helpful Tips To Lower Your Car Insurance Rates
Now that we've presented you with some leads on resources, how about taking a look at some general tips for lowering your auto insurance rates? What can you do to keep your rates low? In my case, as part of my plan to try to live on a leaner budget, I've decided to look into ways to try to economize on insurance. One thing I wouldn't recommend is to skip on the insurance altogether, since your assets (home, investments, savings) can be placed at risk if you ever get into an accident where you incur a lot of damage.
Here are a few ideas for keeping your car insurance rates down:
1. Ask for a multiple car discount. Since we have more than one vehicle, this is something I can request from my insurer. In my neighborhood, boats are popular — can the insurer who takes care of your other insurance needs handle your cars as well? Talk to the agent who handles your home or renter's insurance, too. They might be happy to give you a discount for the additional business.
2. Raise deductibles if it makes sense. The kind and amount of auto insurance coverage you want will affect your rates. A simple and reliable way to decrease your auto coverage premium is to increase the deductible amount you're prepared to pay in case you figure in an accident. However, you should also make sure you talk to an industry professional before you take this step, since it could also seriously cut into the reimbursement amount you're eligible for, particularly in the case of minor repairs. At any rate, with higher deductibles, I pay less in premiums, which I can put towards my savings instead.
3. Drop extra coverage that you can live without. If I wanted to, I could increase or decrease coverage depending on my situation. I'm reviewing to see how much collision, comprehensive and uninsured motorists' coverage I should carry. I picked up a few interesting suggestions from eHow that tell us when it may be acceptable to drop collision insurance:
For cars that are 5 years or older.
If the annual fee for the coverage is 10% or more of your vehicle's value.
If you no longer have an outstanding loan.
If you are a safe driver.
If you have enough money to cover repairs.
Since I drive an older vehicle, it doesn't make sense for me to have top of the line coverage. With an older car, I aim to just bank the money I would have paid the insurance company for any extra coverage. If I lower my coverage limits, I can put the extra savings elsewhere and come out ahead.
4. Know your liability limits for your state. Weigh your risks for lowering your auto insurance coverage to the minimum required by your state. Your profession, assets, age and driving record can affect this decision.
5. Maintain good credit. If you're shopping for car insurance, the car insurance quote services will most likely ask you to assess your credit rating — a sign that those with bad credit will earn higher quotes.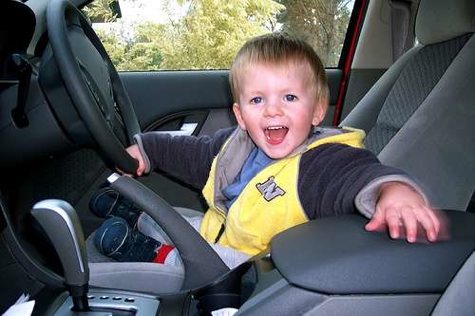 Photo by MarkOMeara
6. Maintain a good driving record. Getting into an accident is one of the most obvious ways to drive up your car insurance rates. But an alarming number of drivers continue to drive dangerously, increasing their odds of being involved in a collision ten-fold. While drunk-driving is a classic example of a dangerous practice that results in avoidable accidents, an even larger proportion of U.S. motorists continue to take huge risks by using their cell phones while driving. Numerous studies have demonstrated that thousands of accidents are caused each year by drivers who are distracted while driving and texting. If you've received tickets or been involved in accidents, then your rates will be negatively affected. By having a clean record, you're premiums are kept favorable.
7. Maintain your vehicle regularly. Keeping your car in good condition is the key to another potential way to save money on your monthly car insurance payment. Keeping your vehicle in good shape and staying on top of any minor problems can go a long way toward heading off more serious problems down the road. And, since a sudden breakdown can easily startle a driver — possibly even cause a crash — you should consider regular maintenance an important factor in keeping your auto insurance costs down.
8. Reduce your drive time. Simply staying off the road is another possible way to save some money on your auto insurance. Some insurers offer discount programs to drivers who meet certain qualifications and put less than a set amount of miles on their cars per year. For instance, if you live within a relatively short distance from your work (meaning shorter commute time, and therefore, less time on the road), most insurance companies will offer a discount. The rationale is that drivers who aren't on the road as much have a much smaller chance of getting into an accident, and thus, needing to make an accident claim.
9. Install monitoring equipment.
Some auto insurance companies offer discounts just for placing special monitoring equipment in your car. The equipment records your travel information and allows the insurer to verify that you are driving as safely as possible. If you meet the criteria (i.e., no sudden stops, extreme acceleration, or excessively sharp turns), the data they collect may qualify you for a reduced rate on your insurance coverage, since your habits behind the wheel fall within acceptable safety guidelines.
10. Partake of customer loyalty discounts.
Most auto insurance companies nowadays will also offer you discounts just for sticking with them for a length of time and being a safe driver. So when you find a good insurance company that offers reliable service and good rates, just be loyal and you may see your rates decrease with time.
11. Sniff out unidentified discounts.
Make sure you ask questions and do your research. Auto insurance companies maintain their competitive edge by offering discounts for all sorts of things. You can get discounts for being in college, for having graduated college, for being a veteran, and even for being married. You'll get discounts for being older as well. Some companies won't readily offer these discounts until you ask the right questions or make it known that you are shopping around though. So read up on everything these companies offer before making your decision.
12. Shop around. It's something we emphasized above: as with almost any other purchase you make in life, shopping around and gathering estimates from several local auto insurance providers can save you hundreds of dollars a year! Some auto insurance companies will now give you quotes for several competing auto insurance companies. Even so, sometimes it is better to do your own research. The last time I bought car insurance, I was able to get a lower quote from my insurance company just by talking to the sales people and telling them that another company was offering me a lower rate.
What else affects the rates? Do you carpool, share the vehicle with your spouse, let a teenager use your vehicle, or commute a long distance? Some questions asked by insurance quote services may refer to your use of anti-theft devices — if you have any, you're bound to get better rates.
So whether you've decided to buy your car online or from a dealership, you'll need to brace yourself for more car related expenses. As a car owner, you'll have to think about another purchase: insurance! It's completely understandable that many American consumers are looking everywhere for ways to save money — and the family car is often the first place they look to make budget cuts. Thus, beyond simply driving less, know that you can save money in another automotive area — car insurance — by applying the tips we've shared here.
Created February 13, 2009. Updated March 12, 2012. Copyright © 2012 The Digerati Life. All Rights Reserved.