Update: I am greatly saddened to have to write that since this post, James Kim did not make it out of the woods of Oregon alive. I had a truly difficult time writing this post as this story touched me at an emotional level. My deepest sympathies to the Kim family and their friends and those who loved James Kim. The online community grieves with you.
We're interrupting our regularly scheduled behavioral finance and money news channel for this particular story. This is the story of James Kim, CNET Editor, as it was unfolding.
I don't know if you are familiar with the case of a local family here from the San Francisco Bay Area who vanished for a certain period of time, but their story really hit home for me because I truly identified with these people: they are from my area, have similar jobs as my friends and I do, and have kids around the same ages as mine.
The Tragic Story of James Kim, CNET Senior Editor
The father is 35 year old James Kim and he is a Senior Editor at CNET covering the tech beat. There are several videos of him and his family on You Tube, with many clips showing him covering the latest in gadget wizardry. His wife is Kati Kim and they have two children, 4 year old Penelope and 7 month old Sabine. They went missing after Thanksgiving 2006, as they maneuvered their way home from a family trip to Oregon to visit friends and relatives. They were last seen together at 9PM at a Denny's restaurant where they had dinner, 160 miles from their planned destination, a bed and breakfast inn (the Tu Tu Tun lodge @ tututun.com) on Gold Beach, Oregon. The weather forecast was bleak and the road conditions ahead were rough.
The latest update to this story came today: after having been missing for 9 days, Kati and her two children have been found minus James, but along with their car that had somehow become handicapped. Two days ago, James set out on foot by himself to search for help. He still remains missing.
My heart goes out to them. Since I heard about this case in the news, I've thought of them and prayed that they would be found unscathed. I am also hoping and praying for a completely happy ending to this situation and that this family is reunited with its father soon.
Here's the clincher though: beyond this report, something else caught my eye… it's this piece of information from some of the news articles:
Terri Stone, an innkeeper at the Tu Tu Tun Lodge in Gold Beach, where the Kims were to have stayed the night of Nov. 25, said the road is shown on some Internet road-direction sites as the best way to get to the coast from Grants Pass, but she advises against it.

"It looks like the shortest distance, but it is very, very treacherous," she said.

I checked Google Maps to see what directions it would give me based on source and destination points very much like what the Kims would have configured. Click here or on the image below to zoom in.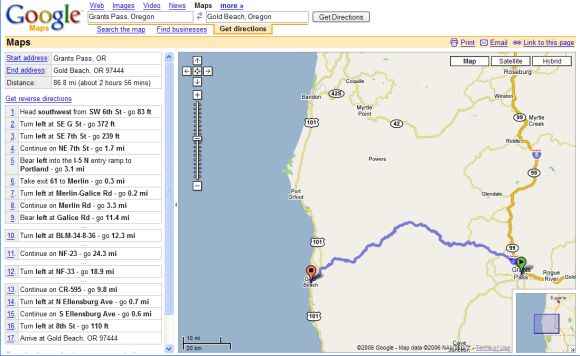 Flaws In Technology Pose Certain Risks & Dangers
So what does this imply?
This may be tough to talk about right now, given that James is still missing and how traumatizing this whole situation is but I thought to bring this up during a time of travel and hard weather conditions, hoping to pass a message. I hope it's not taken the wrong way when I ponder these topics, but this is what it's telling me: something we all probably already know to some degree, but just take for granted — that Google, MapQuest and other online search engine map applications and GPS devices have quite a ways to go. Maybe we're just so thankful about these services, how they've made things so much more convenient for us — we've forgotten they are not foolproof.
Sure, mapping software still needs to grow up. It needs some features that help refine the direction generating functionality and a way to determine alternate routes based on other inputs. How do you know Google or Yahoo! won't send you to the depths of dangerous areas, neighborhoods or quite possibly in this case, far-flung wilderness all masquerading as optimal routes? The algorithms need to improve in a huge way — and before they can reach their prime, people will need to supplement technology with some old fashioned research born of word of mouth.
I know that my own habits towards navigation have changed since these programs have come up. I certainly take my routes for granted knowing that I only have to follow my auto navigator to get me places. But how many times has it sent me to spots I wasn't all that comfortable with but somehow managed to squeak out of? Too many. I always say that my cell phone will bail me out no matter what. But try dialing from a remote mountain canyon. I can very easily see myself in James' shoes.
It is ironic that James is a guy who works in the field of technology: but could familiarity breed complacency? Our reliance on cell phones, GPS navigational gadgets and internet directions may have made us overly confident about our surroundings, so much so that it may cause us to throw caution to the wind way too readily. We have a tendency to trust technology as the ultimate voice in many matters: It's easy to think that high tech is the be-all and end-all in too many facets of our lives; very easy to take its advice above all else. Inventions and instruments can make us forget that they are imperfect machines much like we are.
Ultimately, I only wish for the safe return of James Kim, and I am optimistic that he will be found safe. For certain, this serious incident has taught me a few lessons, among them being that we need to:
1. heed travel advisories
2. travel with sufficient food, water and clothing
3. play it safe (the better late than never adage can never grow old)
4. inform others of our plans
5. and most importantly, never trust technology completely
We're visiting Yosemite next week and even with all the gizmos we are bringing and relying upon, we're keeping this story deeply and firmly in mind. Again, I profoundly wish that James is found well and that all of you out there will stay safe this winter season.
<Those with information about James Kim's whereabouts are asked to contact the SFPD immediately–at 415-558-5508 during normal business hours and at 415-553-1071 after-hours.>
Copyright © 2006 The Digerati Life. All Rights Reserved.