Desperate times call for desperate measures.
When there's not much money to go around and you're facing a financial bind, I've noted that different people have different ways of handling the situation. Here are some common ways of dealing with it and trying to make ends meet:
Some don't notice the problem and simply borrow more, pawn the future to take care of the present.
Some close ranks, batten down the hatches and stop spending, living sparingly.
Some ask for help from family and friends, hopefully temporarily.
Some try to seek a way out of it by hitting the pavement or drumming up income producing opportunities.
And some become quite resourceful.
No Money? No Problem. You Can Live On Boxes.
Let me tell you the story of a guy named Jose Avila, who decided to make furniture out of Fedex boxes. I found this endeavor to be quite inventive, smart and yes, resourceful. He could have been inspired by this fellow and decided to get the shipping boxes for free from Fedex; the company obliged and he whipped up his furniture. Unfortunately for him, he got into trouble later when he set up a web site showing his furniture creations to the world, and Fedex decided to respond to him through their lawyers. The issue wasn't that he got their boxes for free and used it for the wrong reasons. The issue, according to Fedex was that he wasn't supposed to set up a web site to let everyone know that this could be done. They cited copyright infringement by the guy's web site.
Incidentally, here are some samples of his ingenious work: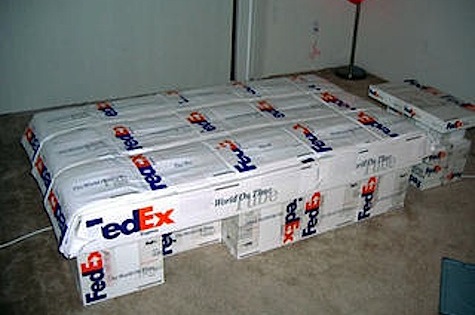 Fedex Bed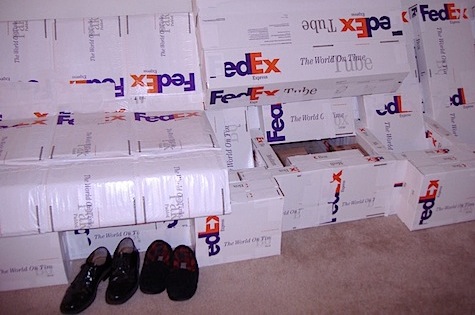 Fedex Sofa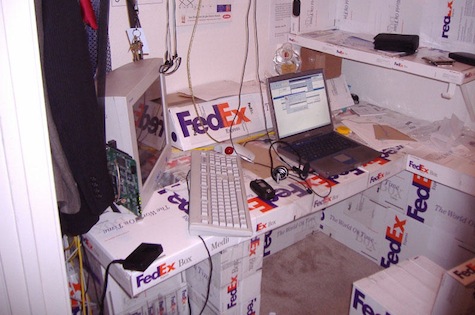 Fedex Office Desk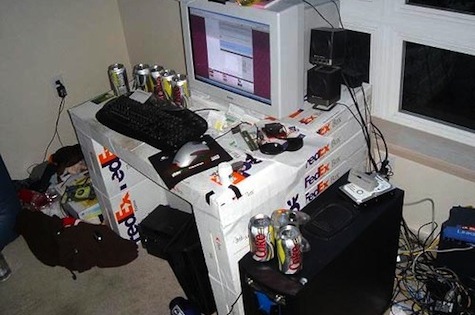 Fedex Office Desk 2

I've overhead a few people say that they wished they had this idea back in college; it would have saved them from sleeping on a ratty mattress or bare floor for as long as they did. As far as I know, you're still allowed to get free boxes from shipping companies; just don't tell anyone what you're going to use them for.
How Your Financial Situation Sparks Your Furniture's Evolution
This whole box furniture idea got me thinking about one of my favorite topics. I actually love furniture and home accessories. It's sort of a weakness of mine. Though I may have mentioned ad nauseam how much I would have liked to get into finance if I hadn't become an engineer, my right brain would still compel me to possibly try getting into other creative things, such as interior design or home staging.
So given my relevant albeit moderate exposure to this industry, here is how I would rank some furniture ideas out there in terms of price from the cheapest to the priciest when furnishing your house. The budgets I've listed are hypothetical and are my best guess, but this sort of thing is generally variable, depending on deals, negotiations, discounts, sales you can snag during your shopping expeditions.
Do it yourself and save a bundle.
Budget: <= $1,000 for everything
Calling all craftspeople out there. You're creative? Live on furniture you fashioned yourself! If you're really serious about going cheap, leave your mark with cardboard crafted items, recycled fabrics and wooden boards. Cardboard or moving boxes go for $3.00 to $5.00 a piece. But it's free if you ask for it from Fedex, as we've seen. Buy the basic ingredients and make your own (check U-Haul for cardboard boxes). You can be as extreme as you want to be.
If you have a bare bones budget, then limit your purchases and buy used.
Your Budget: ~$2500 to furnish your house
You can get used items for $10 or $20 a pop. I've gone this route before, when I furnished the first apartment I ever lived in. I went to garage sales were I picked up:
Bookshelves for $10 each.
A mattress for $20.
A bunch of framed pictures for a $1 each.
Posters went for $0.50.
My apartment was very livable and I don't believe people noticed the gently used items and my home's more austere surroundings!
Still have a tight budget? Go to discount stores.
Budget: ~$5,000 to furnish your house
How about new, made to assemble furniture from Target or IKEA? You can also try the do it yourself route with furniture kits from discounted places. You may want to prioritize function over style. If you're responsible for your own materials, you may decide to pass on the authentic woods with the higher quality finish to keep costs down.
Have some money to spare? Go retail.
Budget: $10,000 – $25,000 to furnish your house
Raise your budget somewhat and check out retail stores. Most people will visit Levitz, JC Penney and Macy's for their needs. You won't go wrong by doing so and will probably get good deals for entire room sets especially when they go on sale.
Custom crafted can go either way.
Budget: Variable
Outsource the building of your furniture by designing your own and have someone else make it, or have someone else do it all for you. Prices are variable in this area because it all depends on who's crafting the pieces. If your neighbor is a skilled woodworker or cabinet maker, you may get a good price in this regard. Hire anyone with a name and watch the prices soar.
Buy from catalogs but prepare to spend.
Budget: ~$10,000/room
You can step up quite a bit by buying furniture through catalogs. There are some cool sources out there such as Pottery Barn, Restoration Hardware, Ballard Designs. Spend more and you'll get the likes of Horchow, if they're your style. Beware though, at this point, sales don't make as much of a dent on the prices and furniture is often sold as singles to extract the most from your pocket.
If you have the money, go top of the line with brand names and solid reputations.
Budget: ~$20,000/room
When you have arrived, you may want to decide to stretch your budget further and may be interested in high end works such as Thomasville or Ethan Allen or bump it up with Century, Bernhardt and the like.
The world is your oyster, buy the stuff that actually appreciates.
Budget: $200,000/room
Genuine restored fine European antiques may actually hold their prices or are rumored to appreciate in value with time. At these price points, you'll need to be insuring your property as well. Unless you're prepared to spend the equivalent cost of a brand new car on a single table, then it's best just to find inspiration from the authentic designs and hunt for decent reproductions.
My Furniture Buying Program
If you're a real shopper, you may decide to incorporate online comparison sites throughout your quest to find the best deals out there. That's certainly one way to go about it, especially if you're looking for individual items rather than attempting to furnish your entire house all at once.
The thing about furniture is that they are seasonal and cyclical and go on sale quite often. Furniture lines are discontinued quite often, and those on the verge of extinction will get marked down. So make sure you check for sales schedules at stores you visit. Also, stores provide financing terms for their furniture, which I'm not an expert on because frankly, I've never gone down this path before. Instead, I've always opted to buy used and cheap stuff when my budget dictated it.
Lastly, there may be delivery and shipping fees associated with your furniture purchases unless the store provides the service for free. So you'll need to include these and other potential fees such as insurance (for truly high priced items and collectibles you'd like to protect) to your final figures.
In closing, I'd like to think that if I were in a bind, I would go buy used and get myself that $10 chair off of Craigslist or the classifieds since I don't believe I'm handy enough to fashion stuff out of raw materials. But as time goes on and I find myself with more funds, I'll go up that furniture ladder of incremental beauty and elegance, and replace one piece at a time, building the interior rooms of my dreams.
If there's any furniture buying tip out there I've missed, please feel free to fill in the gaps!
Copyright © 2007 The Digerati Life. All Rights Reserved.