It seems like everyone is banking online nowadays, right? In fact, I've had the same online savings account for the past eight years. Just recently though, I was offered an online checking account as well, so I thought that now might be a good opportunity to investigate the possibility of taking more of my banking to the web.
There are quite a good number of online bank accounts and savings options out there. You could check out our list of high interest savings accounts or visit Bankrate.com to see what it is that the banks are currently offering. In addition to the interest rate and APY, you want to keep an eye on the minimum amount you need to open an online account and, of course, any fees involved. There are plenty of online bank accounts to keep your money safe.

Now let's review the benefits and downsides of online banking.
The Pros of Banking Online
1. When you bank online, you can bank anywhere.
The first thing that attracted me to an online bank is the ability to access my account from any web browser. Whether I'm working at the office, on the road with my Netbook, or typing away at my desktop, I can easily open my favorite web browser and log into my online bank accounts at any time. Every browser I have tried — Internet Explorer, Firefox, Safari and Opera — has worked for me towards this end.
2. Online banking is always open.
My local credit union closes at 3:00 p.m. With an online bank account, you never have to worry about the hours of operation because the Internet is always accessible. If you need to look up something in your account, you can do it any time — even when you're stuck in the house, car, or office.
3. Bank transfers are straightforward.
If I want to transfer money between my online savings account and the local bank, it's as easy as pushing a few buttons to start the process. Since it may take several days for the money to move from one account to the other, it's best to plan ahead for transfers.
I resumed my automatic savings plan several months ago. It has been substantially easier to make sure my money gets into my savings account. Each month, my online account debits my linked local checking account to build my savings. If I need to stop the transfer, I can swing by the website to cancel it immediately.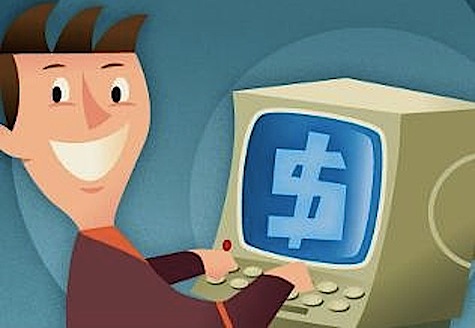 4. It's pretty secure.
My account is backed by the FDIC, in the same way that my accounts are insured at the local bank. As long as I use strong passwords and don't leave access to my account vulnerable, I should be safeguarded against theft. I also found out the hard way that my online bank will log me out if I neglect its window for too long. The banks' websites should have their security policies posted for review.
5. Statements can be paperless and simple.
Rather than clutter up my office with paper statements, I can view my statements online. In the event that I want to print a copy, my statement can be downloaded as a PDF. Simple.
6. Receive higher interest rates.
A popular bank in my area offers a personal savings account with an interest rate of .25%. By contrast, HSBC Advance Online Savings offers a 1.10% APY on an online savings account with only a $1 minimum to open. So, as you can see, many higher yielding savings accounts are online in nature.
7. Minimize your banking fees.
Many online accounts have low or no fees. It doesn't cost me a dime to maintain my savings account. By contrast, one of my local accounts penalizes me if I make too many in-person withdrawals in a month. I don't have to worry about minimum balances with my online account, either. Don't forget: BEFORE you sign up for such an account, make sure you know the minimums and fees that they require, if any.
8. Get access to other bank products.
Chances are, if you have one online bank account, you'll gain access to deals on other bank products. For example, an online bank like ING Direct might offer checking accounts, mortgages, and even investment products or business accounts.
9. Use popular money management tools with your accounts.
Over the last few months, I've tried Quicken Online, Mint.com, and some other personal finance tools. You may find that many local, smaller banks aren't linked to some of these services, but online banks tend to be better integrated with these tools. In effect, banking online can make bill-paying easier.
Note: Some of these positive features are also applicable to traditional brick-and-mortar accounts.
The Cons of Banking Online
Despite my enthusiasm for my online accounts, there are still some folks who prefer to keep some things local for a variety of reasons:
No ATM card for savings alone. If I want an ATM card, I normally have to open an online checking account and then link it to my online savings account.
Transfers to the linked local account may take longer. If I need to move money from my online savings account to my linked local account, I may have to wait as long as a couple of days. But a transfer from my local checking account to the local savings account typically happens on the same day.
You can't afford to be careless. Having your browser remember all your passwords certainly seems convenient, but a visitor who plops into your office chair might be able to snoop around. This can easily be avoided though if you memorize the password and clear out the cookies on your browser before you step away from the computer.
The tellers give out candy and smiles. Yes, they put the "personal" into personal banking. Online banking customer satisfaction matters tremendously when choosing an online bank, because sometimes, it's just nice to talk to a live body!
Copyright © 2010 The Digerati Life. All Rights Reserved.