Taking a closer look at one popular long term investing approach.
In the mid to late 90s I remember seeing an investment strategy that stood out from the rest. The Dogs of the Dow strategy offered a pretty straightforward and easy-to-understand approach, had a solid historical performance, and seemed to be one that would outperform the market consistently going forward. Isn't that what all investors want? Doesn't it sound like the golden nugget that all investors scour online broker forums and financial magazines for? Fast forward to today and investors are still drawn to this strategy for the same reasons I had back then. And, there is already much talk about 2010's Dogs of the Dow and how it will do.
Dogs of the Dow: Top Investing Strategy or Brilliant Marketing?
I guess you may think that I'm the perpetual cynic, but I hate to tell you that the Dogs of the Dow really do not perform the way many would lead you to believe. Looking around the internet, many of the titles and jargon certainly would have you thinking otherwise:
"Try Dogs of the Dow. Read on and you will discover a technique that would have given you a 17.7% average annual return since 1973! That's not bad, especially considering that the Dow Jones Industrial Average overall return was 11.9% during that same period."

"During the tech bubble of the late 90s, the high dividend stocks of the Dogs of the Dow were up 28.6% in 1996, up 22.2% in 1997, up 10.7% in 1998, and up 4.0% in 1999."

"During the difficult bear market years of 2000-2002, the Dogs of the Dow were up 6.4% in 2000, down 4.9% in 2001, and down 8.9% in 2002, and that was enough to significantly outperform the Dow, S&P 500, and Nasdaq."

"In 2003, the high dividend stocks of the Dogs of the Dow gained 28.7% and made new, all-time highs despite the massive bear market of 2000-2002!"

"In 2006, the Dogs of the Dow surged to new record highs with a gain of 30.3%. The Small Dogs of the Dow did even better with a gain of 42%!"

As an investor, especially in uncertain times, it sure sounds appealing to me. And, even popular financial media outlets today consider it a strategy that outperforms the market — even if the strategy has underperformed lately.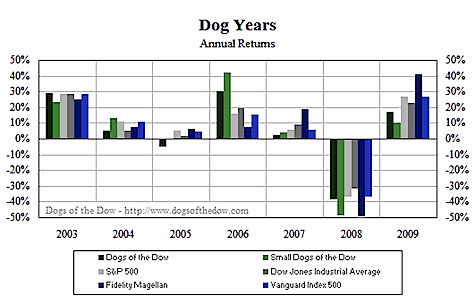 Chart legend applies from left to right (Dogs of the Dow, S&P 500, Fidelity Magellan, Small Dogs of the Dow, Dow Jones Industrial Average, Vanguard Index 500). Image from dogsofthedow.com.
Headlines such as those above and the excitement by industry professionals have created an almost cult following. The Dogs of the Dow still seems to be a popular strategy even when it has been underperforming in recent years. And honestly, I think we all have been misled.
A Deeper Look At The Dogs of the Dow
If you haven't heard of this before, the strategy entails buying and holding the 10 highest yielding stocks of the Dow 30 Industrials. And it's been said that this strategy alone will help you outperform the market itself. One of the underlying premises is that these stocks have a higher yield because as "Dogs", their prices have gone down. So, in essence, when you buy the highest yielding stocks that provide a good income yield, you're participating in a value play — by buying stocks for cheaper prices than they are actually worth on paper.
Here is the list of the Dogs of the Dow stocks for 2010:
Dogs of the Dow List – 2010
| | | | |
| --- | --- | --- | --- |
| Stock Symbol | Company Name | 2009 Close | Dividend Yield |
| T | AT&T Inc. | 28.13 | 5.93% |
| VZ | Verizon Communications Inc. | 33.17 | 5.68% |
| DD | DuPont de Nemours | 33.78 | 4.84% |
| KFT | Kraft Foods Inc. | 27.26 | 4.23% |
| MRK | Merck & Co. Inc. | 36.57 | 4.10% |
| PFE | Pfizer Inc. | 18.25 | 3.88% |
| CVX | Chevron Corp. | 77.11 | 3.52% |
| MCD | McDonald's Corp. | 62.63 | 3.46% |
| HD | Home Depot Inc. | 28.94 | 3.08% |
| BA | Boeing Co. | 54.19 | 3.04% |
Dow Jones Industrial Performance (1900-2010)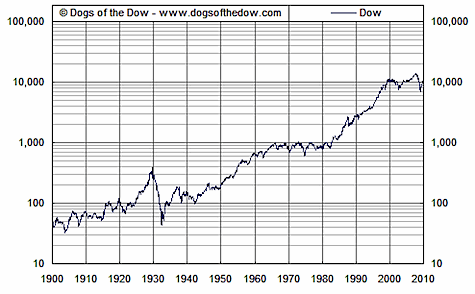 Image from dogsofthedow.com.
Now I am a huge proponent of value investing, but not necessarily packaged as a strategy. I must admit that fundamentally and conceptually, this approach seems like a sound one. However, once you peel back the layers and analyze the data, there are several technical problems with the approach and the reporting from all the talking heads who eagerly advocate it. Mark Hirschey from the University of Kansas School of Business aptly explains:
"The perceived outperformance by Dow Dogs can be explained in terms of investment period selection problems, and data problems tied to the accurate measurement of portfolio returns. While there have been notable periods of outstanding relative performance for Dow Dogs, like 1973-74, there have also been periods of notable underperformance, like 1990. Rates of return on the Dow Dog portfolio also tend to be systematically overstated in the popular financial press."
He continues to confirm my contention that promotional techniques and popular media once again perpetuate this cult following with imperfect data and not taking things like taxes and investment costs into account:
"Popular financial promotions of the Dow Dog strategy fail to correctly anticipate the magnitude of transaction costs and taxes, and their harmful effects on strategy returns. After transaction costs and taxes, one cannot outperform a simple buy-and-hold strategy by focusing on high-yield stocks included within the DJIA over the 1961-1998 period. Contrary to suggestions made in best-selling books, promotional literature from the brokerage community, and in cyberspace, one cannot outperform a simple buy-and-hold strategy with a Dow Dog portfolio of high-yield stocks from the DJIA. Any perception of a Dow Dog anomaly disappears when returns are properly calculated and both transaction costs and taxes are considered over a significant 1961-1998 investment horizon."
You can read his abstract here.
But, despite the research to the contrary and the obvious flaws in this strategy, people still flock to this investing strategy every year. It doesn't help that so-called experts and the popular media are still espousing the myth that this strategy consistently outperforms the market over the long term.
I'm sticking to my usual point: most so called outperformance strategies do not work consistently over the long-term and are simply promoted and marketed very well. Sure, they may work here and there but then you are left chasing returns from one strategy to the next each year, hoping that what you pick does work. It's kind of like the guy weaving through traffic from lane to lane only to end up at the stop light at the same time as everyone else. Personally, I think you can do better on your own by implementing a general buy and hold DJIA strategy or, even better, by implementing a tactical asset allocation model. Decide for yourself and do your own research, but I think you will find that the performance numbers have been skewed to favor the ones promoting it. And, they have taken a lot of unknowing people along for the ride.

Contributing Writer: Todd Smith, CFP
Copyright © 2010 The Digerati Life. All Rights Reserved.