"I've been rich and I've been poor — and believe me, rich is better." -Sophie Tucker (US vaudeville singer, 1884 – 1966)
Let's say you got a little bit of money under your belt and are debating on whether to plunk down your hard-earned bucks as a down payment on the tiny run-down shack on the ritzy part of town or on the average bungalow in move-in condition in the modest part of town. Before you fall for your broker's mantra of "location, location, location!", there's something I need to tell you. The answer all depends on whether you can afford living in your new community and partially perhaps, on whether you can actually stand your neighbors.
So let's say you decide on the nice little fixer upper in the rich part of town. You celebrate and live it up thinking you have arrived, but your elation becomes short-lived because you realize that eventually you'll need to start worrying about the work and budget involved in bringing the house up to par. After that, anxiety could begin gnawing at you as you think of the ongoing commitment of living in this place: the mortgage, the property tax, the high priced premiums you got to pay to shop in the gourmet stores and boutiques that surround you. And what about who lives close by; could they possibly care more about their orchids, luxury vehicle or their pedigreed pet than who lives in the tear-down next door?

What's it like to live in a wealthy neighborhood when you can't afford it? Not just lonely. Could it also actually be hazardous to your health? I pondered this, after reading this article about the plight of lower income people living among their rich counterparts.
A study conducted in Salinas, Monterey, Modesto and San Luis Obispo, CA by the Stanford University School of medicine has discovered that low income people in a sea of rich folks ended up dying earlier than their peers living in lower income areas. These relatively poorer folks are usually people who were old-timers in a neighborhood that became more affluent with time, or are those who service the rich who live there. Either way, it appears that being out of your comfort zone most of the time, or being the small fry in a big pond will not bode well for your health and well-being. The hard numbers show that if you are the small fry, you have a 70% higher risk of dying than the rich who live with you.
There were a couple of interesting reasons for this phenomenon as proposed by researchers:
Feeling out of place can make the less affluent feel isolated and disconnected from everyone else around them.
The poorer folk pile on additional work to afford the goods and services around them, often working several jobs to sustain their lifestyle. In fact, there may be additional pressure to afford the more expensive things they are surrounded with.
It appears that loneliness, and perhaps even envy and the stress of keeping up with the Joneses can really be a bear. So if you are financially challenged, could it be that in order to avoid risking shortening your life, then you should stay downsized? But this sure goes against the grain of human ambition.
Nevertheless, I wonder whether the results of such a study can translate to similar scenarios for folks who live in a place where they feel they don't belong — perhaps such as foreigners or aliens in strange lands. Could it be any different if you live in such a place where you stand out by being different in color or size or gender or orientation? Perhaps… after all, it's money we're talking about here, and maybe, just maybe, if you could just have more of it, it could serve as a salve.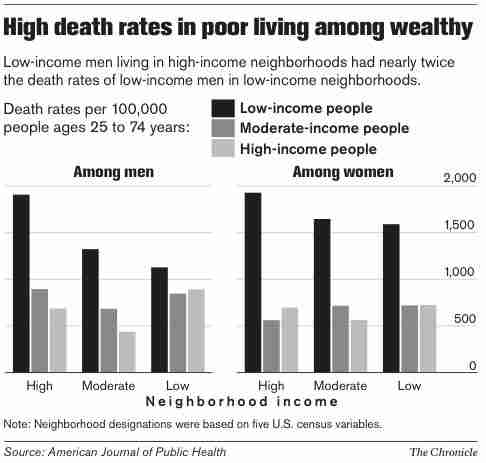 Copyright © 2006 The Digerati Life. All Rights Reserved.