A few folks got together to reminisce about their financial lives over the last 10 years. A group of bloggers decided to hold a group project that gave us a retrospective view of their finances and just like others out there who found it an eye-opener, enough to participate in the project and share their own personal stories, I found myself compelled to follow suit and give my own flashbacks down memory lane and see how our past compares to our current financial situation.
Our Financial Picture 10 Years Ago
Ten years ago, we were in the midst of the dot com era, and Silicon Valley was being hit hard. Too much traffic, inflation, influx of new inhabitants. Crowds packed every hip joint. Or every public gathering hole. I found it both exhilarating and annoying (I'm not big on crowds or traffic). It also felt like cash grew on trees as there were more jobs than people to fill them. The optimism ran rampant for the time being, while I spent a lot of time helping the managers I worked for grow their empires: I interviewed a steady stream of potential employees almost weekly.
We had no kids or we were otherwise known as DINKs (aka dual income / no kids).
My spouse's first startup was then already 7 years old, with no clear exit strategy. It would make us or break us (to some degree).
I was a software contractor (or consultant) in the midst of the dot com boom.
Money was easy to come by thanks to the irrationally huge demand for technical people in the Silicon Valley.
We worked crazy hours — sometimes 14 hour days.
Our savings rate was through the roof — we easily banked 50% of our income.
We were living in our first house in a quiet, peaceful suburb.
We had sensible investments which were growing well through the dot com surge. We did not touch internet stocks and stayed mostly with generic index funds.
We practiced asset allocation, diversification and dollar cost averaging even back then.
We traveled regularly, owned a sports car, ate out and went to the movies often.
Most of our spending went to entertainment, clothes, food.
Our household income was on a nice upward trajectory.
This Pets.com sock puppet is a remnant of the economic boom (and subsequent bust) that we experienced a decade ago.
Our Financial Picture Today
In general, we're following a pretty predictable track and timeline as far as how our lifestyle and finances are turning out. Now that we've got kids, we live quietly and keep to ourselves, keeping our social circle limited to friends, extended family and the school community. Many will think we are "boring" but we don't see it that way… We're just middle-aged. 🙂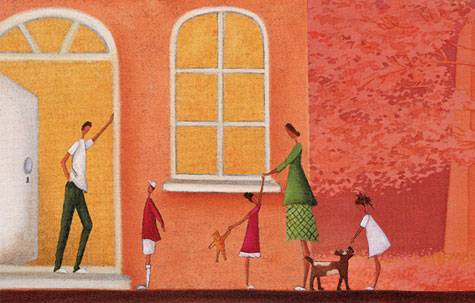 We're busier than ever, but our priorities have shifted significantly from more hedonistic, ambitious goals and activities to those that reveal a deeper awareness of ourselves, now that we're much more accepting of our limitations and the fact that maybe we just can't have everything. What that really means is that we're not as "idealistically capitalistic" as we used to be, but rather more realistic in our views of money, finance and what wealth can achieve for our family. In other words, we moved from "oh yeah we're going to slay (e.g. change) the world with this hard-core idea" to "we're just glad we can keep it all together."
We have 2 young children. And a cat.
We both quit our full time jobs to do our own thing. That is, my spouse and I are both self-employed.
Stress and its consequences have played a part in making us slow down.
The quiet suburb we used to live in is now much more developed and consequently, more populated. We've since moved to yet another quiet suburb that's less developed.
We haven't downsized our home as of yet, but we've downsized our activities. A lot.
We own a mini-van, stick to our home and daily routines very closely, and don't travel much.
Our savings rate has fallen to unforeseen levels. Actually, we're spending much more than we are making at the moment since we are working to lift a couple of businesses (okay, his and hers entrepreneurial ventures) off the ground. A lot of risk? Yes, but we have a Plan B, just in case.
Compared to 10 years ago….
Our net worth is 4 times more.
But our work income has significantly decreased to a fourth of what it was.
Our spending is 4 times more. Most of it goes to raising kids, maintaining our house and health matters.
We are currently saving $0. In fact, our savings rate is in negative territory.
Factors That Shape Our Finances
Well, what a difference a decade makes! And through this exercise, I've realized just how much of an impact a few (albeit important!) things can end up having on our finances. Here are some factors that may help shape your financial history as they have done ours:
Where You Live: A lot of luck may be attributed to geography altogether. For instance, Silicon Valley is a hotbed for technology, innovation and creativity, and if you're highly energetic with the ability to churn out bright ideas, you could be in demand. Same goes for certain cities and regions that have a strong demand for certain skills (think: if you're a performer or entertainer, then you should be hanging out in Hollywood or Nashville!).
What Kind of Educational Background or Training You Have: Planets align when you have a background, interest or talent in certain work that is widely available where you live. For example, you're in a good place (pun intended) if you're a realtor in a geographic area that is experiencing a real estate boom.
The Timing of Big Decisions: Buy a house at the right time, and you're in luck. Prioritizing job, income and wealth building during a huge economic boom yields huge dividends later. But depending on how you ride that wave, you'll need to prepare for tradeoffs: in our case, we delayed having kids (but then, if we didn't, we wouldn't have the wonderful kids we have today, and I believe things happen for a reason).
So much has happened over the last decade that I'd fill a book if I continued. That's all I really have to say for now. If anyone else would like to step in and share their last 10 years with us here, please do so! It would be interesting to compare notes.
Image Source: smithsonianeducation.org
Copyright © 2008 The Digerati Life. All Rights Reserved.