Thoughts and opinions that follow are from Tim P., who is our contributing writer on investments, stock and options trading and general stock market topics. This is one person's analysis of various auto stocks which should NOT be construed as stock recommendations. Tim P. is not an investment professional but enjoys prognosticating about the market.
There's something that feels very patriotic about General Motors finally being back in the market. It speaks to how the bankruptcy process can truly work to help give a company a helping hand when they need help and that's exactly what happened with GM. Although the auto industry has been the subject of a lot of negative talk, it's hard to think of any industry that is more American than the automobile industry. Something just feels good about Americans saving a true American company.
Investing In Auto Stocks & The Car Industry
Is there room in your Zecco or TradeKing brokerage account for auto stocks? Let's look at how you can make money off the new publicly traded GM. Here's the most important thing you can take away from this post: I believe that the auto industry is in the beginning stages of a solid uptrend and that uptrend will happen for years to come. If you're looking for a long term play for a retirement investment portfolio, then the auto industry is a great place to look.

Here are a few ways to play the auto industry, on the coattails of the GM IPO:
Ford (F)
Remember when Ford was at $9? It was a great company then and it's a great company now. Ford was the only one of the big three that didn't need government assistance. This is no surprise, given that their CEO, Alan Mulally, is the best turnaround CEO in the business. To be blunt, Ford is chewing up and spitting out all the other automakers. For proof of that, take a look at this chart: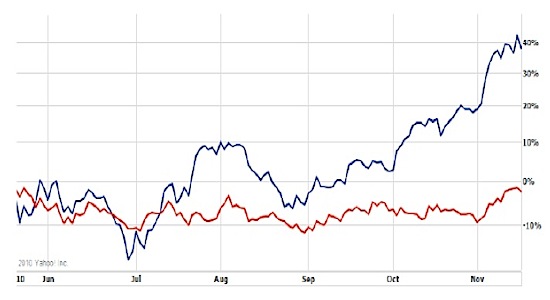 The blue line is Ford and the red line is Toyota. It's clear to see how Ford has outperformed Toyota. Recently, Ford touched its 52 week high (as of this writing, of course) and it's poised to go even higher. This is, by far, the best of the best if you're looking to profit here.
AutoZone (AZO)
Although you'll read some reports that say that auto sales are weak, most agree that with the auto makers on a bull-style run, that doesn't seem to be the case. Also, we're seeing the economy improve and automakers getting stronger — this will eventually lead to consumers feeling much more ready to spend on new vehicles. Let's also not forget that many folks have put off purchasing a new auto until their financial situation improves, and these days, we're seeing proof that things are getting better. Stores like AutoZone, who sell every piece and part for the automobile, will see the positive effects of that. That's the fundamental picture, but what does the chart look like?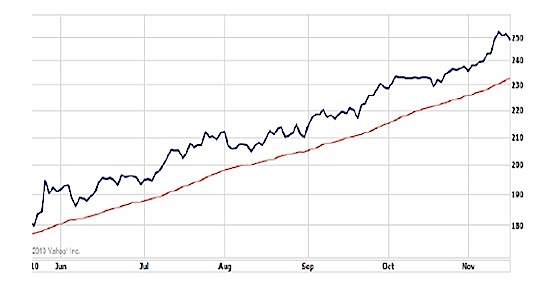 You don't have to be a chart expert to see what this is saying. The blue line is AutoZone and the red line is the 50 day exponential moving average. AutoZone has traded above its 50 day average for the past 6 months and other than the normal dips you would normally see in a move to the upside, this stock has been on a tear. There is a rule when using charts to decide what to do: the trend is your friend. It's going to be tough to short this stock in the current environment, especially if you have every reason to believe that it's going higher. This may be additional proof that AutoZone is worth a second look: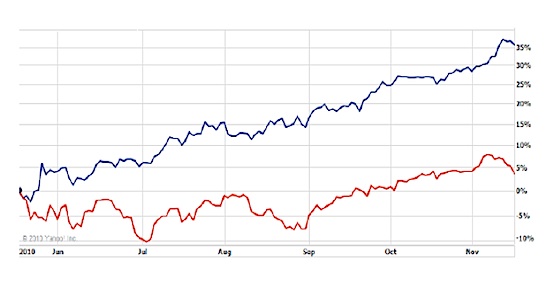 The blue line is AutoZone and the red line is the S&P 500. We can see some substantial dips in the S & P but not in AutoZone. Even more, look at the difference in the overall growth. This could make a great addition to your portfolio, if you're interested in having representation in the auto sector.
Johnson Controls (JCI)
You might think that a car is put together by a whole bunch of parts made by the automaker that are assembled by the same company. In reality, automakers purchase pieces and parts from a variety of companies and then assemble those parts in one of their plants. (Of course, the automakers manufacture some of the parts.)
Doors, instrument panels, seats, interior electronics and overhead instrument panels are made by Johnson Controls. 15% of their company is levered to the automotive industry and as the industry improves, so will Johnson Controls and other auto parts manufacturers. To see how the two industries correlate, take a look at this chart: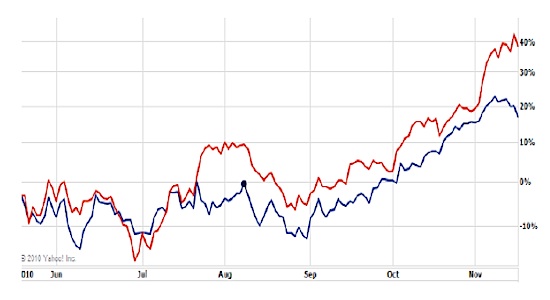 The blue line is Johnson Controls and the red line is Ford. As we can see, the two correlate closely. We wouldn't expect perfect correlation since a large part of Johnson Controls is not in the auto industry. Also, Johnson Controls is a leader in HVAC, which is a play on the commercial real estate recovery. But I would consider it as a play for the long term.
To be clear, General Motors is definitely a great buy once the smoke clears from the IPO. It could easily get into the high 40s by the second half of 2011 (IPO price is $33). As with any IPO, it's better to wait until the hype wears off before purchasing.
Ideas and Opinions, Not Recommendations
Lastly, remember that articles like this are meant to give you ideas. They aren't stock picking nor buying recommendations. I'm not an investment professional, but I enjoy studying the stock market and nurturing my stock portfolio. No matter what anyone says, there are never guarantees in the market. So do take the time to do some thorough research on these names and see if they pass your tests. You can also take a look at these other names as good ways to play the auto industry recovery: AXL, LEA, MNRO. It will be interesting to see how things unfold in this sector. What's your take?
Copyright © 2010 The Digerati Life. All Rights Reserved.