In every household, somebody's got to handle the finances — whether it's the Mister, the Missus, or both, running things as a team. And in our case it's moi. We figured long ago that it's easiest that way so that we don't get into each other's nerves by sharing custody of the finances, though knowledge of what goes is always shared and large decisions are mutual. I'm also a bit more of a control and order type of person who has a bit more skill with organization and multi-tasking, and has a bit more patience with numbers tracking, recording and even following market figures as they jump around and fluctuate each day. So it was more of fitting the task to the strength.

I've evolved into the family Chief Financial Officer, or as the CFO of our own lives, as some have put it. So I'm listing the different tasks I normally do on a regular basis to manage our money, just as a gentle reminder to my other half that when I sit in front of the computer, I'm not just surfing idly on the net. I'm actually working!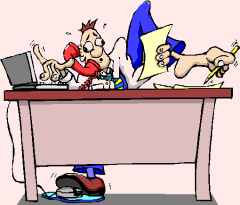 We're late thirtysomething Generation X-ers in the middle of the financial grind right now, with our hands full raising a couple of kids and like everyone else, trying to build a bright future for our family. Here's the kind of stuff I deal with to operate our finances:
Our Household CFO's Tasks, Responsibilities and Regular Operations
Banking
Maintain and stick to a budget
Balance the checkbook
Receive checks and make deposits
Do online bill pay
Withdraw money for daily use
Pay bills and creditors

Insurance
Maintain insurance proper records
Keep track of the flexible spending plans and claims status
Pay house, property, health, auto, disability (long and short term) and other insurance
Pay life insurance
In the future, consider other insurance requirements and make appropriate adjustments

Estate Planning
Create wills and associated documents
Establish trusts
Keep beneficiaries and estate plans updated

Loans, Credit and Identity
Review credit card statements
Review the mortgage statements; keep our eye on the long term rates
Review credit reports regularly

Job
Take part in benefits such as commuter fares, profit sharing
Manage the 401K account
Review group insurance
Sign up for flexible spending plans

Investment
Perform portfolio check ups and balancing
Research real estate property opportunities
React to market and life changes with appropriate investment moves
Fund the kids' 529 accounts
Fund the retirement accounts
Research investments
Check on Upromise account
Maintain automatic savings plans

Home Business
Perform accounting
Keep tax records
Perform e-commerce and web site maintenance and support
Check on income generating ventures

Taxes
Do record keeping
Organize charity giving process, donations
Meet with enrolled agent (tax guy) annually to do our tax return

House
Handle repairs (usually means outsourcing opportunities)
Handle maintenance issues
Handle necessary improvements
Host garage sales and put things in consignment

Shopping
Visit Costco for bulk items
Shop with coupons
Buy on sale
Visit garage sales/estate sales/Craigslist purchases

Phew! Welcome to our financial life. So what does YOUR financial task list look like? I'm personally curious to know how others handle theirs. Are you as overwhelmed as I am sometimes?
Created February 25, 2007. Updated May 12, 2012. Copyright © 2012 The Digerati Life. All Rights Reserved.