What if I had the ability to create a new type of Monopoly game that was based on different investing principles? Well, I had a chance to stretch my creativity a little when I decided to assemble some interesting investment related articles from around the web for my reading list. If you'd like to read up on stock investment related material, then I've got a good list for you here — and I've categorized them along the lines of a Monopoly theme. As far as Monopoly is concerned, it's known as the most popular money game in history. More than just an opportunity to bond with the family, this game granted me my first taste of investing and my earliest lessons on negotiation and competition. As a kid, I loved playing with the fake money bills that came along with the box. It was always a thrill to argue over who was supposed to be the banker, and to see who was going to end up in jail.
So I've divided this investment reading list into 5 blocks, reminiscent of Monopoly's famous avenues. I've also decided to throw in some Editor's Picks which you can find highlighted in each "block". Hope you enjoy this collection of investment readings.
For all you readers and Monopoly fans out there: Let's Play!
-ooOoo-
Stock Market Street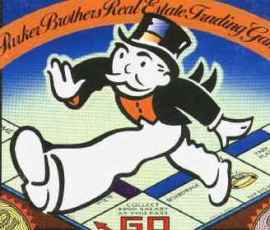 Genius Types delights us with Keep your Cool in Stocks and Dating, where Brian makes some rather clever analogies and likens stock picking to maneuvering your way around a dating relationship. Well, I was quite entertained by this post, what can I say. Humor will surely catch my attention! [Editor's Pick]
My Money Blog brings us Why You Should Ignore Stock Market Predictions, where Jonathan takes a look back at the Fool.com's stock predictions for 2006. It's a "Where Are They Now Story?" with this moral: Don't believe all that you read. [Editor's Pick]
Debt Free gives us Get In on Great Companies Without Paying a Fortune which advocates an alternative to stock brokers: the Direct Stock Plan (DSP). It tackles the ins and outs of DSPs quite thoroughly so you can toss out your broker.
Stock Market Beat brings us TXN: The Exhilarating Liberation of Low Expectations, where Bill discusses the stock's future with some concern. If you're an investor, tread very carefully.
TAM Money And Finance gives us AirTran Trying to Get Midwest for Cheap which is a tale of a possible acquisition and how the stock prices of the companies involved are playing a part in the speculation.
My 1st Million At 33 presents Chinese Anti-Satellite Missile Test/iShares Aerospace and Defense ETF, where ML explores opportunities in the defense sector. He tackles a comparison between two ETFs for this sector: iShares Aerospace & Defense Index (ITA) and the PowerShares Aerospace & Defense Portfolio (PPA). So what are you waiting for? Check out where he stands. A highly intriguing read.
My Wealth Builder goes personal with My Stock Picks for Q1 2007. Super Saver is bullish for early 2007 and is sharing his stock picking system with us all. So let's see how he does with his holdings — I'm curious about how rich he'll get.
-ooOoo-
Risks and Returns Road
A Hundred Indecisions gives us Anatomy of an Arbitration where Ellen gamely describes how it is to be caught up in the highs and lows of the stock market, of course ending in a disaster you're hoping to scramble out of. I felt like I was in the thick of it! [Editor's Pick]
Extreme Perspective reminds us about Why Worrying About Your Stock Portfolio is a Waste of Time. According to Paul, schemes become higher risk due to shorter investment periods or because we don't have any control over these investments. He thus makes an interesting argument for long term stock market investments and owning real estate outright.
The Dividend Guy Blog gives us 2 Mistakes an Investor Can Make where he packages the reasons why we lose money in the market into two simple and succinct points.

Investing Using Fundamentals On The Aussie Stock Market informs us about Magazine Tips and their Effect on Shares where he selects a basket of stocks from a magazine list because of their fundamentals, and investigates their returns. What do you know… they've got potential.
A Financial Revolution brings us What the Hell is Beta? remarking that this is "an introductory level financial mathematics article describing what beta is, how to use it, and the caveats for using it in investment decisions." It's quite comprehensive and I'm bookmarking this piece for my own education.
-ooOoo-
Plush Properties Parkway
Searchlight Crusade writes about Vampire Properties, something quite frightening for inexperienced buyers out there. These properties are the lemons of the real estate market which can easily suck the unsuspecting homeowner's bank account dry. Bottom-line: though there are no guarantees you won't get stuck with an albatross, do get a house a thorough inspection before buying it. [Editor's Pick]
The Time And Money Group brings us John T. Reed's Views of Various Real Estate Investment Gurus, where he introduces an eye-opening review of real estate experts. We are warned that after reading this review, we won't be viewing any late night real estate infomercials in the same light again.
Investment Property Insider offers us A Roadmap for Commercial Real Estate Syndication, Part 1. You can check out the checklist for forming an investment group for the purchase of commercial property.
-ooOoo-
Grand Goals Gardens
Mapgirl guest posts at Blueprint For Prosperity where she bring us Kiplinger Doesn't Advocate Target Date Mutual Funds. This article analyzes and argues against lifecycle funds in most cases. I wouldn't use these funds primarily for their lack of flexibility, and I'll bet if you do your own investing, you'd prefer control over your assets anyway. [Editor's Pick]
Money Smart Life writes about Lifecycle Funds — A Smart Way to Invest in your Child's Future, where he goes one step further with target date mutual funds, suggesting that though these may not be appropriate for everyone, it could be just the ticket for your young child for several reasons. I can certainly see why. This may be something I'll consider now that he's mentioned it! [Editor's Pick]
Free Money Finance presents The Worst Hype-Machines of the Personal Finance Magazines, where he compares three financial magazines according to hype level. Ultimately, he does tout a favorite, which happens to be the same as mine! We agree on several counts here: preferred reading material and a penchant for index funds.
My Retirement Blog gives us Roth IRA or Traditional IRA? Come by and explore the various IRA vehicles available to you.
-ooOoo-
The Trends Terrace
Trade Radar presents Social Networks and "You", The Investor, where he provides a neat list of social networking sites in the Web 2.0 realm that are pertinent to investors and traders. He remarks that there is a new crop of web sites that aims to bring investors together to share ideas and stock recommendations and opinions on articles, posts and blogs: so explore this list and find your community. I have a soft spot for this given my Web 2.0 leanings. Now I hadn't heard of some of these investing community sites before so I'm definitely up for a visit. [Editor's Pick]
Sox First writes about Going Dark: Public Companies and Public Interest where Leon explains that the "trend of so many companies delisting and going dark to escape the costs of Sarbanes-Oxley is not in the public interest because it undermines the rise of the citizen investor who is now reshaping corporations and changing the way corporations behave." Read on to know how citizen investors influence companies and why it's in our interest for public companies to stay public.
Well that concludes our tour around our lovely suburban oasis. I hope you enjoyed reading this collection as much as I did putting it together!
Copyright © 2007 The Digerati Life. All Rights Reserved.