We all want to be fit and trim and to keep fit and stay healthy, but there are a few things that keep us from looking and feeling our best: inertia, laziness, a hectic schedule, and maybe even a limited budget. As for me, I've invested in a stationary bike that I use almost daily while I catch the news on television to relax the brain while I work the body. I did spend a pretty penny on that bike but at least it is well used. I'm not alone about spending on exercise though, since the workout of choice by many of my colleagues involves a gym membership or a mountain bike or an exercise system of some kind or other.
The truth is, you can use any excuse to get out of exercise except perhaps that it is "expensive", since it doesn't really take much to get yourself into better shape. Here are some absolutely free ways to move your body! You can even make a bit of money on a few of these activities.
No Excuses! Ways To Exercise For Free
#1 Go jogging.
You can jog almost everywhere — parks, streets and even in place. When nobody's looking, I lightly jog at my own space at work. That and I perform some stretching exercises… it's good for ergonomics and helps keep the energy up throughout the day.
#2 Take a hike.
Those who live in the city have everything at their fingertips. You don't even have to have the requisite two cars a household to be mobile. Just by walking to wherever you need to go, you're a healthier leg up over everyone else! Those who live in the country can find a trail or two and incorporate hikes in their schedule. And wherever you go, take the stairs.
#3 Rent exercise videos….from the library.
The library is a treasure trove for a lot of cool stuff. With the variety it offers, you can borrow quite a few exercise videos and books to help you pin down your workout of choice.
#4 Check out free television and internet exercises.
Even more encouraging are the free workouts you can get from various forms of media these days. There are internet sites that can provide you with step-by-step instructions and videos for routines you can regularly use. Television programs devoted to workouts have been around since time immemorial and cheesy or not, they do the job (if you're shy about following along with the show, just watch it in private).
#5 Babysit.
If you have your own kids, then you'll probably agree that handling kids can help keep you fit. If you don't, you can experience the wonderful world of toddlerhood by volunteering or signing up for a babysitting job. The best ages to babysit for the purpose of getting yourself moving are those toddler years (2 through 5) because you're compelled to carry, lift, run, chase and follow these little people around all day. Here are also some suggestions for incorporating your baby into your exercise routine.
#6 Maintain your yard.
Be your own gardener. Work on your yard all year long and you'll have more than your heart going — best exercise of all is to push that lawnmower around especially if you have a large lawn. Or even better, install your own drainage. All that digging should be great for upper body strength and endurance.
#7 Clean out or organize your house.
Have you checked your attic, basement and closets lately? Well, from first-hand experience, I can say that hauling all the clutter from their previous storage areas and turning them into an organized system of boxes for sale, donation pick ups or just further storage will get your blood pumping. Even just pushing around a several pound vacuum cleaner instead of relying on a Roomba, or sweeping your garage floor should oil your joints. But make sure your back isn't too vulnerable.
#8 Use someone else's sports or exercise equipment.
Have you checked under your bed lately? All around the nation, there is a glut of unused exercise equipment sitting around in garages and hiding in spare rooms and basements. You could have these things right under your very nose — if not at your own home, they could be sitting somewhere in a friend's or relative's home, sadly unused. It may be a good idea to resurrect these neglected items for active use once more.
#9 Volunteer or get active work (full or part-time).
If you have a desk job, then doing some volunteer work for the community that may involve a little activity may not only be good for your conscience but also for your health. And if you're able to, maybe that choice to apply a little bit of your own muscle into your work schedule by choosing a more active job could actually serve as the backbone (pun intended) of your healthy lifestyle.
and last but definitely not least….
#10 Have sex.
According to a fellow blogger, sex can be pretty financially rewarding (ummm… not in the way you think of course). Many studies show that it's pretty good exercise:
This activity performed at least three times a week can cut the risk of a heart attack in half. Researchers started out studying the benefits of vigorous exercise, looking at an activity lasting 20 minutes or longer and making the exerciser sweaty or out of breath. Most of the men they questioned thought that sex fit this description just as well as soccer.
How To Exercise and How Not To!
And now for a little fun.
This is the way to exercise once you have kids.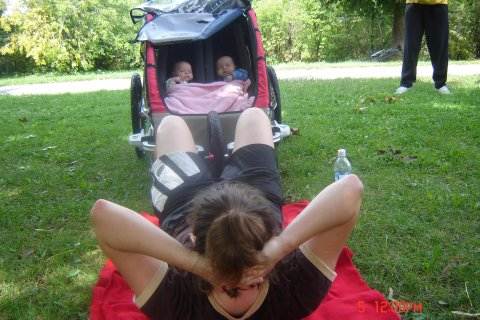 -ooOoo-
While this is what you call cheating!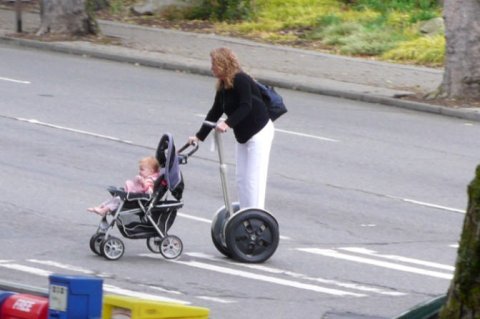 Image Credit: Thanks to FitnessWithJules.com
Copyright © 2007 The Digerati Life. All Rights Reserved.