Using the right gas credit cards may yield you even better rewards than those you receive from general cash back cards.
Do you know how much you can save with the right gas credit card? Should you care? Maybe so, especially if you realize that different cards can pay out varying amounts of rewards and bonuses based on your spending patterns. I reviewed a gas credit card survey by CreditCardClients.com and was struck by the discrepancies in savings you get by using the worst rewards cards and the best credit cards as listed in their rankings. Their card rankings are based on particular spending profiles.
Given three different household spending profiles, the survey ranked the rewards that each household receives from a list of rewards cards, and in the most dramatic scenario, showed that the disparity in rewards values came up to 400% between the best and worst cards listed. That's quite a huge gap, enough to make me question the efficacy of our own credit cards. This whole study just reinforced my desire to start shopping around for possible alternatives.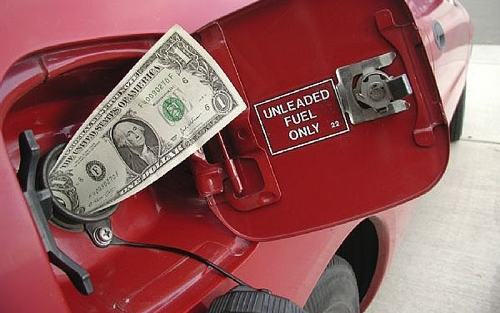 Here are the biggest takeaways I got from the CreditCardClients.com study:
10 Tips and Pointers For Using Gas Credit Cards
#1 Don't get cards with annual fees since they neutralize and counteract the advantages of rebates you receive. Standard no annual fee cards usually rate better than rewards cards with fees.
#2 Using a branded gas credit card will get you higher rewards if you fill up at the branded gas station. Be aware that you can get lower or no rewards if you use your gas card in competing stations. Rewards are designed to create long-term brand loyalty so if these rewards are curtailed at competing gas stations, it's to discourage the consumer from buying from somewhere else. Makes sense to me.
#3 Typical gas cards return 3% to 5% rebates on gas purchases.
#4 Maximize your rewards by matching your cards to your spending patterns. Just like any other product out there, rebate cards are not "one size fits all". There are cards that encourage spending by offering more rewards the more you spend. On the other hand, there are cards that will award you high rewards at first but then limit your overall rewards per year. Taking the time to study how you spend and finding just the right card that best rewards your level and type of spending can yield big savings. In fact, the difference between choosing the right and wrong card can be enormous.
Through some basic examples and case studies, the survey determined that the discrepancy of rewards values between the best and worst cards ranged from 100% to 400%. It looks to me that there's a lot of potential here to improve your savings and increase your rewards benefits by simply switching to a card that better matches your spending profile.
A note of precaution: Having a card with unlimited rewards or with rewards for meeting a spending threshold can be great for the benefits, but dangerous because people may feel motivated to charge more to "save more". Beware of your card use!

#5 Rebate cards can rank differently based on different calculations. Credit card comparisons across various characteristics show that a card that scores high in one feature may score lower in another. The study cites an example that shows how Citi Diamond Preferred Rewards Card ranked very well considering the initial year's rewards plus first year bonus. But it ranked at the bottom of they survey list if you account for only the annual rewards.
#6 Loyalty pays, but the reverse is also true: if you betray that loyalty, you can be worse off! As mentioned earlier, branded cards are tailored to capture your loyalty and business. Here's what happens depending on how often you use your gas credit card:
| Frequency of Gas Credit Card Use | Result of Gas Credit Card Use |
| --- | --- |
| Use a branded gas card more than 70% of the time at participant gas stations. | Expect higher rewards than those you'll get from regular cash back credit cards. |
| Use a branded gas card between 70% and 30% of the time at participant stations. | Some general cash back credit cards will provide better rewards than your branded gas card. |
| Use a branded gas card under 30% of the time at a participant stations. | You'll be much better off with a general cash back credit card. |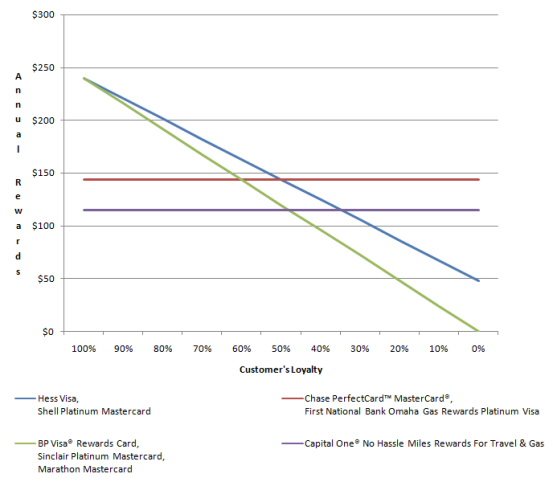 Reprinted with permission from CreditCardClients.com.
#7 Separate your expenses and charge them against the appropriate rewards cards. By using a gas card for your gas spending and a separate cash back credit card for everything else, you'll potentially raise the value of your rewards by quite a bit. The survey discussed a specific example that implied that this technique increased rebate values by 18%.
#8 Use general cash back credit cards for all expenses (including gas) if the gas stations in your neighborhood are not aligned with high value gas cards. In this case, you'll probably save more by just using the general rewards cards. Don't bother separating expenses if the specialty gas cards available to you provide lower rewards values.
#9 Select a card because of its long-term "benefits". Whatever cards I have, I've had pretty much forever. I also keep the number of cards I have to a minimum, so it's important that I am able to find cards with the most favorable long term rewards that will serve me well. The point here is that there are many cards out there that have exceptional short-term benefits but may not be as attractive for their longer term rewards. Some examples of short-term reward features: a sign up bonus, doubling rewards for the first quarter, and cash back bonuses after spending X amount over the first X months. What you'll need to do is look down the road and see whether the long-term rewards remain attractive because those benefits are what counts the most.
#10 Avoid debt if you're going to use rewards cards. Debt will simply nullify your rewards just with finance charges and interest alone. In fact, rewards cards normally have higher interest rates than standard non-rewards credit cards, which I presume, is to offset the cost of rewards and bonuses being giving away. If you'll potentially be carrying credit card debt, then go for those cards geared towards your situation like cards with lower interest rates.
Copyright © 2008 The Digerati Life. All Rights Reserved.