The following is a guest post by Neal Frankle. He's a Certified Financial Planner and blogs at Wealth Pilgrim. Neal writes about taking action steps to improve your financial situation and finding balance at the same time.
People worry about money for all sorts of reasons. They worry about spending too much. They worry about earning too little. And they worry about how to invest for their retirement.
Well…..after you read this, you'll never fret about your investments…ever again. That's a promise. You see, there is a very simple idea that explains how investments work. If you understand it (and hold on to that understanding) you won't second-guess yourself or worry. As an added bonus, you'll make much smarter investing decisions.
I can't really explain this killer concept without showing off my artistic skills…so here goes: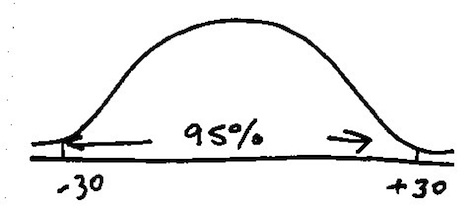 No…this isn't a hill or a snake that just devoured a mouse. It's the only thing that I remember from statistics class and it's all you need to vanquish your fear and anxiety. It's a bell curve. But don't worry. This isn't a statistics lesson.
Even if you think you don't know statistics, you use the concept of the bell curve every day….you just do it wrong when it comes to investments.
Let me explain.
Assume you're considering making an investment and you look at the historical returns. Let's say the bell curve above represents those historical returns. It demonstrates that, over a given period of time, the fund either made or lost 30% — 95% of the time. So, when you look at the fund results, you (might) tell yourself that you can live with a return of plus or minus 30% in any particular year.
That's your first mistake because that's emphatically NOT what the bell curve is saying.
Sometimes (2½ % of the time) the return will be much greater than 30%. Usually, that's not a problem for investors. But another 2 ½ % of the time, the return will be much worse than -30%. This 2 ½% chance of having a terrible loss is something many people forget about. Or we ignore it. OR we lie to ourselves. And this head in the sand mentality isn't restricted to money.
We know people die getting hit by lightning. But we tell ourselves it can't happen to us. It might happen to other people or in the abstract but never to us. Of course I hope you never get hit by lightning and chances are…you won't. But you probably own life insurance anyway…don't you?
If you are an investor, you will get hit by this 2 ½ % problem sooner or later. And because you dismiss the possibility of it happening, you get terribly discouraged and frightened when it does happen. That's when you make the next mistake.
You react emotionally.
Either you "double down" (get more aggressive in order to make up for your losses) or you pull all your money out of the market forever and promise to never invest again. Both reactions are understandable. You could say those reactions are almost inevitable. Anyone would react that way after such a severe disappointment. But while understandable, if you react this way, you're shooting yourself in the foot.
So what is a smart investor to do?
How To Be A Smart Investor Who Makes Wise Investments
Be a girl scout.
Always be prepared. (I'll admit that I was never a Girl Scout but I figure if it's good enough for the boys, it's good enough for the girls too….right?)
Expect really terrible returns. There will be years – possibly quite a few of them strung together – that will be tough. You have to expect them rather than pretend they'll happen to someone else. And no matter what your investment strategy is, don't think you'll be able to navigate around all the rough water. You won't. Be realistic about your investment time horizon.
The longer your horizon, the greater your ability to average out the good and bad. If you're investing for 1 year, don't invest in equity growth. And don't think that the performance of your investments in any one year means anything. They don't.
Allocate your assets with the worst case in mind.
Pick your portfolio allocation carefully. If you can't live with a 2 ½% chance of losing more than 30%, then don't invest in this fund. Invest for a worst-case scenario and you won't be shocked and awed. If you can't tolerate huge losses, balance your portfolio with fixed income.
I will admit that it's impossible to know what the "worst case" is for any particular investment. One way to approximate the "worst case" is to review the history of the market over the last 95 years. Look at the kind of fund you own and compare it to the appropriate index. That will give you a sense of the risk you're taking.
Do you disagree? Do you think it's possible to have a fail-proof investment plan? Are you willing to accept that your plan may not work out?
Copyright © 2010 The Digerati Life. All Rights Reserved.