If you're a Costco member, you can take advantage of the bulk buying, especially for certain products. But for those of you who aren't members of Costco, you can still benefit from some deals offered by this warehouse club. Here are some great tips for shopping at Costco even if you're not a member!
No Costco Membership? Shopping At Costco Still Saves Money
1. You do not have to be a Costco member to get a flu shot there. Unless you have access to a free shot, Costco has the lowest price I have found so far for the flu shot, at $20. The pneumonia shot is $35. Call ahead to see what dates and times they are administering the vaccines. Some restrictions apply. Prices creep up if you go elsewhere. Walgreens gives flu shots for a fee of $25 to $30, which seems like the standard charge for inoculations offered at large store pharmacies. Rite aid has the flu shot for $30 and the pneumonia shot for $45.
2. Non-members can use the pharmacy. Just tell the employee at the entrance that you are headed there and they will waive you in without a membership card. The Costco pharmacy takes cash and credit cards. You can really save a lot at the pharmacy — case in point: I paid $5 for a generic prescription with my Visa that another chain wanted $80 for. One of my blog readers saved $200 getting prescriptions filled at Costco.
3. Members can purchase Costco cash cards and give them to non-members. This was a little known fact about shopping at Costco that a new friend shared with me. Recipients can get a free one-day membership to use the cash card on gas or warehouse items. The cards are also good online. Watch out for customer service snags though, as I've heard that some folks experienced problems using them in the past.
Cash cards make great gifts and they are useful for employees, students living away from home, and friends who are dying to buy 20 pounds of strawberries. Costco's page on cash cards lacks details but it may be possible for the recipient to re-load a card as long as they leave some money on it. It also looks like recipients can buy goods for more than the card is worth as long as they can pay for the remainder in cash.
It is unclear if a non-member who receives a Costco cash card is limited to a certain number of uses per year. I suppose if they start recognizing you, you'll need to pony up $50 and get a membership. Otherwise, the usage guidelines are somewhat open to interpretation. Just remember to bring cash.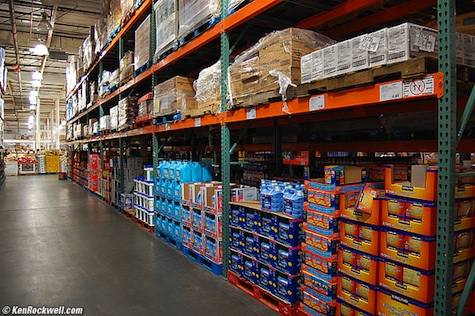 4. Non-members can purchase items at Costco.com, though you'll pay a small surcharge for not being a member. Not a bad idea to price check before making purchases, especially if you are in the market for a coffin.
5. Consider splitting a membership with a friend if you do want to take advantage of the full warehouse. Costco has no problem if the second person on the membership lives at a different address! (If you need prescription glasses, this would be a fabulous deal that makes it worthwhile to join.)
Costco can be a major money suck: huge carts, huge portions, huge bills. That's why I am not a member. But strangely enough, some of their best deals are open to non-members!
This guest article is by Julia Scott, who helps people save on groceries, gasoline and household bills at BargainBabe.com. If this post on Costco helped you save money, do visit her site!

Created October 11, 2009. Updated July 16, 2012. Copyright © 2012 The Digerati Life. All Rights Reserved.