I've got this former co-worker who absolutely refuses to buy into the stock market. He says it's like playing the lottery or gambling. And no matter what kind of justifications I make, he won't listen — instead, he's content with putting his money into real estate property in his native country. His investments have yielded him significant returns in recent years, so it may be hard to argue with him about it.
However, this just emphasizes yet one more truism about investing:
Invest in what you know best and what you're most comfortable with.
Though many of us don't necessarily begin our investing lives as experts on things we've invested in, the point here is that we do enough due diligence on matters that put our money at some risk.
Thus, if you're open to the idea of investing in the stock market (like most people actually are 😉 ) but are somehow still on the fence about it, maybe some of the following thoughts will help you take the dip into a few investments that should grow at a greater pace than your staid FDIC insured savings account, over the long term.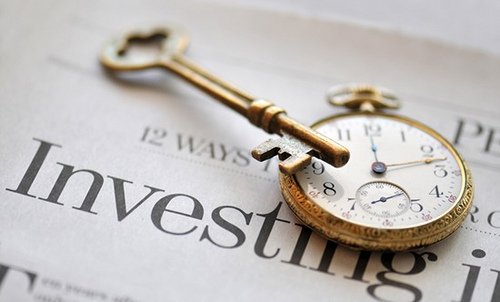 Photo by thinkpanama
The Best Time To Get Into The Stock Market?
A lot of people I know ask me about when they should start investing in the market. My quick answer to them is "Buy now!", but that really deserves a bit more explanation. Here's what I really mean: when somebody asks me "When should I buy into equities?" I ask them to zero in on these 8 indicators that could tell them they're ready to wade into stocks:
When you're comfortable about it.
Don't jump into the market unless you're really comfortable with the inherent risk it offers. Because of the relatively higher returns that stocks give you, the risk to your capital is also greater. Of course, there is other risk involved if you do NOT invest in the market, like the risk that your money won't be keeping up with inflation. By diversifying your portfolio and maintaining a long term investment horizon, you'll manage your risk of capital loss much better.
Like, yesterday!
Most personal finance buffs will tell you that you should invest early or as soon as possible. I'll take it further and say you should have started investing yesterday — and it's obvious why. A while back, the stock market was a lot lower than it is now. Not in the near term of course, but look far enough in the past and you'll see how it's climbed. If you had invested yesterday, you'd be sitting on some profits. This is the case even as the market has dipped so many times over the years: the market's long term trend is still UP.
When the market has slumped.
Most folks I know get quite excited when the market is marching upwards — that's when they ask the usual questions about what type of stock to get into or what fund is worth checking out. It's the herd mentality at work, and when stocks are strong and market momentum is fierce, we can't help but be swept in it. But what about those times when the market is in the dumps? If you've got the funds, entering the market during a correction or bearish period may yield you good value for your money, especially when you take the long view. Taking the contrarian approach can yield you bigger returns down the road since big downtrends are usually followed by even bigger rallies.
When all you hear is bad news.
As they say, buy when there's blood on the streets. This is simply a corollary to the "rule" that states that you should consider buying when the market is down. I get particularly excited when people are selling and bad news is circulating everywhere, thereby exerting downward pressure on the markets. So contrary to what you may think, bad news is really good news….for buyers and investors!
When you stumble unto a windfall.
Okay so how many of us can admit to spending a windfall before we actually ever receive it? Have you tried mentally accounting for a windfall, and assigning it to an expense bucket before you've even gotten a chance to touch it? Unfortunately, it happens too often especially these days when cash flow is tight and everyday costs are up. But if we change our habits and place any unexpected extra money (such as an inheritance, cash gift, tax refund or even the remote possibility of a lottery win) into the stock market instead, that money will leave you a much bigger impression later on than if you simply spent it. Windfall + stock market + power of compounding = potentially big profits later.
After you've got a handle on your debts.
Having a lot of debt can be pretty distracting and overwhelming, so let it be the focus of your financial life. That is, if you're heavy with bad debt — the kind that only takes away and doesn't give anything back — then make it your priority to reduce it as much as you are able. Once you've got your loans under control, you may start considering an investment plan, especially if you're eligible for an employee-sponsored retirement account. Personally, before I do much else financially, I'd make sure that I trim all my big, bad debts.
After you build your emergency fund.
As priorities go, trimming huge bad debts and building an emergency fund should be first on your list before you begin worrying about an investment program. Working on a lot of financial goals is always quite commendable, but sometimes, doing too much can also backfire. By spreading yourself thin, you may get frustrated and make less progress than if you prioritize and handle your most pressing concerns first prior to putting your hard-earned cash at risk in the markets. But if you've got the money and the bandwidth — by all means, tackle all your money goals simultaneously!
Every month.
It's a financial golden rule that is worth repeating often: invest every month. Even just a little bit. And funneling your funds in the stock market will help build your net worth faster than if those funds were in more conservative accounts. Apply a dollar cost averaging or value cost averaging strategy and you'll be amazed at how large a nest egg you'll be able to build.
~ooOoo~
If you've checked off the list above, then you and your money are ready to roll. Happy investing!
Copyright © 2008 The Digerati Life. All Rights Reserved.