I still remember those times during the roaring bull market when I would trade stock picks with friends and colleagues. We'd then buy stocks after a pitch and compare notes as we watched ourselves mint money. Those were the days when even a dart-throwing monkey could make you money.
These days, you'll have to be much more particular about which stocks, ETFs and mutual funds to buy. Today, I doubt I'd be as enthusiastic about anyone's word-of-mouth recommendations as I used to be. I would do a lot more due diligence before I decide to add something new to my portfolio.
Resources To Help You Manage Your Portfolio
The good news is that there's a rich set of resources out there for equity investors. Nowadays, it's much easier to build your portfolio from scratch and much easier to tweak it to achieve the optimal asset allocation. Here's where you can find the resources to help you manage your investments:
1. Stock Brokerages
There are a ton of free tools that you'll find at various online stock brokerages, which also have extensive libraries on investment and trading topics. Check out our reviews on popular brokerages such as Scottrade, ETrade and TradeKing, for more information. Other good stops are at Fidelity and T.Rowe Price.
2. Independent Investment Research Sites
There are also independent investment research sites that I find extremely helpful for investors and traders. Some places that come to mind (and that I've used): Morningstar.com and INO.com.
These are places where you can pick stocks, screen for mutual funds and track your portfolio in a convenient fashion.
How To Use a Stock Screener To Find Stocks To Buy
As a demonstration, I wanted to show you a little of what you'll get out of using screening tools that are offered by a site like Morningstar.com. Here's how to build your own portfolio quickly:
1. Use the stock or mutual fund screener.
Morningstar's tools allow you to create your own screening criteria, or you can choose predefined Morningstar criteria that narrow down your list of choices with one click. In this example, I chose a preset screening criteria for mutual funds called "Long Term Winners" which filter out funds with a star rating of 4 or 5 stars and a 10 year return that are at least as good as that of the S & P 500 index.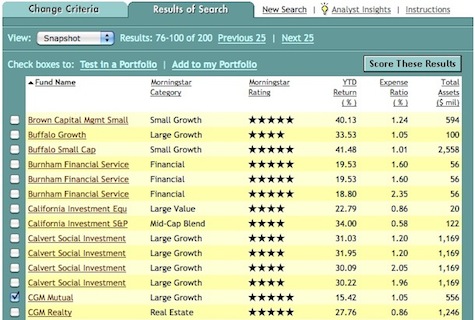 2. Get details on the stocks or funds in your select list.
Once you've got your list results, you can then drill down for more information on the stocks and funds in the list. You can view the details of a mutual fund by clicking on the links provided in the results page. There are a lot of details here, including charts, analyst reports and performance numbers.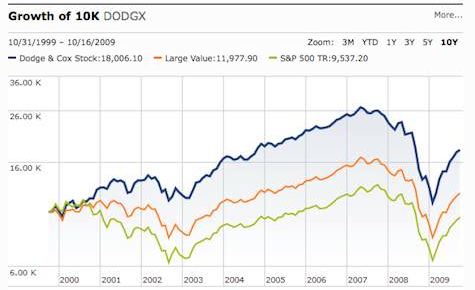 3. Score your stock or fund results.
Among the many features the tool has, is the capability to "score your stock or fund selections" according to a variety of criteria such as performance returns, expense ratios, star ratings, P/E ratio and growth rate. It's a nice, preliminary way to get a quick read on your picks.
4. Test and analyze your choices against your portfolio.
The screener allows you to see how your new picks will fit together and complement the existing portfolio you already have. If you're building a new portfolio, only the new picks will be gauged. All this is achieved by using the popular Morningstar Portfolio X-Ray tool, which gives you an in-depth view of your asset allocation.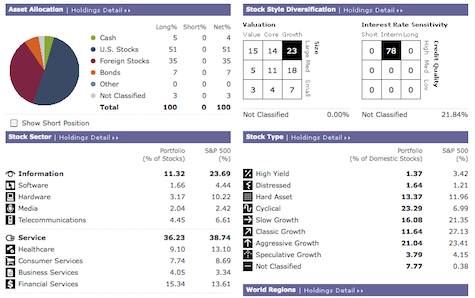 From Morningstar: Portfolio X-Ray is a sophisticated analytical tool that allows you to dissect your portfolio and gain a clear view of your holdings. You can evaluate your overall asset allocation and sector weightings as well as uncover concentrated positions, view the stock holdings behind your mutual funds, measure performance against benchmarks and industry indexes, and stay up-to-date on the latest news and corporate actions relating to your holdings.
5. Add your choices to your portfolio.
Once you're satisfied with your picks, you can introduce them into your portfolio by entering them into Morningstar's portfolio manager. This tool allows you to track the performance of your portfolio in real time.
Check Out Morningstar.com For Investment Tools
I would suggest signing up to a site like Morningstar.com to get access to their investment tools. Morningstar offers two kinds of membership accounts:
1. Free Membership
You can get a free account to get a hold of mutual fund and stock financial data, basic fund and stock screeners, articles and community boards, a basic portfolio manager tool, and educational material.
2. Premium Membership With Free Trial
If you'd like the works and are interested in exploring more resources, you can sign up for a free 14 day trial to Morningstar as a premium member.
Get $20 off a one year subscription to an annual premium membership through this link. This works in conjunction with the 14 day free trial offer.
By signing up, you'll receive Morningstar Fund Analyst Reports which covers full research on thousands of stocks, a much more advanced Portfolio Manager with advanced x-ray analysis of your portfolio, ratings, analyst newsletters, advanced screeners, as well as discounts to even more material. For a comprehensive overview of what's available with a premium membership, check out this pdf report (note: the pdf may require a little time to load).
Copyright © 2009 The Digerati Life. All Rights Reserved.